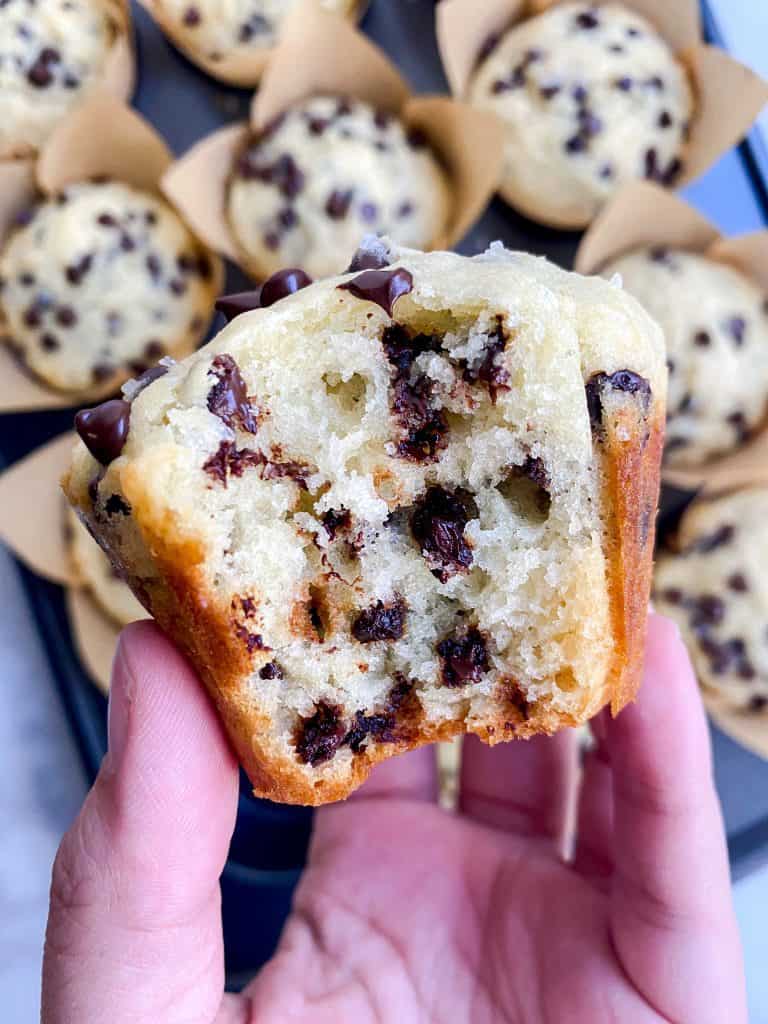 Are you a muffin or donut for breakfast?
I'm 100% team muffin. I'm still sad I haven't found a local spot to enjoy muffins on a Saturday morning.
If you're a Miami local and know where to get freshly baked muffins on any given morning, share your secret pleaseeeee.
When we travel, I love to find good bakery spots to have breakfast at.
A latte, a muffin and a good view. Is that too much to ask for? ;)
Every time we go out to breakfast, there's an assortment of pastries. The usual, plus house specialties.
And although they all look amazing, I always find myself drawn to a classic chocolate chip muffin.
You know, the big fluffy kind. Moist inside, chock full of mini chocolate chips (has to be the minis!), and topped with coarse sugar for that extra crunch!
I always bite the top off first because I love that crunchy topping!
I've tried so many times to replicate my favorite type of muffin to no avail.
But I think I've finally nailed it!
What's the best part about this muffin?
How easy and versatile they are!
These can be jumbo, regular or mini sized.
You can use any type of chocolate chip (but semi sweet minis have my heart forever!).
They are moist and every last crumb is perfection.
And let's not forget the coarse sugar on the top. It's the perfect crunch in every bite!
Add a lot of crunchy sugar and more chocolate chips to the tops. Always.
Let's dive in to the how to!
First, what you'll need.
When I tell you this one is easy, I mean it. You don't even need a hand mixer or stand mixer. A whisk and a bowl will do the job here!
Equipment:
Ingredients:
Flour
Baking Powder
Baking Soda
Salt
Butter
Oil
Sugar
Eggs
Sour cream (or yogurt)
Milk
Vanilla
Chocolate Chips
Coarse Sugar
It has a lot of ingredients, but they're basics.
You likely already have the majority in your pantry and fridge now! And you're well on your way to some tasty muffins.
The directions are simple:
Whisk the dry ingredients and set aside.
In another bowl, whisk the butter, oil, eggs and sugar. Add in the sour cream (or yogurt), vanilla and milk.
Once that's all combined, mix in the dry ingredients. Stir just until combined and no large lumps remain.
Don't over mix or else the muffins will be tough.
Drop in alllllll the chocolate chips. The best part. Mmmmm.
Give it a quick stir to distribute throughout the batter and then divide among your muffin tin.
Sprinkle with allllll the coarse sugar and a lil scoop of extra chocolate chips to
Pop in the oven and you'll have tall, moist, fluffy, chocolateyyyyy and fresh muffins to enjoy every morning for breakfast.
Honestly delish. Nothing better than a fresh, warm muffin.
*insert heart eyes*
Got any questions on making perfect muffins?
Let's answer the most common here…
Where can I get the tulip liners?
I bought them on Amazon! These are the specific ones I bought.
I love that it comes with 3 different shades of parchment so you can choose your favorite type for different desserts.
I'm thinking a dark chocolate muffin will look beautiful in the darkest parchment. And a lemon muffin in the white. Amazing!
Where can I get the coarse sugar?
I have tried multiple times to buy this at the supermarket, but I never find it as coarse as I'd like. It's always thinner and doesn't deliver with that perfect crunch.
I've also run into the problem of sugar that sinks. Which totally defeats the purpose of the crunchy sugar on top.
This one is perfectly crunchy and most importantly, stays at the top of the muffin! It's as beautiful as it is delicious!
Why should I bake these at a high temperature for a bit and then reduce it?
The high temperature helps them initiall burst to grow to their highest potential… quite literally.
They will poof up and be tall in the liner and then we reduce the temperature to finish baking them without burning them.
They'd dry out too much if we let them cook the whole time at 450 degrees.
How do I store the leftovers?
If you even have leftovers…. ;)
Put them in a cake stand that has a lid or an airtight container. It'll keep them fresh for 3-4 days.
If you have neither of these, even a zip top bag would work, but you'll have to be super gentle not to break them.
Do muffins freeze well?
Yes!
The muffins can be frozen for up to 3 months.
Simply store them individually wrapped, or in an airtight, freezer zip top bag.
To enjoy them later on, place on a dish and allow it to come to room temperature.
Quicken the process by warming them up. You can pop one (unwrapped) in the microwave for 30 seconds or so.
To thaw and warm in the oven, wrap the muffin in foil and pop in the oven at 350 degrees for 10 minutes or so.
Yogurt or Sour Cream for a moist muffin?
I personally love sour cream in my baked goods so I always lean towards that, but full fat plain yogurt works just as well!
Both will make your muffins
You may find some chocolate chip muffins call for buttermilk. I don't typically keep this stocked, but I always have sour cream and/or yogurt on hand!
That is why I really wanted to create a recipe that worked well with one of these two.
I wanted baking these to be simple and something I can make at any time.
Any other questions? Comment below and I'll try my best to answer them :)
As always, tag me if you make this recipe. I'd love to see how your muffins turned out!
Bakery Style Chocolate Chip Muffins
A bakery style chocolate chip muffin is always a great recipe to have on hand for brunch on the weekends. This one is easy, and makes 15 perfect muffins to enjoy!
Ingredients
3

cups

all purpose flour

3

tsp.

baking powder

1/2

tsp.

baking soda

1/2

tsp.

salt

6

tbsp.

unsalted butter

melted and cooled

1/4

cup

canola or vegetable oil

1

cup

granulated sugar

2

eggs

room temperature

1/2

cup

full fat sour cream

or full fat plain yogurt

1

cup

whole milk

room temperature

1

tsp.

vanilla extract

1 1/2

cup

mini semi sweet chocolate chips

or 3/4 semi-sweet & 3/4 dark chocolate

coarse sugar for sprinkling

optional
Instructions
Preheat your oven to 450 degrees F. Line your muffin tin with liners (I love using tulip liners to really play the "bakery style" part).

In a large bowl, add the flour, baking powder, baking soda, and salt. Whisk until combined and then set aside.

In another large bowl, add the butter, oil, sugar and eggs. Whisk until combined and a little frothy. Whisk in the sour cream, vanilla and milk. Pour the wet ingredients into the bowl with dry ingredients and fold together with a spatula until minimal lumps remain. Try not to overmix. Add in the chocolate chips and fold together again.

Using a cookie scoop, measuring cup or ladle, pour the batter into the liners, filling 3/4 the way. Sprinkle with extra chocolate chips. If using, sprinkle with coarse sugar for that full on bakery effect!

Place in the oven and bake at 450 for 8 minutes, then reduce the heat to 350 and bake for another 15-20 minutes or until a toothpick is inserted in the center and it comes out clean.

Remove from oven and allow them to rest in the pan for a few minutes and then remove and transfer to a wire rack to fully cool.

Once cool, store in a closed cake dish, or an air tight container.
If you enjoyed this recipe, be sure to check this one out!