This shop has been compensated by Inmar Intelligence and its advertiser. All opinions are mine alone. #spiceupspringtime #SauceLikeYouMeanIt #TexasPete
Easy Weeknight Taquitos using Texas Pete® Original Hot Sauce?
Ummm, YES please. We could all use some spicy, saucy, easy to make taquitos and thanks to Texas Pete®, we can do this so easily!
Taquitos have always been a favorite of mine when we visit restaurants. Especially after having kids, they're so easy to eat with one hand while holding a baby in the other.
I'm so picky about my taquitos though. There are a few key requirements:
a good ratio of filling to tortilla
flavorful meat filling
as crispy as possible without burning (obviously)
There is nothing like a nice, crispy taquito that holds up well enough to dip in guacamole, sour cream, queso or some more salsa!
Why I love a good EASY taquito…
Seriously, this is so easy. And my favorite part? They work SO well for the freezer!
This recipe is for 3lb of chicken. Enough to have dinner and have another round of taquitos prepared and frozen for another easy weeknight dinner.
I've found that the key to smooth sailing weeks is meal prep! Really, on the days where you might have minimal help, it's such a blessing to have a prepared meal in the freezer.
I especially like to have a meal in the freezer for those days that dinner time creeps up on you and now you're stranded without a meal. You don't have to order takeout!
If you keep a round of taquitos in your freezer, you can pop them straight from the freezer into the oven and forget about dinner. Go give the kids a bath and they'll be ready when you come back.
Texas Pete® makes this EASY
Texas Pete® has a variety of products ranging from different kinds of salsa to hot sauce to make your weeknights easier. Check out their site here to see all the delicious products to sauce up your meals!
I've used their stuff in everything from burritos, to rice bowls and even a sprinkle of hot sauce over pasta and tuna.
Texas Pete® helps me to Sauce it Like You Mean It™, which means to jump in and do something with passion!
Pick your level of spicy and get right to cooking. Really, Texas Pete® is the way to go if you're looking to spice up your delivery and take out too. It's that simple!
Texas Pete® products are my favorite to bring the heat and make my spicy dishes out of this world! Use the store locator here to check out where you can find your own!
What you'll need for this tasty dinner:
Equipment:
Electric pressure cooker
Baking sheet
Foil
Grocery List
Texas Pete® Original Hot Sauce
Green Mountain Gringo® Medium Salsa
Chicken
Flour Tortillas
Butter
Favorite Toppings (sour cream, guacamole, queso, etc)
Let's walk through the steps together!
This is a simple one! You guys are going to be so impressed with it…
Add the chicken and two jars of Green Mountain Gringo® Medium Salsa or Texas Pete® Medium Salsa to the electric pressure cooker. Cook for 20 minutes on high pressure.
When you open the pressure cooker, add 1/4 cup of Texas Pete® Original Hot sauce and give it a stir. Now shred the chicken using 2 forks.
Let the chicken stay in the warm pot with the salsa and hot sauce until you're ready to assemble so it keeps absorbing all those delicious flavors!
Preheat your oven to 425F. Line a baking sheet with foil. Melt 4 tablespoons of butter and have your brush ready.
Make sure your tortillas are room temperature. Or warm them for a little bit in the microwave. If they're cold, they won't roll up.
Now take a tortilla and brush butter all on one side. Turn it over and fill it with the chicken filling. Roll it up tightly and place seam side down on a foil lined baking sheet.
Repeat with whatever amount of taquitos you want to have. Place in the oven and bake for 8 minutes, flip them over and bake another 5-8 minutes or until they're golden and crispy.
Remove from the oven and serve immediately with sour cream, guacamole, Green Mountain Gringo® Salsa or Texas Pete® Salsa or queso. Really, it goes good with anything and everything!
Some more tasty ideas…
Take the remainder of your filling and prepare more taquitos. Wrap them in foil and place in a freezer bag to keep in the freezer for the next time you want taquitos.
You can bake them from frozen or let them thaw. Both work well. :) You just may need to brush a little more butter on them to ensure they crisp up. But the taste will be perfect!
You can also make this into an appetizer! Take Street Taco size tortillas (they're mini) and follow the same directions as above. Serve on a platter with little bowls of dips and toppings!
Whether you're making this for dinner or an appetizer, you can also make it in advance! Bake the taquitos as directed above and then just reheat in the oven when you're ready to eat.
This is super simple for busy soccer or ballet nights. Prep everything in advance, bake it and all you need to do is pop them in the oven to warm up while everyone is in the bath.
By the time the kids are in their jammies, dinner will be ready! It truly is the easiest, minimal mess dinner!
And what's even more fun? Texas Pete® just released a line of BBQ sauces!
They were so kind to send me both the Texas Pete® Sweet Flame BBQ Sauce and Texas Pete® Eastern Carolina BBQ Sauce and I can't wait to try them! Thank you so much!
If you make this, be sure to tag me! I would love to see how you loved and used the Texas Pete® products!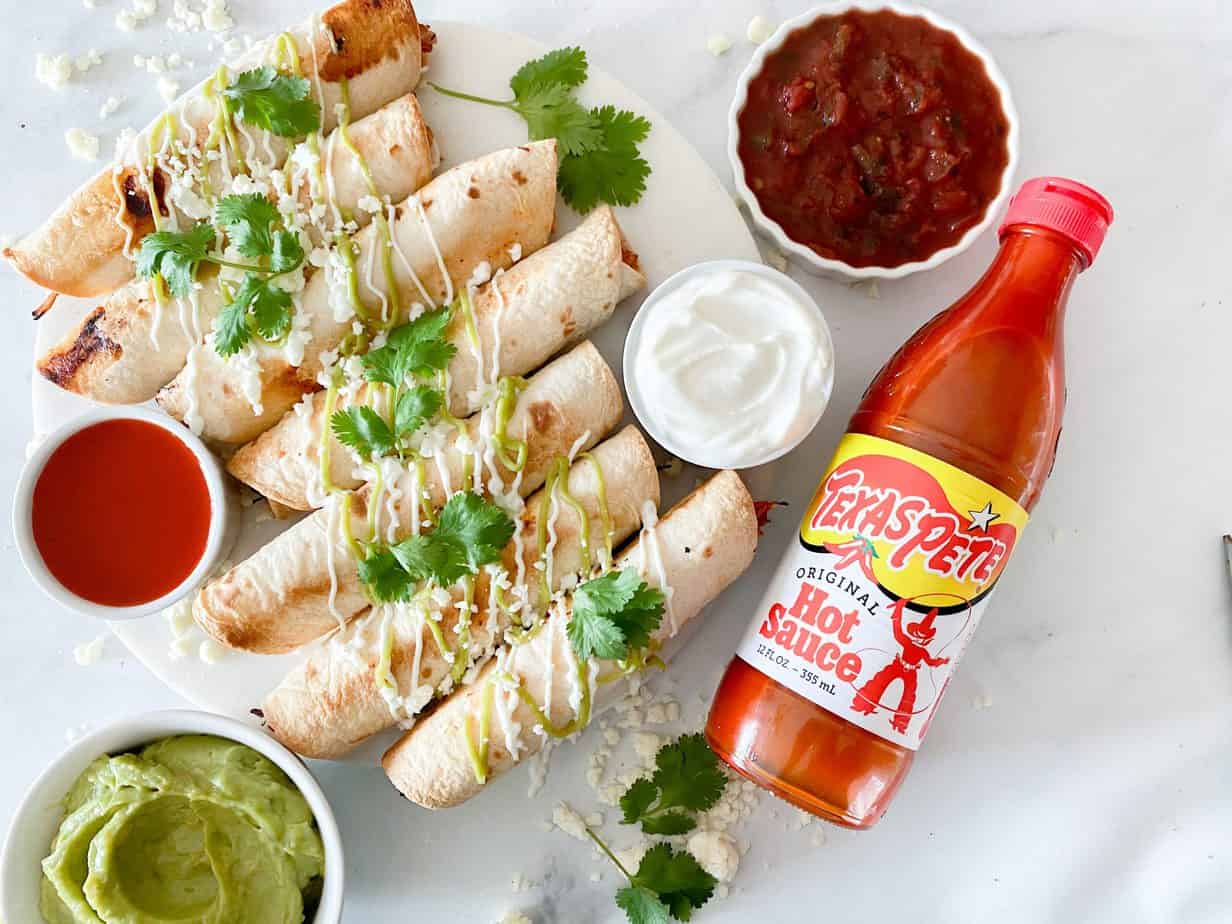 Easy Weeknight Taquitos
Use 

Texas Pete®

 Hot Sauce to make easy and delicious spicy taquitos.
Ingredients
1/4

cup

Texas Pete® Original Hot Sauce

2

jars Green Mountain Gringo® Salsa

or Texas Pete® Salsa

3

lb

chicken breast

Flour Tortillas

Butter

Favorite toppings such as queso

sour cream, guacamole...
Instructions
In an electric pressure cooker, add the chicken and 2 jars of salsa. 

Cook on high pressure for 25 minutes (or 45 minutes if they're frozen breasts).

When that is done, do a quick release of steam and open the pressure cooker. Add in the hot sauce. Stir to mix with the salsa and coat the chicken breasts.

Remove the breasts from the sauce and shred with two forks. Add back into the sauce and stir again to coat it all in sauce.

Melt the butter in a small bowl and set aside. Preheat the oven to 425F. Line a baking sheet with foil.

To assemble: Take a tortilla and brush one side with butter, flip it over so the butter side is on the outside now. Fill with chicken and then roll it up tightly.

Be sure to drain some of that juice from the chicken so you don't add up with soggy tortillas.

Once they're rolled up, place seam side down on the baking sheet. Repeat.

Bake for 10 minutes on one side, then flip and 5-7 minutes on the other or until golden and crisp. If they're not crisping up well, turn on the broiler. But watch them! It only takes a minute before they burn.

Serve immediately with a side of sour cream, guac, queso, salsa and another drizzle of hot sauce!