Since before Grace was born, I knew I was going to type up her birth story. I just wasn't sure if I was going to share it on here. However, after doing a poll on Instagram Stories and seeing that 100% of those who voted wanted to read it, I figured I'd share it here. I also added pictures from that day :)
Before that though, I wanted to thank you all for your well wishes, congratulations and all the loving comments all over my Instagram! You guys are the best!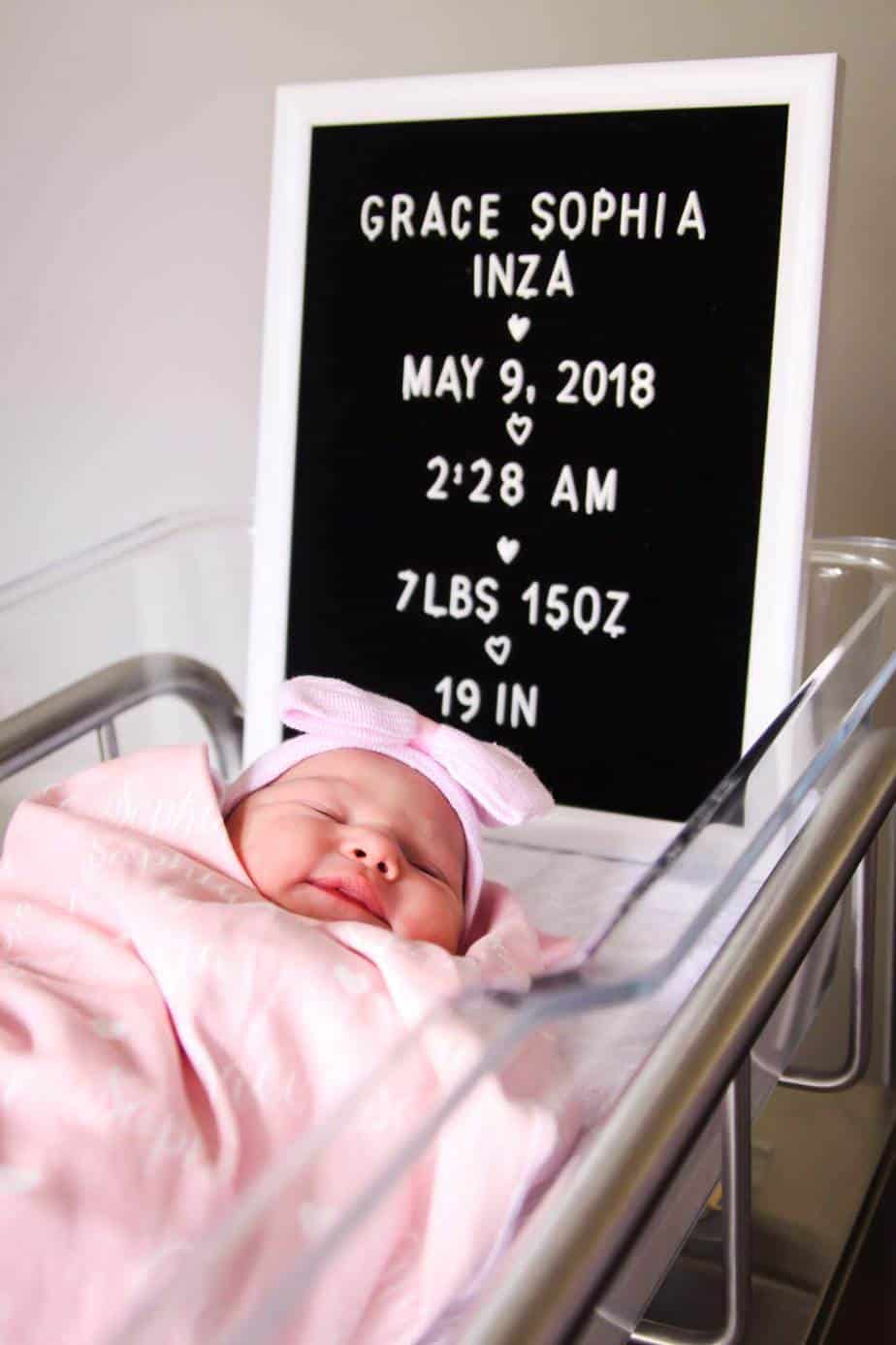 At my 39 week appointment, my doctor told me I hadn't dropped and it would look like he'd be inducing soon. I did not want to do that if I could help it, so I decided to get to walking. I walked every mall in Miami, multiple times that week. I think I walked about 2-3 hours daily (as fast as I possibly could…which wasn't very fast at all! haha)
At my 40 week appointment (on my due date!), my doctor said I still hadn't dropped and wasn't dilating at all. He didn't think this baby was coming today, but wanted me to go get an ultrasound because he suspected elevated fluids. They gave me an appointment for 3 hours later.
During that time, we headed to Dadeland Mall and walked to pass the time. I tried to eat some Chick-fil-a but after one nugget, I began to feel sick to my stomach. I didn't eat again.
We got to the office and they began the ultrasound. When the doctor came in, she told me this baby was coming today and wanted me to head to the hospital. She said there was no rush, but she would be calling my doctor and the hospital to let them know I was on my way later that afternoon.
I couldn't believe it. I hadn't felt one contraction leading up to that and felt nothing different. So we headed home. I showered and washed my hair. As I began to iron it, around 4:00pm, I began feeling contractions. They were about 10 minutes apart. Within an hour, they were down to 5 minutes apart and I knew she was coming!
We sped things up and finished at home and headed out! The contractions weren't terribly painful yet, but they were pretty consistent between 4-5 minutes apart. It took us about 20 minutes to get to the hospital (so glad we did birthing classes and knew exactly where to go!). They quickly got us set up and in a delivery suite.
They checked me again, and said I wasn't dilated, was not effaced and my cervix hadn't even begun to soften. So, they gave me a medication to soften the cervix. It had to be in for 12 hours, then they'd start me on Pitocin. So at 8:45pm I got that medication and waited. I still hadn't eaten a meal since breakfast, besides that one nugget at the mall earlier so I asked for food. They said not til around midnight (the doctor at the ultrasound office told me I wasn't going to eat again until after giving birth, so I'm glad they said I could have a snack before giving birth!). When the time came, they brought me a sandwich and I was only able to eat about half before I started feeling a little nauseous so they put the rest away.
I began feeling stronger contractions, and asked for the epidural. My nurse told me she couldn't give me the epidural since I was so far away from giving birth and they usually like to see some dilation before giving it. She asked me on a scale of 1-10 what my pain was right now. I told her a 7 and she said it was impossible. She told me to prepare myself because if I feel a 7 now, it was just going to get so much worse, so I had to be realistic with my pain level at the moment. Reluctantly, I told her: "I guess it's a 4?" She said that was much better. Oh well…
At that point, the nurse told my mom she should go home because the baby definitely was not coming tonight (the plan was for my mom and sister to be with me while I delivered, as well as Mikey). She checked me once again to be certain, and sure enough, at midnight, I still was 0cm dilated. At that point my family decided they'd go home and get a good night's sleep since I'd be induced in the morning.
Soon after they left, my contractions began getting stronger. They were coming closer together and lasting longer. The nurse gave me some sleeping meds so I could try to rest. After about an hour of interrupted sleep, I couldn't sleep any longer. The pain was unbearable. I asked the nurse back in and told her I couldn't take it any more. She told me we should head to the bathroom because sometimes using the restroom relieves some of the pain.
I told her I wasn't quite sure I could move and she told me I definitely should try. So with her help and Mikey's I slowly, in the middle of very long contractions, made my way to the bathroom. As soon as I sat on the toilet, I told the nurse I had the urge to push. She told me that without dilating, it's impossible. I told her I REALLY HAD TO. She told me to go right again because "nothing will happen." So I pushed once and I felt a gush come right out. I told the nurse that I was pretty certain my water broke.
Once again, she told me it was impossible. She says I probably just peed. I told her I was certain it was my water breaking. She simply told me to get up and head back to the bed so I can rock at the foot of the bed to help the pain. I told her I could not rock, I could barely walk! I told her we had to rush to the bed because I had to push NOW!
I got back on the bed and she checked me for dilation. Her exact words following that were "Oh my god, you are 9 centimeters, call your mom! I'm calling the doctor!" Sure enough, my water had broken at 1:49am. I turned to the nurse and asked, "can I get the epidural now?" and her response was "oh no honey, it's too late. You're doing this all natural!"
WHAT?!
As Mikey called my mom and she called the Doctor, I kept repeating that I had to push nowww! She told me to keep breathing through the contractions and to just hold on a little longer because the doctor was on his way.
In less than 10 minutes, the doctor, my parents and sisters had all arrived. I was in such pain, I didn't want anyone touching me or talking to me. Every time Mikey or my mom would touch my arm to comfort me, I kept hissing at them, "don't touch me!!" So unlike me! hahaha
I kept saying I had to push so while the doctor was still getting ready, he told me to start pushing. I could feel her coming! While I was pushing, I remember looking side to side and seeing all my sisters in the room (my dad waited outside!). I was so surprised, however afterwards, it was a nice to see how they all caught different pictures of Mikey and I with Grace from different angles and positions around the room. So cool!
Anyway, I don't remember exactly how many pushes it took, but it was definitely less than 5. Grace was born at 2:28am. Yep, just 30 minutes after my water broke and 10 hours after my first contraction. I was able to deliver her without an epidural. I never thought that would be possible!
The joy about her finally being here was overwhelming and I forgot about everything once she was out. I couldn't focus on the pain, I was so focused on her, how they cleaned her, measured and weighed her and when they brought her to me. It was an amazing experience (and who knows, maybe I'll do an epidural free birth again sometime!).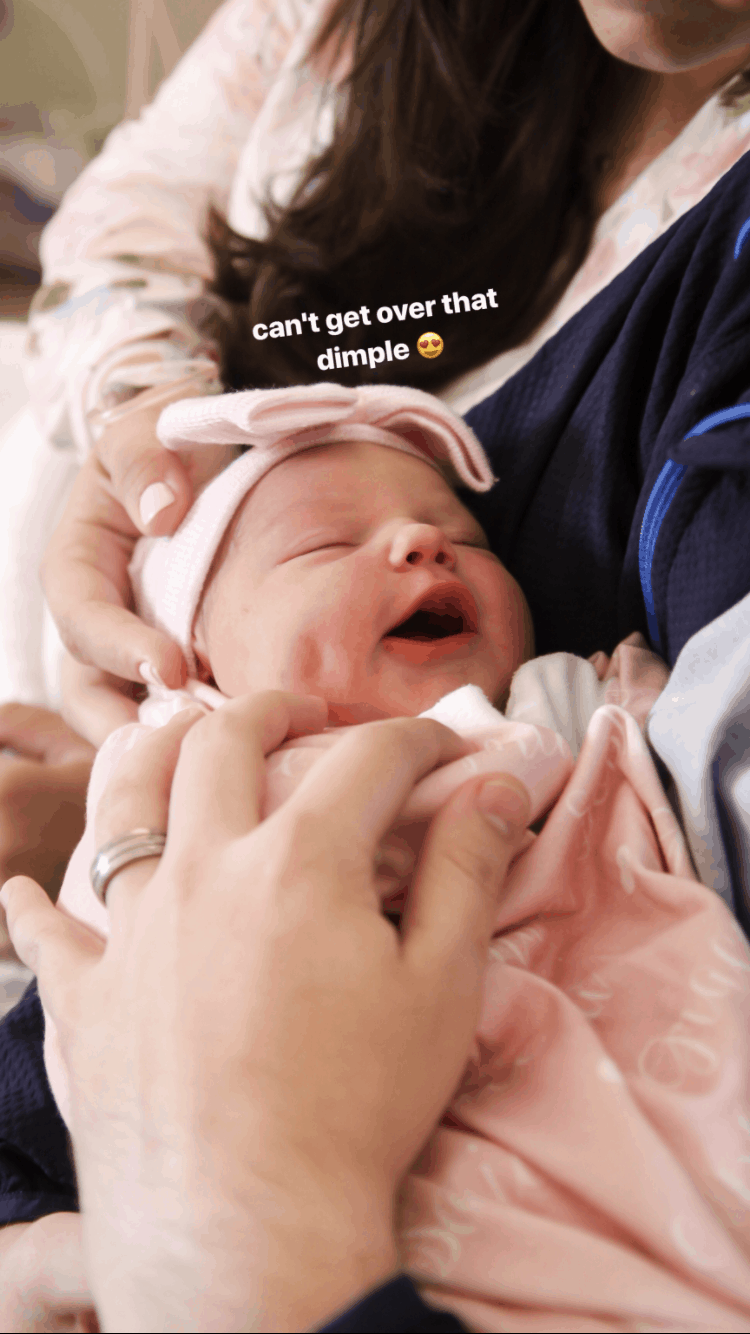 Thankfully, my recovery was just as smooth as my delivery. Within just a couple of hours, I was already back on my feet, walking, showering on my own and visiting with family and friends. I am so grateful for such an amazing first experience! God was so good! This delivery was absolutely amazing and 100 times better than I ever thought it would be.
I am now 8 weeks postpartum and feel just like my old self again. We are greatly enjoying our baby girl and every day is a new and exciting adventure with her.