This shop has been compensated by Inmar Intelligence and its advertiser, MARS Wrigley Confectionery. All opinions are mine alone. #NeverStopSummering #NSS2021 #MMS #Skittles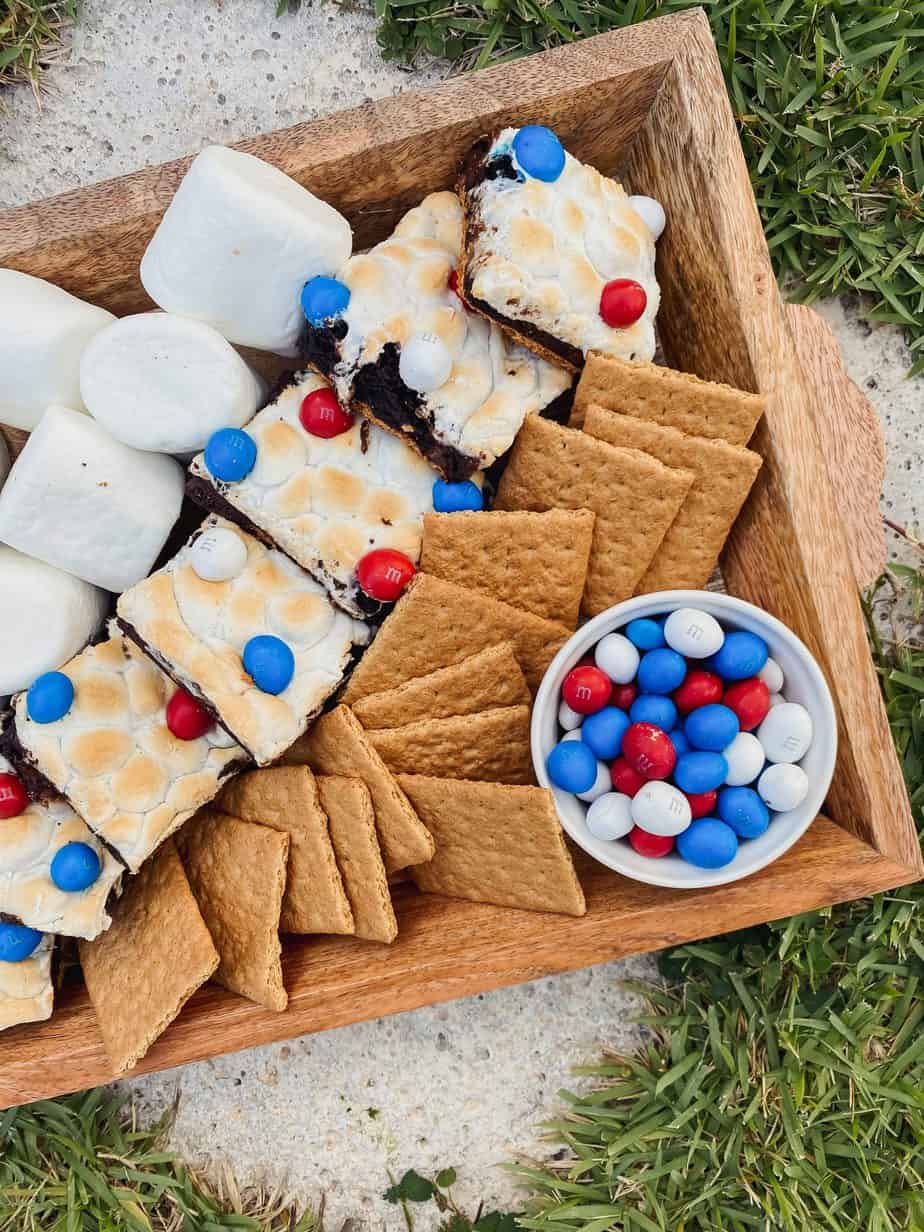 Say it with me: M&M'S® S'mores Brownies…
Yep, we're going there. Combining all of our favorites: Peanut M&M'S® Red White & Blue Mix + S'mores + Brownies together to make an UH-MA-ZING summertime treat.
What are the most nostalgic parts of summertime for you?
For me, it's definitely enjoying ooey, gooey chocolate treats outdoors, late in the afternoon, after a fun day of grilling and just enjoying my family's company outdoors.
Specifically S'mores. Because those are my gosh darn favorite treats of all times.
Buuuut, then I met my husband and he's a brownie guy through and through- don't try to convince him otherwise.
He's into the same ooey gooey deliciousness I love, but in his brownies. He likes them soft and always, aLwAyS, ALWAYS wants that middle square.
The gooiest of them all!
So, this summer I decided to join forces and put both of our favorite treats into one dessert…. but I needed to add a special treat.
Peanut M&M'S® Red White & Blue Mix!
I mean, aren't these just the cutest, most festive treats you've seen?!
They've got all of the S'mores flavors, gooey brownie layer and then to top it all off, a delicious sprinkle of M&M'S®.
These really are a treat!
Keep on reading to learn how to make these simple 5 ingredient M&M'S® S'mores Brownies!
Peanut M&M'S® are going to be my favorites all summer long…
I am absolutely LOVING These new Peanut M&M'S® Red White & Blue Mix chocolates!
They're cute and totally delicious. That perfect ratio of chocolate to peanut. Seriously, I can eat these by the handful.
Another tasty summertime treat is SKITTLES® America Mix candy. These are so cute to make a snack board with the M&M'S® since they're all America themed.
They look adorable on this s'mores board as a tart little treat to enjoy with the chocolatey dessert!
Keep buying fun M&M'S® packages all summer long to keep your days full of tasty treats!
They're seriously so perfect for summer BBQs and pool parties! And Never Stop Summering is doing a fun thing too!
How to make these tasty treats
Equipment:
Bowl
9×13″ baking pan
Spoon
Ingredients:
Graham Crackers
Chocolate bars
Mini Marshmallows
Peanut M&M'S® Red White & Blue Mix
Brownie Mix
The title is long and may sound complicated, but making these is truly so easy.
It's just a matter of creating layers and popping in the oven and you're good to go!
Let's run through these M&M'S® S'mores Brownies real quick.
First things first. Prep that oven and line that baking pan. We're making something tasty!
Cover the bottom of the pan with graham crackers. You can use regular or chocolate graham crackers for extra chocolatey goodness!
Now let's prep the batter. This part is easy.
Just take your favorite boxed brownie mix and prepare it according to the directions. Pour over the graham crackers.
Now bake as directed on the package. I find mine usually take 30-40 minutes.
When it's done, top with marshmallows and broil them until they're nice and toasty!
They're going to look like they were toasted over the campfire. So delicious!
Once that's done, remove from the oven and sprinkle with a handful of Peanut M&M'S®. I loooove that extra nutty crunch that the peanut brings to the brownie.
So tasty and delicious!
I'm telling you, this is a super simple recipe to make at home and enjoy all summer long. Even the kids can make this one!
M&M'S® S'mores Brownies
Layers of the best summertime treats: S'mores, Brownies and

 

M&M'S®

deliciousness!
Ingredients
4

sheets of graham crackers

cut in half

Brownie Mix

& ingredients to make it

1.5

cups

Mini Marshmallows

Peanut M&M'S® Red White and Blue
Instructions
Preheat the oven to 350 degrees. Line a 9x9 brownie pan with parchment paper and grease it. Set aside.

Take your graham crackers and lay them out evenly on the bottom of the pan.

In a mixing bowl, make your brownie mix as directed on the box. Pour over the graham crackers.

Place in the oven and bake as directed on the box (30-40 minutes) or until a toothpick inserted comes out clean.

Remove from the oven and sprinkle with the marshmallows. Place back in the oven and turn on the broiler. Watch carefully and let them toast a bit.

Remove from the oven and immediately sprinkle with Peanut M&M'S®. Let them fully cool and then remove from the pan.

To get a clean cut through the marshmallow, pop the brownies in the freezer for 10-15 minutes. Run your knife under hot water and cut quickly. It'll make a clean cut. Then leave the brownies out to come back to room temperature.
Visit NeverStopSummering.com for rules and free method of entry. Ends August 31st. No purchase required to win.