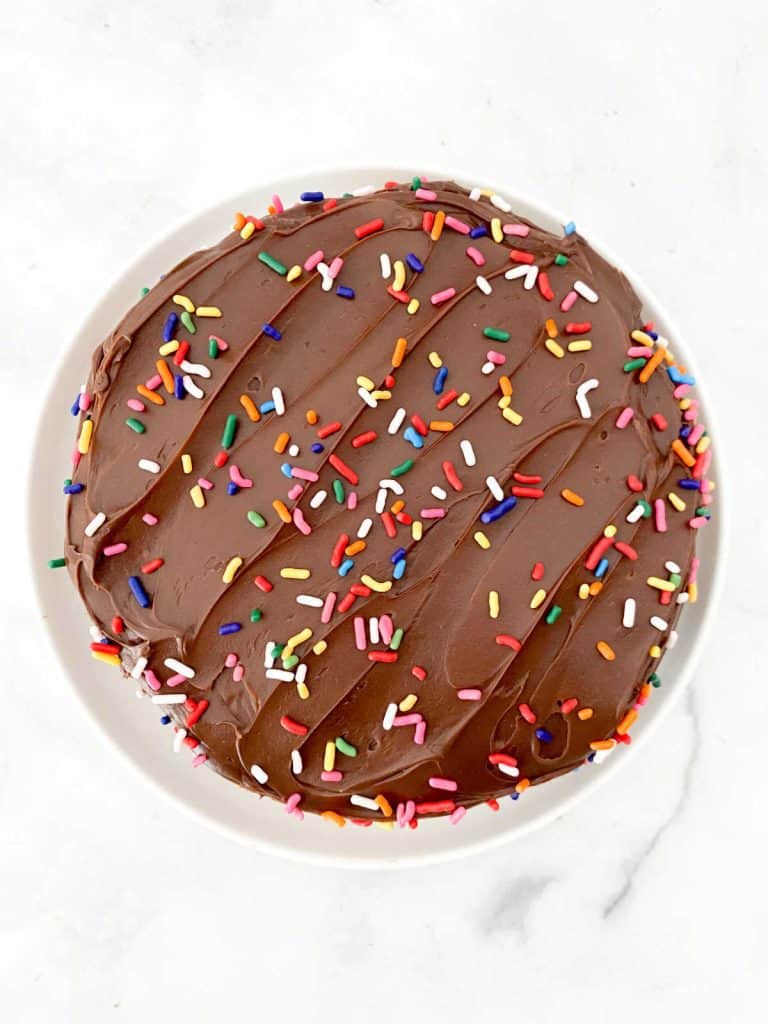 Half Boxed Birthday Cake
Have you ever had a craving for a boxed cake mix, but really only wanted a small one? You know, like half of a boxed cake?
This has happened to me SO many times.
I love boxed cake mix. Really, I'd take a boxed cake over a fancy cake for my birthday.
Well, my birthday was last month and I knew I had to give this a shot and see what would happen.
Would my half boxed birthday cake dreams come true?
I'm sure you can guess the answer to that since you're here reading this now. ;)
Happy Birthday to me with this perfect small boxed cake!
Seriously, what better gift than perfecting this cake?
What makes this cake special is that classic yellow cake feel (or really, any boxed cake you'd like!).
You get all the flavors you love but not an entire cake to devour!
Let's start off by talking about how to measure out half of this boxed cake mix.
You could go with an approximate measurement such as 1 3/4 cup of mix.
If you're going to use this method, be sure to properly measure.
So spoon the boxed mix into the measuring cup, level and scrape off the excess. Then you can pour into your bowl.
If you just scoop out of the box, you'll end up with way more mix than needed and a denser cake as a result.
However, my favorite way to measure this is to actually weigh the mix.
Most cake mixes are either 15.25oz or 18oz. Either works well for this recipe.
Half of a 15.25oz box is going to be 7.6oz. And half of an 18oz box is going to be 9oz of mix.
Now place a bowl on a kitchen scale and zero it out. Start pouring cake mix until you reach the amount of ounces you need.
This is the most accurate way to measure the boxed mix and you know whatever is left in the box is just enough to make a second cake next time!
This is my favorite way because it's minimal mess AND you can measure straight into the bowl you're going to mix the batter in!
Okay so now that we know how to measure, the rest is easy peasy!
Let's make a perfect smash cake!
Yep, this recipe is also the perfect size for a smash cake. All of the baby hands are welcome, and if you make it, tag me. I WANT TO SEE THE BABIES!
Anyways, back to baking. This is what you'll need:
Equipment:
A medium sized mixing bowl
A food scale or measuring cups to measure out the boxed mix
A whisk or hand mixer to beat the cake mix
Parchment paper to line the baking pan
A 6 inch round cake pan for baking that delicious cake!
Ingredients:
One box of your favorite cake mix
a single lonely egg
a little bit of butter
less than a cup of milk
your favorite sprinkles!
your favorite frosting
That's it! This is literally one of the easiest cakes you'll ever make.
Substitutions:
You can replace the butter with oil if you're out of butter. My favorite would be canola.
If you don't have an egg, you can use 1/4 cup of applesauce. It will change the taste a bit, but it won't affect the texture or pretty factor. :)
Sprinkles: the only ones I would avoid are nonpareils. They bleed too much and then just end up being little pellets in the cake.
I'd go with the classic rainbow sprinkle like I topped my cake with. Or you can use any other type of sugar sprinkle. The more colorful the better!
You can also replace the sprinkles with mini chocolate chips if you'd like. Just toss them in a bit of flour to coat them so they don't all end up sinking into the batter.
If you don't have milk left, you can use water. I love milk though because it makes the cake so much richer.
For an extra little tang of flavor, add a 1/4 tsp. vanilla extract!
You can also keep experimenting with more substitutions. This cake is really forgiving! If you come up with something fun, reach out and let me know!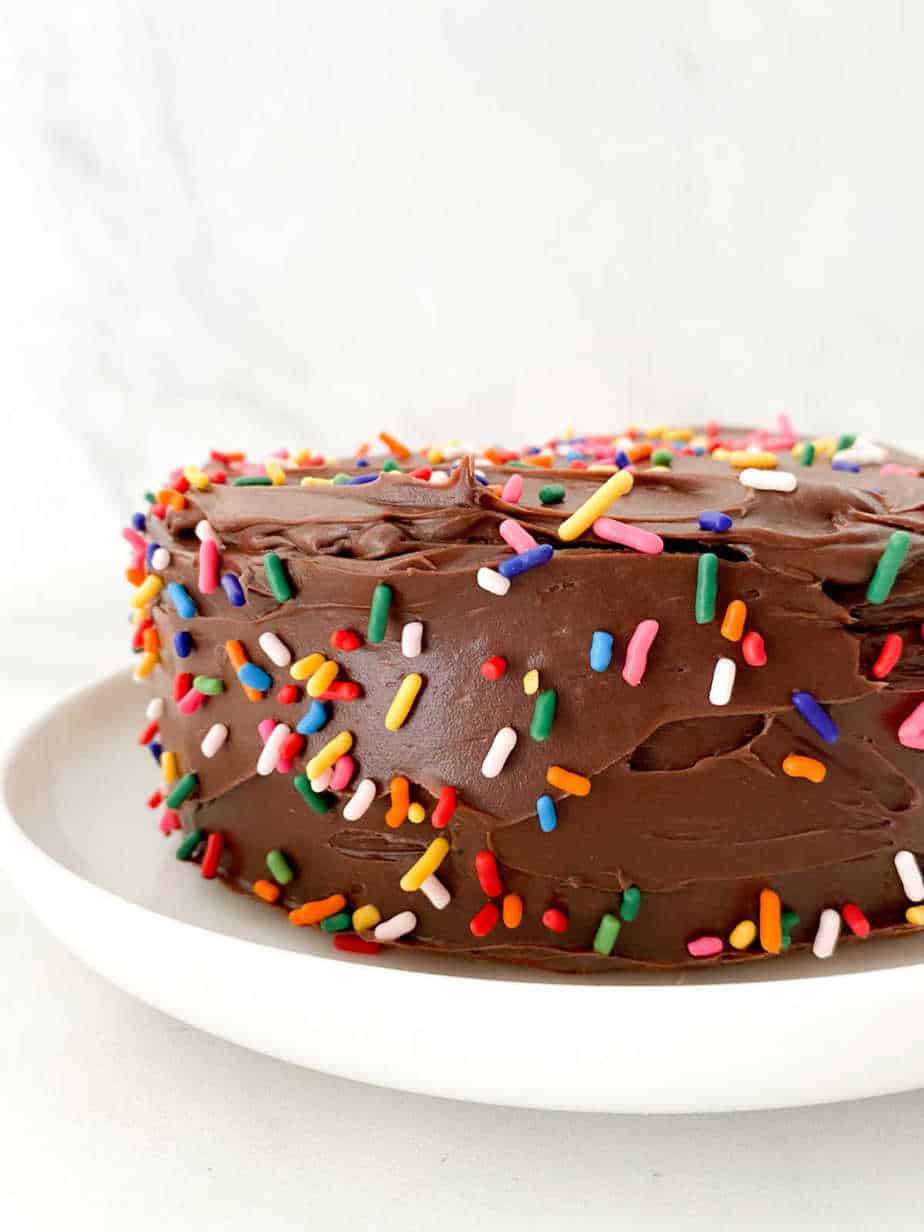 Tips and Tricks for the best tiny cake!
So the easiest way to prepare the pan here is to grease it, add a circle of parchment to the bottom and grease again.
It's going to ensure the cake does not stick at all during the baking and cooling process.
Now prep your batter. For best results, use a hand mixer or stand mixer.
If you don't have that, whisk it aggressively. You want it to be really whipped up and thick!
When you pour the sprinkles in, don't use the mixer anymore. Give it a quick fold with a spatula to incorporate quickly without over mixing.
You want to avoid the sprinkles bleeding into the batter so you keep that perfect speckled color throughout the cake.
Pour, bake and remove from the oven. Let it cool 5 minutes, use a knife to release the edges and then let it cool another 20-30 minutes.
Then invert it carefully on a wire rack to cool completely.
Now you can split this cake in half to create two layers or just keep it simple and frost the whole thing.
I love classic chocolate frosting from the supermarket so that's what I use here.
But if I'm in the mood for a different flavor, a quick small batch cookies and cream frosting is delish!
Give it a try and let me know what you think!
If you make this, be sure to tag me. I'd love to see your yummy cake!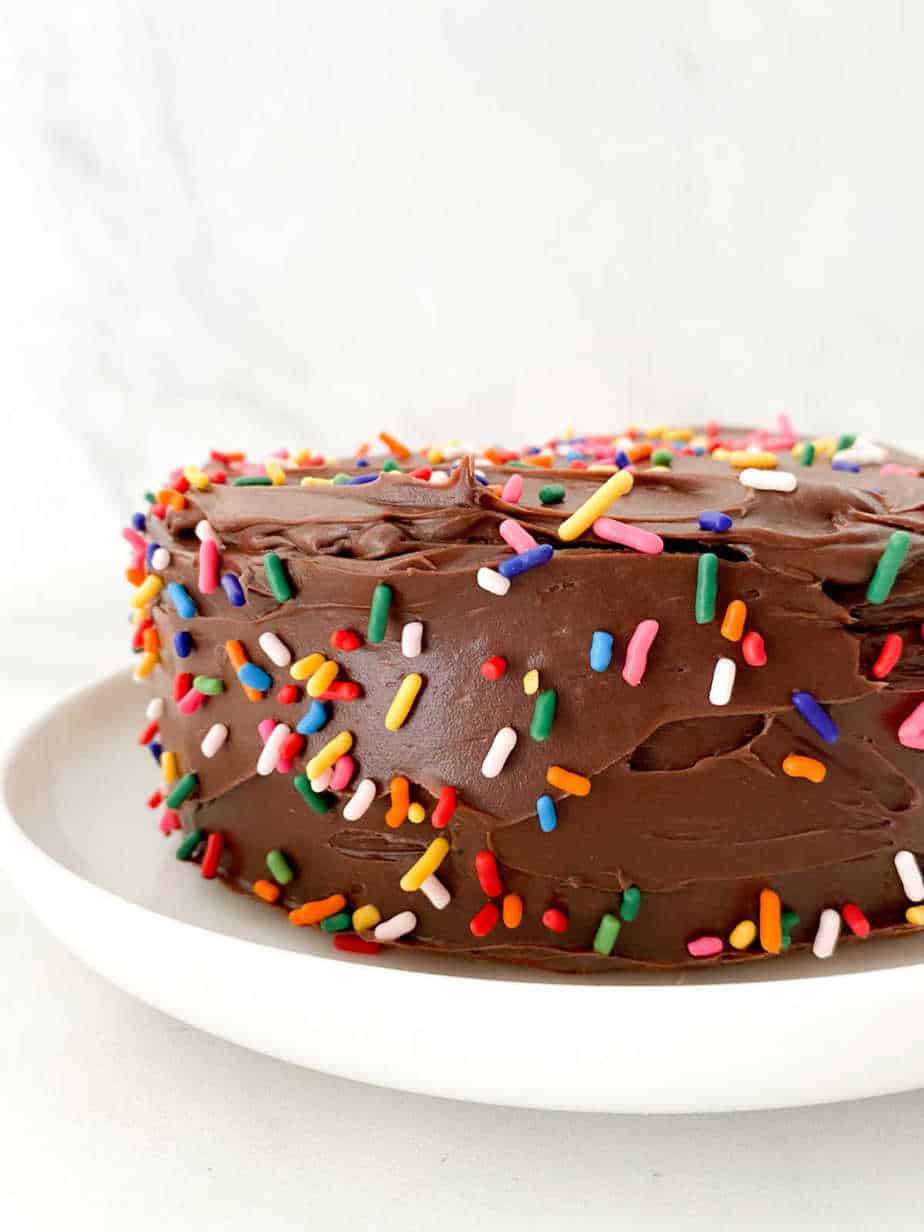 Half Boxed Birthday Cake
If you always have way too much birthday cake leftover- make this small batch recipe! It's just half of a boxed cake so perfect for two!
Ingredients
Half of one box yellow cake mix

check post for tips on how to measure this

1

egg

1/4

butter

melted

2/3

cup

milk

1/4

cup

sprinkles + extra for topping

1

tub frosting
Instructions
Preheat oven to 350F

Spray a 6 inch cake pan with non stick cooking spray and line the bottom with a greased piece of parchment paper. Set aside.

In a medium bowl, combine the yellow cake mix, egg, butter and milk. Mix for 2 minutes until very well combined.

Add in the sprinkles and mix gently until spread throughout. 

Pour batter into prepared baking pan. Bake for 35-45 minutes or until toothpick inserted in the center comes out clean.

Remove from oven, let it sit in the pan for 10-15 minutes then invert onto a wire rack to fully cool.

If you want a one later cake, simply frost, decorate and enjoy!

If you want a two later cake, slice the cake in half using a Serrated knife. Add an even layer of frosting to one half and top with the other piece of cake. Now frost the whole cake and add sprinkles. 
If you enjoyed this small batch recipe, check this one out: