Cinnamon Sugar Mexican Dessert Chips? What are those?
Sopapillas, that's what! I don't think I ever really knew what Cinnamon Sugar Mexican Dessert Chips were.
The first time I had them was at Lime. We used to always go for a weekly burrito, but decided to try dessert once.
Day. Made.
I wish we had tried them sooner!
I knew I had to make these at home. To save money and to eat them as often as I wanted.
I'd be lying to you if I didn't say these are my new addiction. Cinnamon sugary goodness all over a tortilla chip then dipped in whipped cream?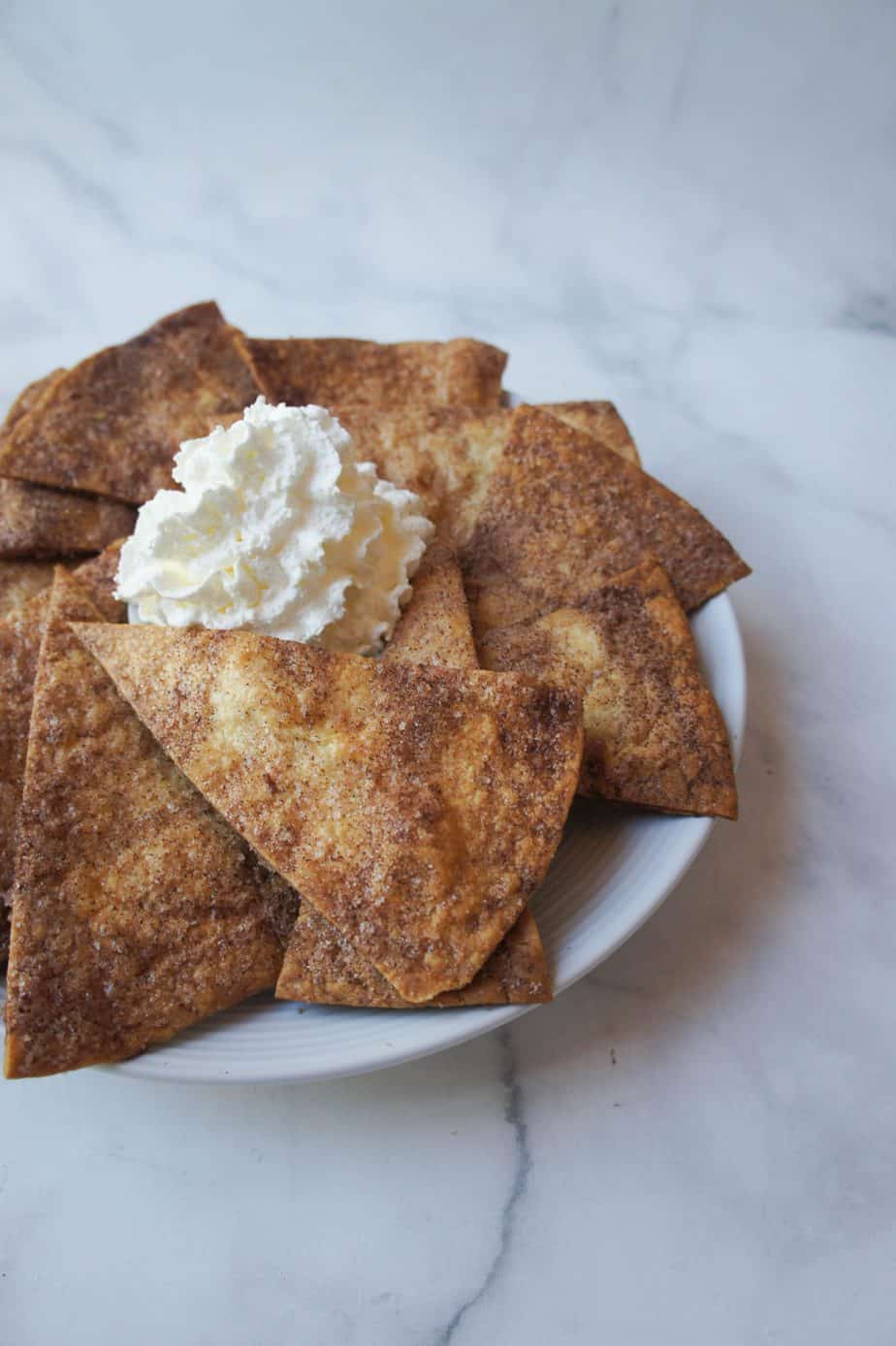 How are these dessert chips made?
At Lime, they deep fry them. They're not as crispy. They have a little softness to them.
Absolutely divine, but I knew I couldn't deep fry these at home every single day.
And honestly, deep fried food doesn't hold up well for long.
I knew baking them would crisp them up but I love crunchy treats, so I didn't mind that.
They are really just as good. Coated in butter, dusted in cinnamon sugar and then baked to a crispy perfection.
These are the amazing dessert that I have been making for months now.
Honestly, I was eating waaaay to many of these. They are so delicious, but not good for my new year's resolutions, so I decided to stop….
Just KIDDING!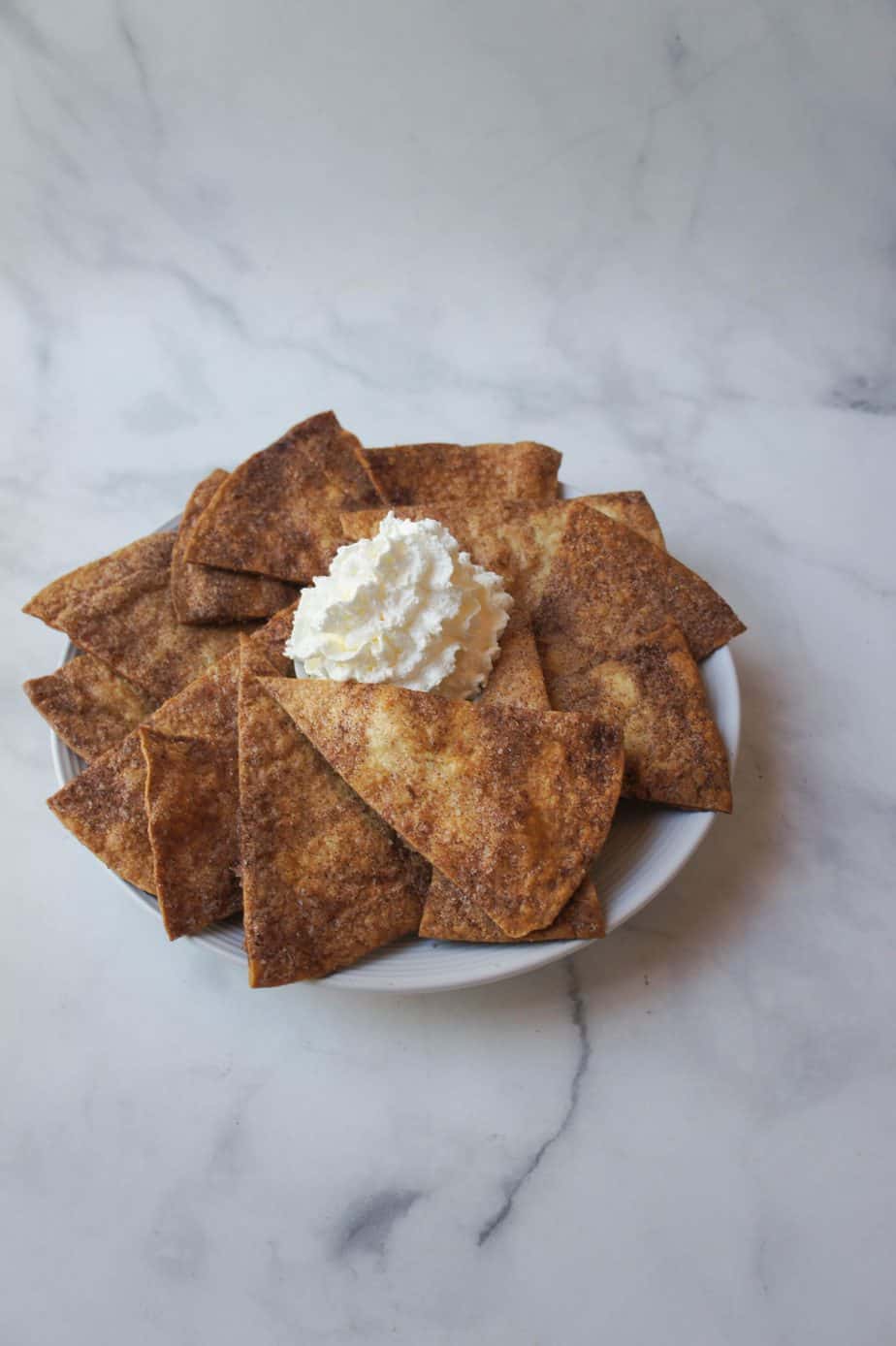 A couple of ways to make these sopapillas (Mexican dessert!)…
You could toss your chopped up flour tortilla in a large tupperware container. Add in your melted butter. Close the lid and shake.
Then open it back up and add the cinnamon sugar mixture. Close the lid and shake again.
Done!
But for a faster dessert chip situation…
I hate having extra things to wash so I do this all on the baking sheet, even if it takes me a little extra time.
I line my baking sheet with aluminum foil, and lay out my tortilla slices. Using a brush, I butter one side, then sprinkle cinnamon sugar on top (I keep cinnamon sugar in a shaker for easy sprinkling).
Then I flip them all over and repeat. Brush butter and sprinkle cinnamon sugar.
Pop them in the oven and done!
For a small batch, make them in the toaster oven! I needed this big time.
Smaller portions so I can eat them all, because really. I have no control. I will eat through the whole batch. This is my way of being "healthy" hahaha…
Anyway, this recipe is the perfect finale to Taco Tuesday. Give it a try, let me know what you think and send me a pic of it! It doesn't have to be perfect, I just want to see it!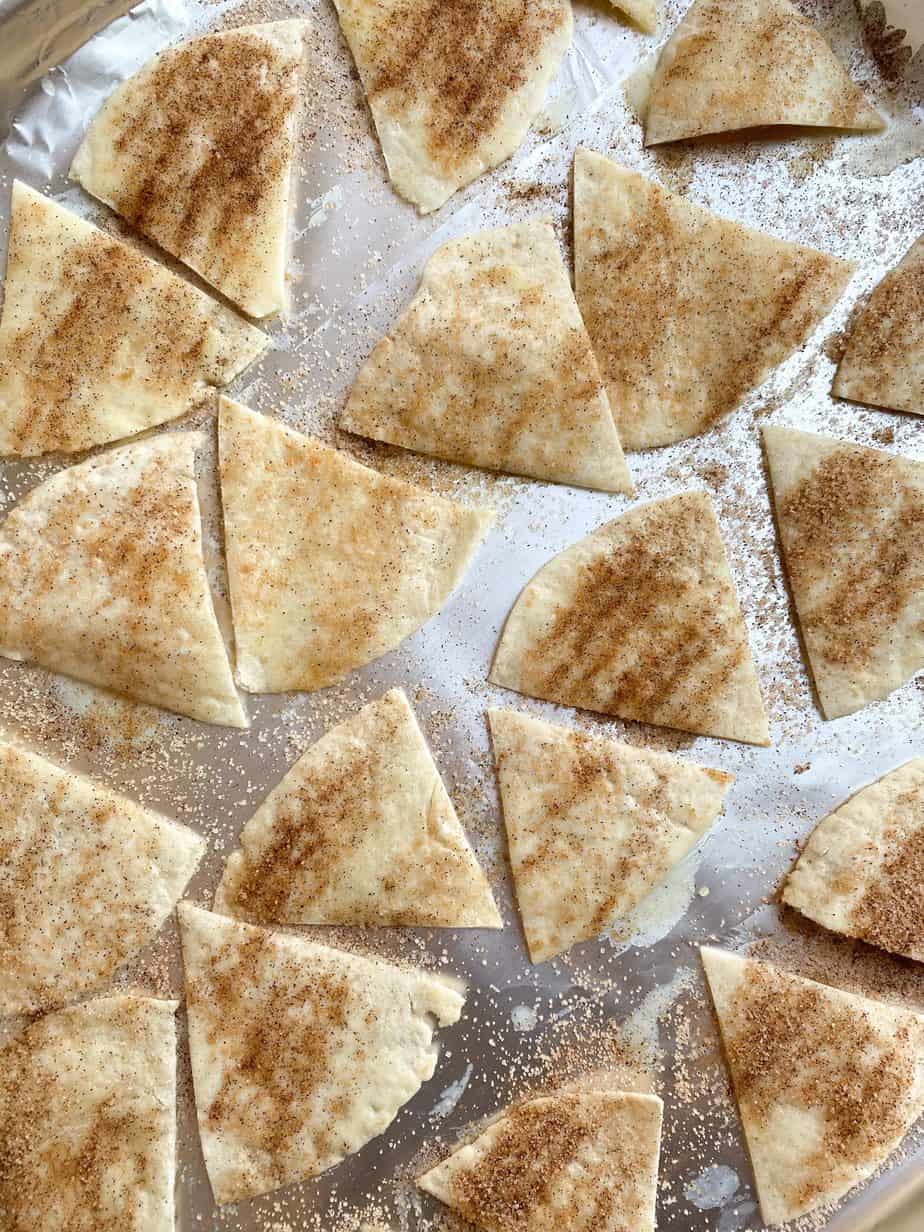 What do you need to make these cinnamon sugar dessert chips goodness?
Equipment:
Baking sheet
Aluminum Foil
small bowl and brush
Ingredients:
Flour tortillas
Cinnamon
Sugar
Butter
If you do make these, be sure to tag me on Instagram so I can see and share!
Baked Cinnamon Sugar Mexican Dessert Chips
The classic deep fried Mexican dessert chips get a healthy (yet unnoticeable twist)... they're baked!
Ingredients
Chips:
3

ten inch flour tortillas

1/3

cup

sugar

2

tsp.

cinnamon

4

tablespoons

butter

melted
Whipped cream:
1/2

cup

heavy whipping cream

4

tablespoons

powdered sugar.
Instructions
Chips:
Preheat oven to 350 degrees. Line baking sheet with aluminum foil. Combine sugar and cinnamon, set aside.

Cut tortilla into triangles and lay them out on baking sheet.  Brush one side with the melted butter and then dust generously with cinnamon sugar.  Flip them over and repeat on the other side.

Bake for 10 minutes or until golden and crispy.  Remove from oven and let them sit out for 5-10 minutes while you prepare the whipped cream.
Whipped cream:
Beat the heavy cream on high until it starts to thicken.  Add in powdered sugar and continue beating until it reaches desired consistency (I like it until soft peaks form).

Serve chips warm with whipped cream on the side.
Looking for more Mexican deliciousness?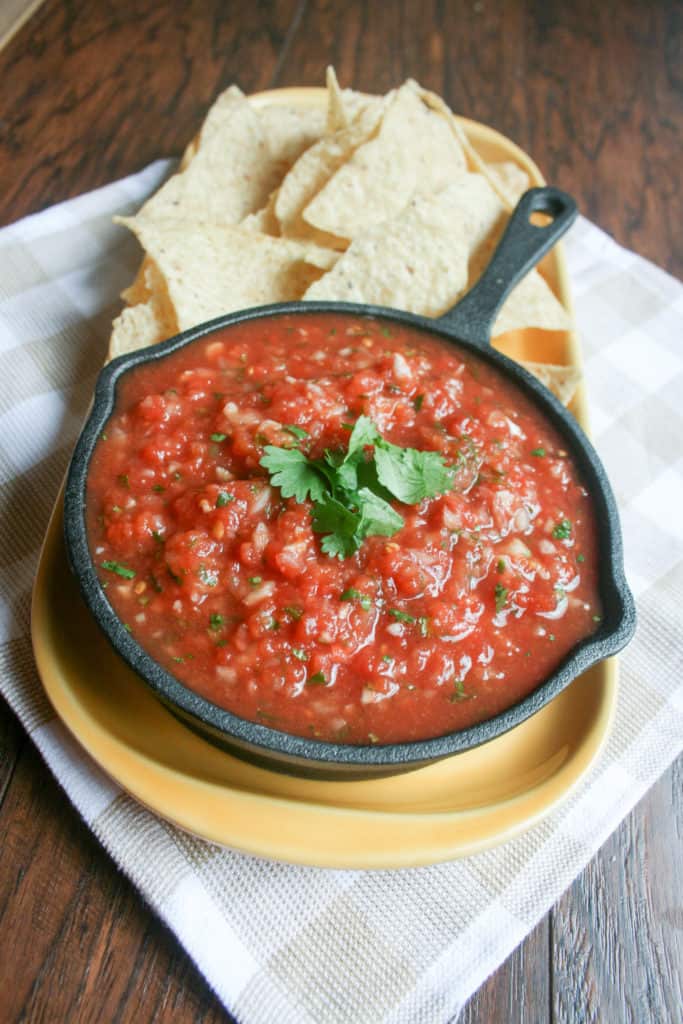 Restaurant Style Mexican Salsa
Mexican Dessert Chips