The cake at your wedding could very well be the centerpiece of the room.  At my wedding, the cake was in the very center of the room with all the guest tables surrounding it, so I knew I wanted my cake to be beautiful (even if simple) because everyone would be walking by it and looking at it.  In order to create your dream wedding cake, there are a few things you should keep in mind.  If you don't have a plan before walking into a cake shop, they may very well convince you to do something other than your dream cake (maybe because it's just easier for them).  A great idea is to search Pinterest before going in to meet with your baker to find inspiration for your dream cake.  The steps you need to keep in mind are simple, but go to your appointment with an idea so they don't sway you while you're there.
Cake Shape
You can go with round which is simple and elegant (this is what I chose), square which is more modern and stylish, scalloped, pillow, heart, or topsy turvy.  The first three on the list are most common, while any can truly be beautiful given the setting of the wedding.
2. Cake Types and Fillings
The type of cake you want as well as the filling is what your guests are going to enjoy most so put some though in that.  You can go with a classic white fluffy cake with a simple filling, or get creative.  Options for cake are chiffon, sponge, fruitcake, chocolate and cheesecake (among MANY others, these are just the most popular ones.) while the most popular fillings are raspberry creme, fresh berries (strawberries in particular), Belgian chocolate, and lemon sorbet.  My cake was a classic white with infused strawberry flavor as well as a fresh strawberry filling.  I didn't want a regular ol' vanilla cake so I stepped it up and got a little adventurous.  And it was delicious!  If you're in the Miami area, I got my cake from Divine Delicacies. Their creations are gorgeous and delicious.
3. Cake Decoration
Do you have a vision in mind for your cake?  You can get as adventurous as you want on the inside, but go simple on the outside with just white frosting and little decor.  Or you could have a plain cake and have it all decked out on the outside.  Options to consider and talk through with your cake baker are: icing or fondant, gems, shimmer, piping, paint, trim, and flowers (whether fondant or fresh).  Also, consider the colors of your wedding.  For example, my wedding colors were navy blue and silver, so I added a trim of navy blue to each layer of the cake.  Together, all of these ideas can create a masterpiece of a cake.  If you are unsure about what any of these are, let me know and I'll try to explain as best I can.  Or, talk it through with your baker.
4. Cake Topper
Lastly, remember your cake topper is the center of attention on the cake.  You don't want any of the decor to compete with it, so be sure to bring it (or a picture of it) in to your meeting with your baker so they know to work around the design of it.  The idea is to elevate the cake topper, not compete with it.
Here's a picture of my cake (photo by Cristina Elena).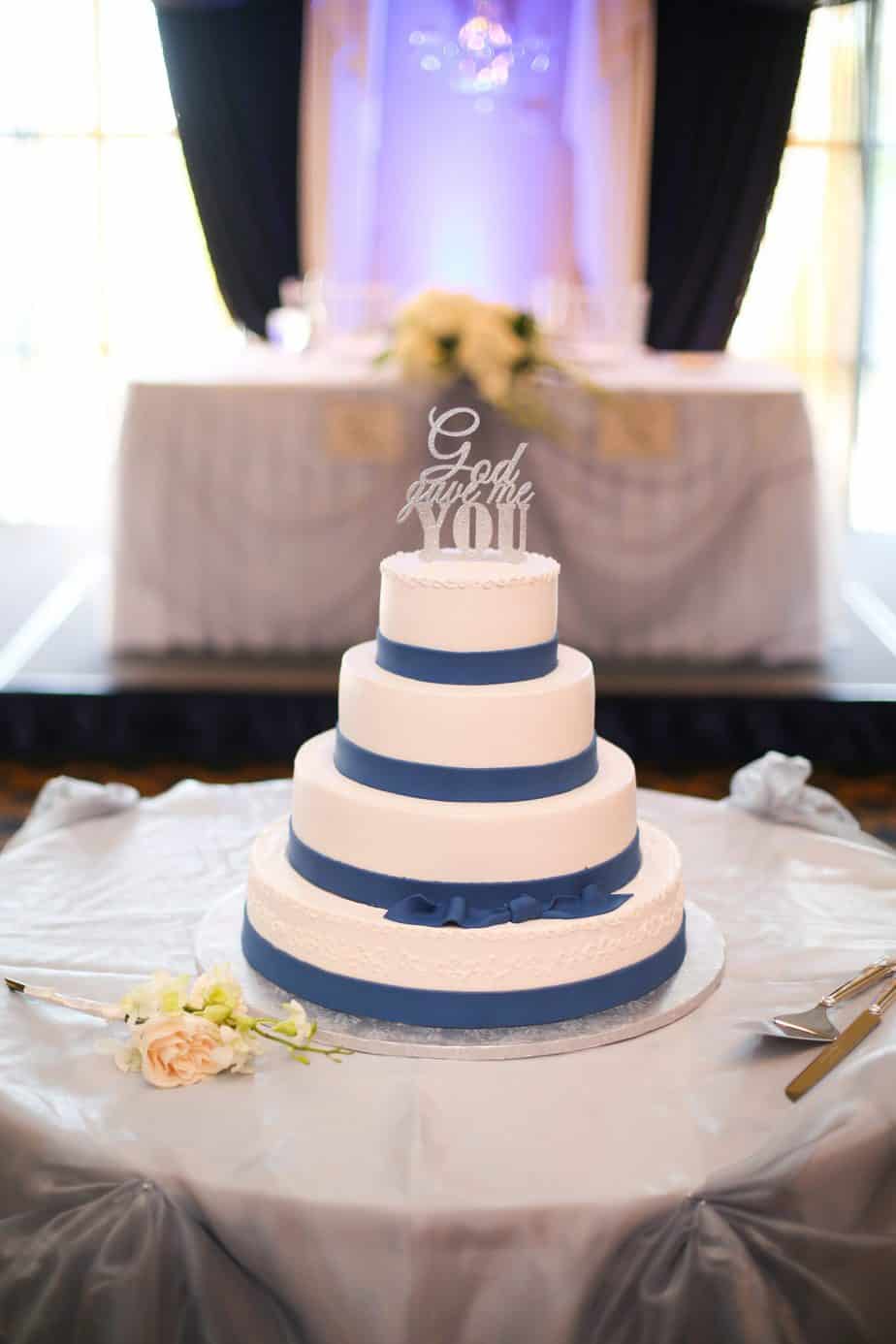 I had a vanilla cake infused with strawberry flavor with fresh strawberries between each layer.  The outside was white fondant with blue trim and if you look closely, you'll see the piping design on the top and bottom layers is subtle yet elegant.
What's your dream wedding cake?