So last month, Mikey and I had a random week off, so we decided to hit the road.  We left Miami early one morning and went straight to St. Augustine.  We explored the area there and absolutely loved it! From there, we went to Savannah, GA.  We walked the historic riverfront as well as all of the squares.  We did lots of walking that day, but refueled with so many yummy foods.  We stopped in at a restaurant called Treylor Park and had dinner. We were not hungry enough for a huge meal so we did not get to try the one thing that really caught our eye: chicken pancake tacos.  But, I remembered what was in it and decided to recreate it when I got home…and maybe add a twist of our own!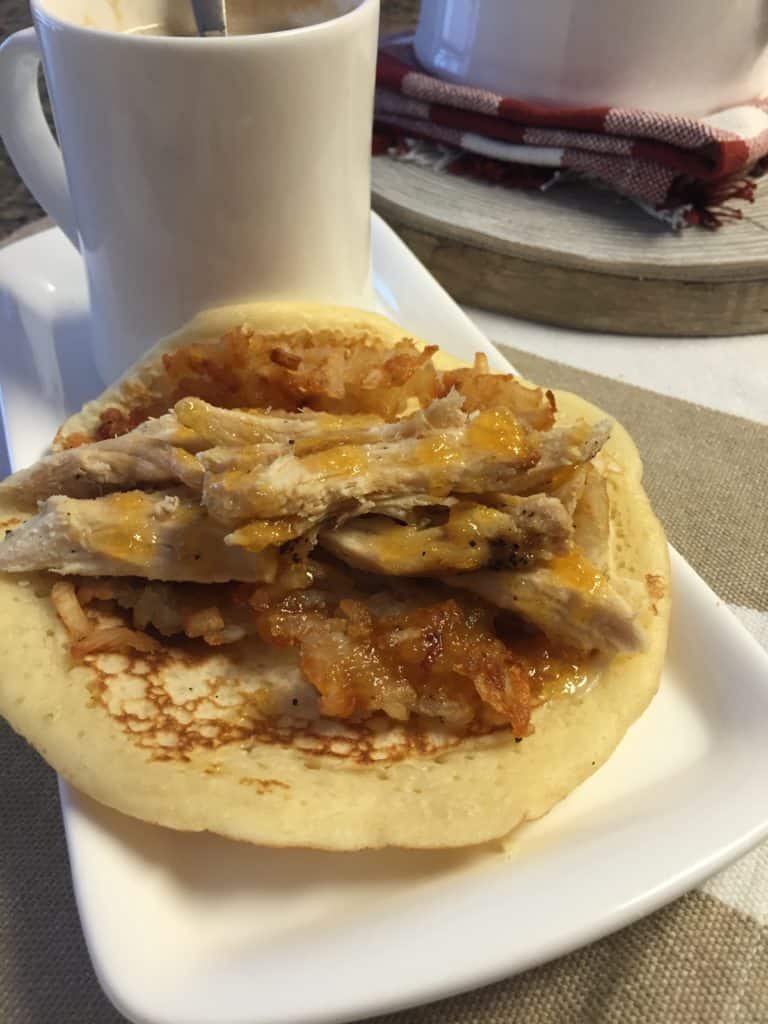 A soon as we got back and Mikey had another morning off, I prepared a batch of pancakes, and made some hash browns and chicken and we were good to go. We assembled our breakfast tacos and then drizzled them with peach syrup (that is key to this deliciousness!).  It was such a wonderful little treat that we had it again for another couple of mornings.  Now you can make it at home, too! This one is a fun and original keeper!
---
Chicken Pancake Tacos
A very southern breakfast of chicken pancake tacos to start the morning!
Ingredients
1

batch of these fluffy pancakes

1

cup

of hash browns

I just buy the bagged frozen kind and fry as much as we need that morning

canola or vegetable oil for frying hash browns

1

chicken breast

cut into strips seasoned with salt, pepper, and garlic powder

This amazing peach syrup or any other syrup you prefer
Instructions
Place the chicken strips on a greased baking sheet, sprinkle with salt, pepper and garlic powder to taste and then bake at 400 degrees for 15-20 minutes or until cooked throughout

Fry hash browns until golden brown, then set out to cool.

Once everything is prepared, take one pancake, add a layer of hash browns, then top with a chicken strip and drizzle with the peach syrup.  If you want to be extra adventurous, add a fried egg over the top!  YUM!