A perfect Italian treat- Mascarpone Dark Chocolate Chip Loaf!
Italian mascarpone loaf, full of dark chocolate chips is really the perfect way to start your day.
Yep, technically this is a breakfast loaf. It's not overly sweetened like a dessert, so it's almost like a coffee cake.
But don't get me wrong- you could totally have this at any time of day! I've had it for dessert plenty of times and it is just the perfect amount of sweetness after dinner.
As I mentioned above, this isn't a very sweet loaf. You can totally add more sugar to make it sweeter.
It also calls for dark chocolate which isn't as sweet as other chocolates.
Feel free to play around with the sweetness. I've done one cup of sugar, but prefer 1 1/4 cups. I also prefer the dark chocolate chips over milk chocolate.
But you can play around with this recipe in so many ways without altering the final results much. So take the lead and have fun with it!
Ingredients and Utensils for a tasty Mascarpone Dark Chocolate Loaf
Here's a quick grocery list for you! Feel free to just copy and paste to your notes for the next grocery run!
Utensils:
two loaf cake pans or one Bundt Cake pan
cooking spray for greasing the pans
bowl with hand mixer or
stand mixer
spatula
Basic pantry ingredients:
flour
cornstarch
sugar
baking powder
salt
vanilla
milk
eggs
butter
Special Ingredients:
Dark Chocolate chips (I don't think everyone has these on hand)
Mascarpone Cheese
Mascarpone is a refrigerated cheese, similar to cream cheese. It's just as delicious on bagels and muffins too!
You'll only need about 2/3 of the container for this recipe. Try the rest on a bagel or toast… or maybe give Half Baked Harvest's Vanilla Tiramisu Cake a try!
The frosting on that cake calls for just about 1/3 container of Mascarpone. That's what I made with the remainder of my container and it was delicious!
How to enjoy this loaf!
First things first: this recipe makes two loaves! You can keep one and give the second to your neighbor. ♥︎
Orrrr, keep them both for yourself. You'll probably eat half out of the oven, a quarter that evening with a hot cup of coffee (decaf, of course!), and the other 1/4 for breakfast the next day.
Now you have the other loaf for the rest of the week (if you ration yourself well enough!).
Seriously, it's so good. I like to eat it by the spoonful, but dip the spoonful in coffee first! Almost like a Tiramisu with that coffee flavor. LOVE.
How to store the Mascarpone loaf
This loaf has a very dense texture. It's supposed to be that way.
I can't repeat this enough because I don't want you to make this and be disappointed when it's not a cake like texture.
This is more like a pound cake. Thick, doesn't crumble too much, but totally delicious!
That being said, this cake's texture quickly turns stale if not stored properly. Do not keep this loaf covered in foil. It will be stale by the next day.
Cake dish or Tupperware, okay.
Ideally, wrap the loaf in plastic wrap or keep in a Ziplock. That will keep the texture nice, dense and soft.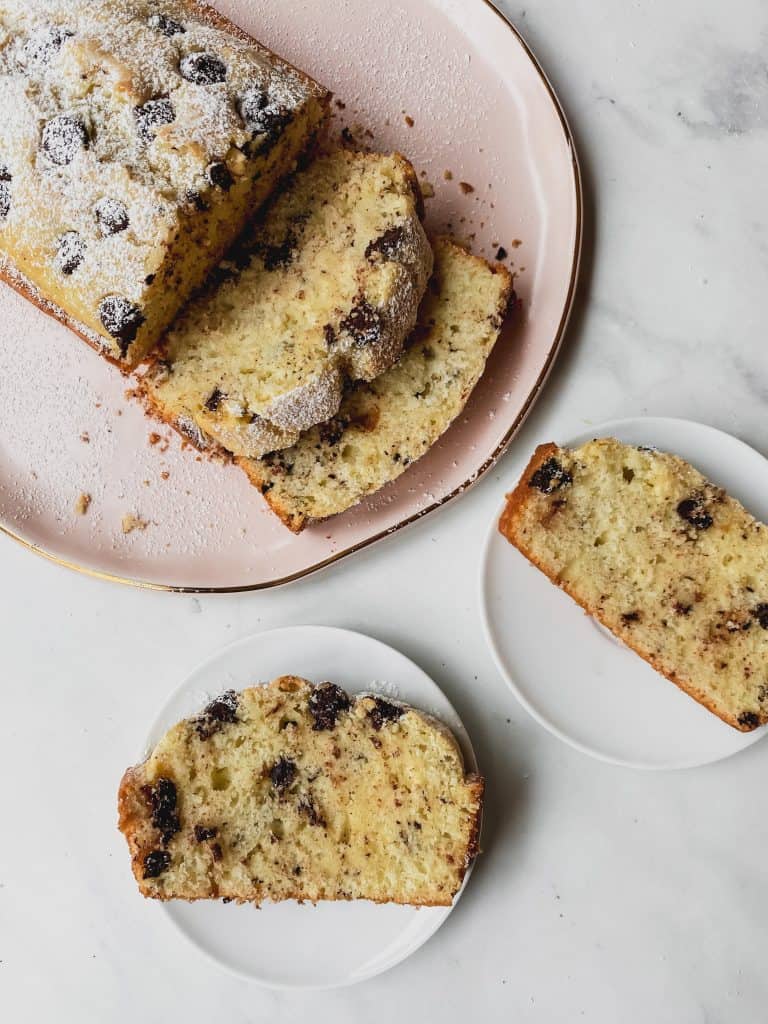 How to make the Mascarpone Dark Chocolate Loaf of your dreams:
This starts like any other cake… Combine wet ingredients, combine dry, mix together, bake.
Except that we want the texture to be just right, so we're going to whip those eggs and sugar for quite a bit first. Then the mascarpone and whip again for a bit.
Finally add the vanilla, milk, melted butter and beat until well combined.
Now whisk those dry ingredients in a separate bowl, add to the wet and don't beat! Fold these in gently until fully combined.
Now add chocolate chips and fold again until evenly distributed throughout the batter.
Pour into prepared loaf pans, sprinkle with extra chocolate chips and bake for 40-50 minutes. It'll be golden with crisp edges and look beautiful!
Now you're ready to sit down with a hot cup of coffee and dunk spoonful after spoonful of this loaf into it!
If you enjoyed this Mascarpone Dark Chocolate Chip Loaf, please tag me in a picture on Instagram or send me one. I love to see what you guys make!
Mascarpone Dark Chocolate Chip Loaf
Mascarpone Dark Chocolate Chip Loaf is perfect for dunking in coffee. Dense vanilla cake, loads of chocolate, a perfect crumb. This one is perfect for breakfast or dessert!
Ingredients
3

eggs

1 1/4

cup

sugar

2/3

cup

mascarpone

room temperature

3/4

cup

milk

1/3

cup

butter

melted and cooled

1

teaspoon

vanilla

2 1/4

cups

flour

1

cup

cornstarch

2

teaspoons

baking powder

pinch

of salt

1/2

cup

dark chocolate chunks or mini chocolate chips
Instructions
Preheat oven to 350 degrees and grease two loaf pans (or one Bundt pan).

In the bowl of a stand mixer (or a large bowl with a hand mixer), cream the eggs and sugar for 2-3 minutes until pale, creamy and whipped. Add in the mascarpone and keep whipping until it's all creamy. Add the milk, butter, and vanilla and beat until combined.

In a separate bowl, whisk together the dry ingredients. 

Add into the wet ingredients and FOLD into the batter gently until fully combined. 

Add in the chocolate chips and fold again until evenly distributed.

Pour into the prepared baking pans and bake for 40-50 minutes until golden.

Remove from oven, let them sit in the baking pan for 5 minutes or so then invert on a wire rack to fully cool.

Once cool, wrap in plastic wrap or store in a Ziplock. This will preserve the texture. If you make it into a Bundt Cake, keep inside a cake dish, covered.
If you enjoyed this recipe, you're going to love this!
Strawberry and White Chocolate Donuts