There may be Amazon affiliate links in this post. If you purchase anything through them, I will make a small commission.
Valentine's Strawberry and White Chocolate Cake = Valentine's Day indulgence!
Is there anything truly better than a single serving dessert for Valentine's day? I am not kidding at all when I say these mini strawberry cakes are the dream. Topped with a white chocolate glaze, these are rich and delicious!
Valentine's Day is the perfect opportunity to make these. The cakelettes are soft and fluffy. The frosting is sweet and creamy.
I will even walk you through two frosting options: one is extra sweet (hello white chocolate!) and another is a little more tart in case you're not feeling the sugar overload!
Let's dive into the base of this: the Valentine's strawberry cake!
You bite into a pillowy cloud of strawberry flavored cake and that alone is perfect.
No seriously, these little cakelets are simple and easy to make. I'll let you in on a secret: it starts with a boxed cake mix.
Yep, a simple boxed cake mix can take you far in the baking world. hehehe
Start with your boxed cake, and then follow the directions on the box… but add one more ingredient:
A box of vanilla OR strawberry instant pudding mix!
Don't actually mix the pudding mix with milk. Just add the powder straight into the cake batter.
This will create a thick batter, almost pudding like consistency. It looks too thick for cake, but trust me- it works.
The pudding makes your cakes extra fluffy and pillowy. Truly takes boxed cake to another level!
If you want to add in anything else to the batter- now is your chance! Mini chocolate chips are a cute surprise when you bite in.
If you want to use mini chocolate chips, do about 3/4 cup, but toss them in a tablespoon of flour first. Coating them in flour will keep them floating in the batter when you bake it instead of sinking.
You could also add tiny chopped strawberries for an extra pink surprise! I would probably chop up 5-7 strawberries in small pieces. and toss those in the batter.
Don't have a mini bundt cake pan? Amazon can fix that, as usual ;) Here's a more budget friendly option, but still has great reviews! And for a classic brand, here's a 20 cavity Wilton pan. Either will do the trick- just be sure to grease it well! :)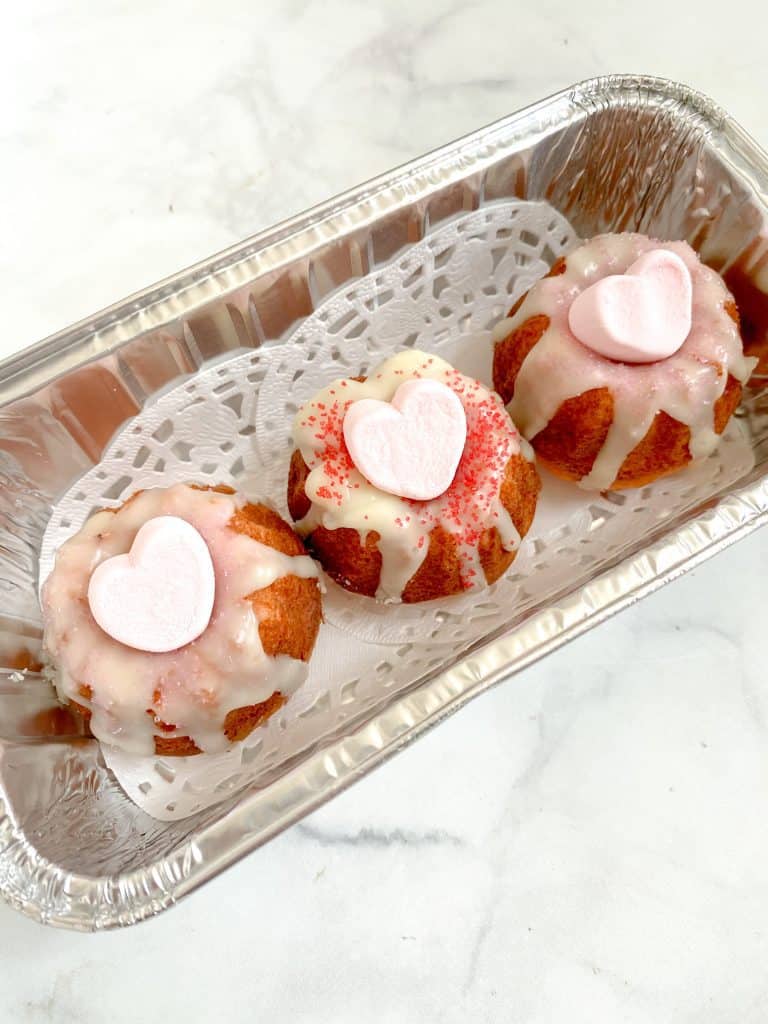 Now moving onto the topping: White chocolate glaze!
For the topping, I've done two kinds. My favorite is a white chocolate glaze… almost like a ganache! It's butter, white chocolate and powdered sugar.
I mean- white chocolate and powdered sugar. These are SWEET, ok? But they are oh so delicious!
Seriously, you don't need any other sweet treat if you are going to serve these!
But what if you're not into the EXTRA sweet desserts?
I've got you covered!
Cream cheese glaze! Seriously, a drizzle of cream cheese glaze goes perfectly on the mini bundt cakes.
The tartness of the cream cheese shines, even when you add a bit of powdered sugar and vanilla to this glaze. This frosting makes it!
Cream cheese glaze can be made in advance too and kept in the fridge until ready to use! Just let it sit out for a couple of hours before frosting the cakes to let it soften up again.
Alternatively, you can just zap it in the microwave for a few seconds at a time until it's a pourable consistency for a really light glaze over the cakelettes.
What to finish these off with?
Sprinkles.
White chocolate shavings.
Mini M&M's (red and pink ones only, obviously!)
A strawberry in the center.
A cute marshmallow heart.
All of the above are perfect options. Really, anything you choose will make them extra cute!
One tip though: the frosting sets very quickly so if you want to add sprinkles, be sure to add them after you frost each one.
If you wait until all are frosted, the first few will already be set by the time you're done and nothing will stick. I know this from experience. :(
Cakes? Donuts? Cupcakes? All of the above!
You can turn this Valentine's Strawberry and White Chocolate Cake into anything you want, really. Do you have a donut pan? Pour the batter in there and make them!
Don't have a donut pan, but want to make them anyway? This is the donut pan I have!
Don't have a mini bundt pan? No problem, try a regular cupcake pan (grease it well or use liners).
You can even make this into a full size cake! Just follow the directions on the cake box for a bundt cake.
I would suggest starting to check it 10 minutes before the box says though. Sometimes the pudding helps it cook up faster.
Really, you can get creative with how to serve these. You can pretty much use any baking tin you have to create these- even a 3 layer cake or 9×13 pyrex dish if you want to!
It's really versatile and you can't go wrong- although my preference is always the mini bundt cakes because hello- they look so fancy and cute!
This mini Valentine's Strawberry and White Chocolate Cake recipe is simple, but a perfect treat for your sweetheart or kids on Valentine's Day.
If you make these, I'd love to see your creations. Tag me on Instagram (@toeatdrinkandbemarried) or send me an email. I can't wait to see your Valentine's treats!
Mini Strawberry Cakes with White Chocolate Glaze
Ingredients
For the Cake:
1

box strawberry cake mix

Ingredients listed on box to make it

4.2

oz

box vanilla OR strawberry instant pudding mix

White Chocolate Frosting

3

tbsp

butter

4

oz

white chocolate

2

cup

powdered sugar

a few oz of boiling water

Cream Cheese Frosting

4

oz

cream cheese

softened

powdered sugar to taste

1/2

tsp

vanilla extract
Instructions
For the cake:
Preheat the oven to 350 degrees and grease your mini bundt cake pan or whatever pan you're going to use well.

Follow the directions on the packaging for directions, but substitute the water for milk. You can use water, but the milk will make it richer!

Add in the packet of instant pudding mix.

Whisk well or beat with a mixer until well combined. 

Pour into greased cake pan and bake for 15 min or until toothpick inserted comes out clean.

Let them cool 5 minutes then invert and let cool completely.
For the White chocolate Glaze:
Melt the butter and white chocolate over low heat, stirring often.

Remove from heat and add in powdered sugar.

Add in boiling water tiny bits at a time until it is the perfect consistency for you (thicker if you want to frost, thinner if you want to pour the glaze).

For the Cream Cheese Glaze

Place all ingredients in a bowl and beat with a mixer until whipped.

I would start with 1/4 cup powdered sugar and just keep adding until it is your desired sweetness. Remember to keep it a little tart so it stands out when you bite into the sweet strawberry cake!

Glaze or frost your mini cakes and add whatever toppings you'd like. Enjoy!
If you loved this Valentine's recipe, be sure to try these with pink M&M's!