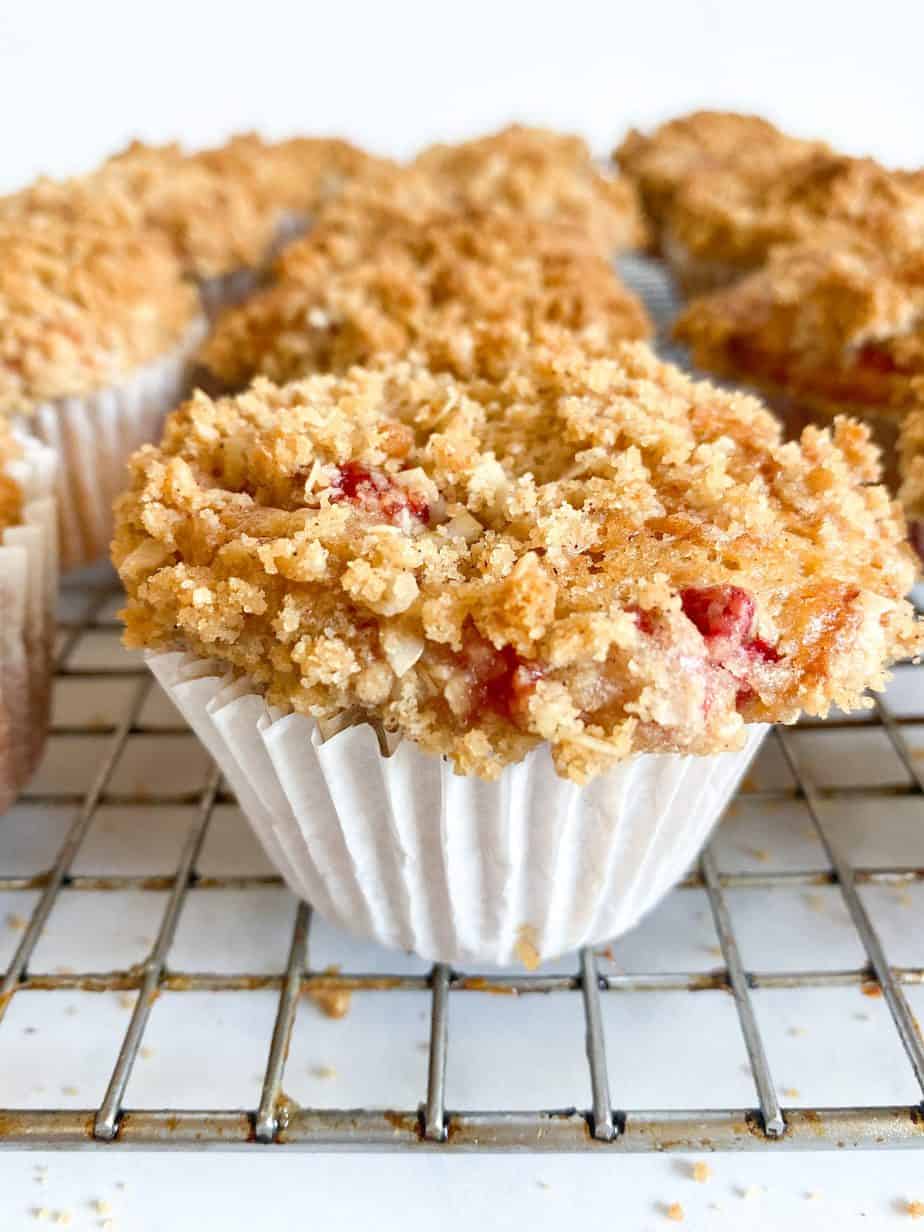 Strawberry Crumble Muffins
Let's stop and talk about these Strawberry Crumble Muffins. These guys are the perfect morning coffee treat or late evening indulgence. They scream summer and have all the delicious flavors of fresh and light strawberries along with rich jam in one!
Strawberries: the perfect summer fruit!
I've been on a strawberry kick since David was born. I've been eating them straight from the container, dipped in sugar, drizzled in dark chocolate or as a topping on waffles.
I just can't get enough!
Most recently, I even turned my mushy strawberries into jam. Can't let any strawberries go to waste! I'm totally serious.
Every week, Mikey brings me 2 containers of strawberries from the store. Grace and I go through them as fast as we can, but we really never finish them all in time. What do we do with the leftover strawberries, you ask?
First we chop them up and freeze them. Seriously, unless I know exactly what I want to do with them, I freeze them until I can decide to keep them from going bad before I get to them.
Then we think about what we're going to do. We love to snack on frozen strawberries. Lately, I've also made Gracie some strawberry banana smoothies. She looooves them!
Our favorite though is turning them into jam to make these muffins! The recipe is super simple. I'll link it here.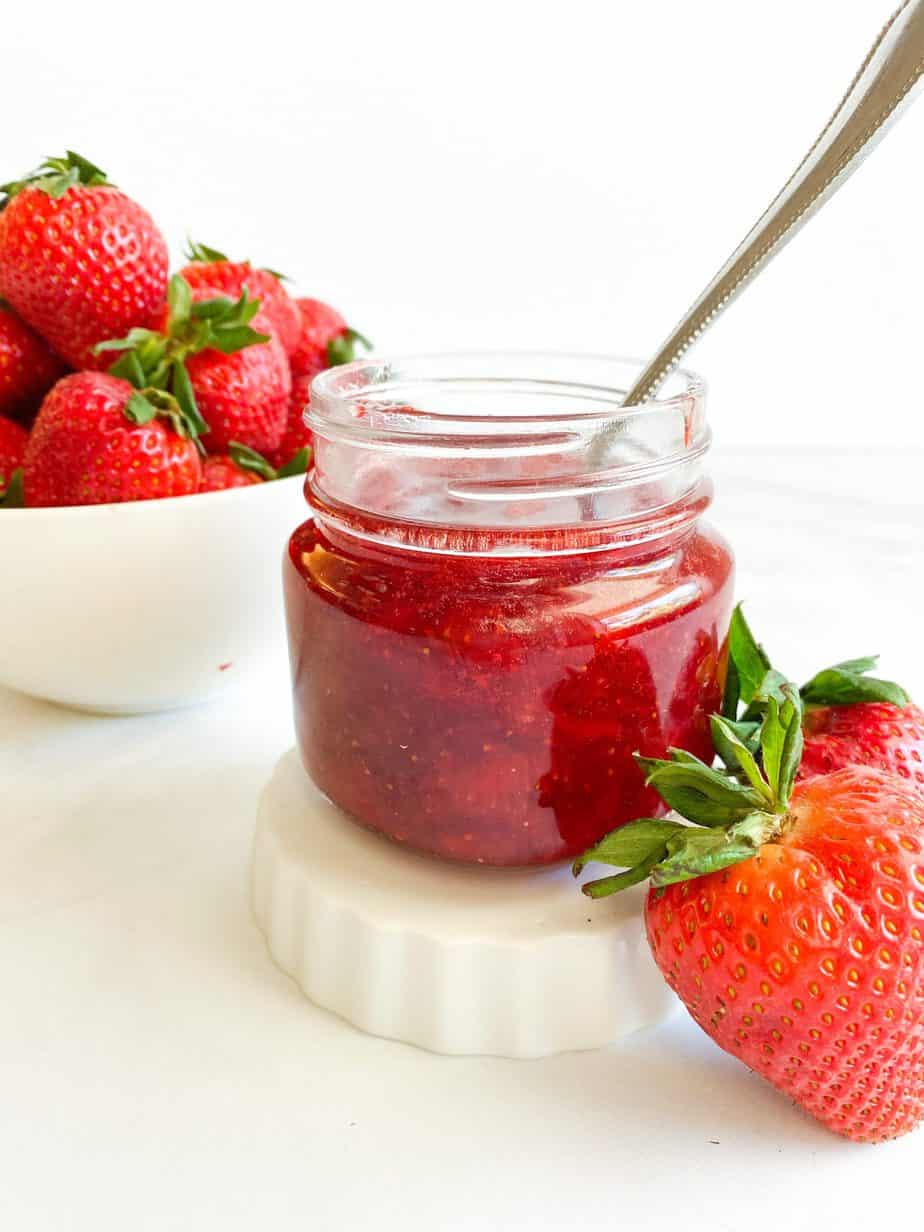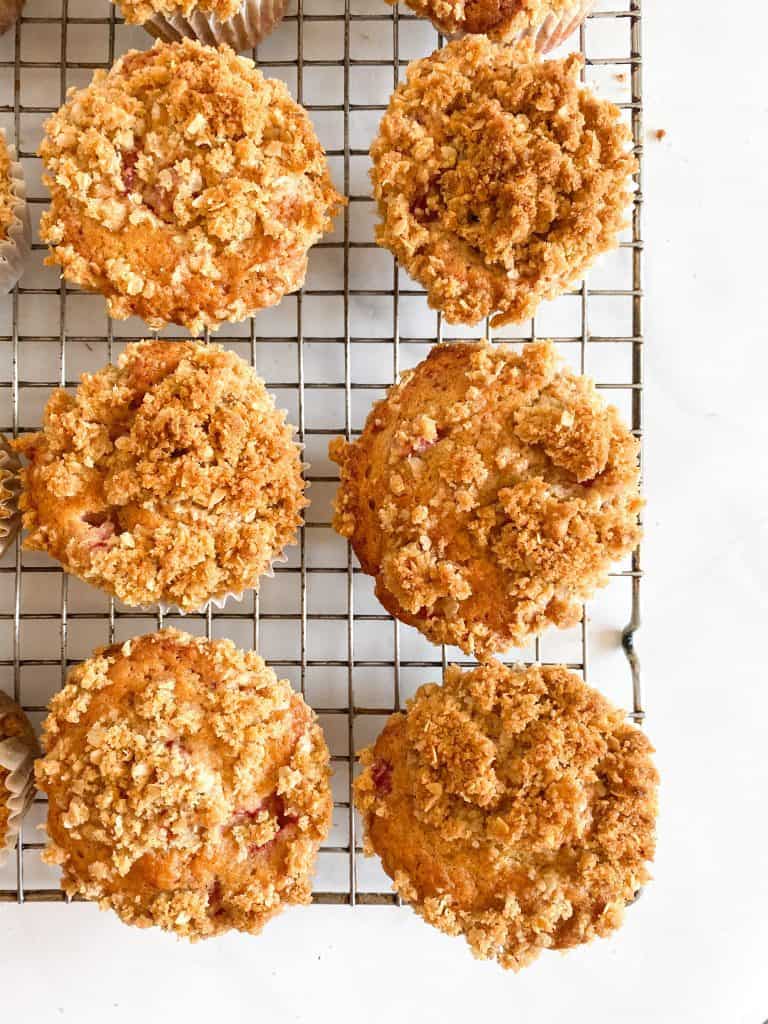 How to prep these beautiful lil strawberry crumble muffins in advance
The beauty of these muffins is all the different textures. You've got rich jam, fresh strawberries, and a crunchy oat crumble (feel free to add a drizzly glaze as well!).
If you prepare all your components in advance, getting these into the oven takes no time!
First of all, start with your jam. Get that going by chopping some strawberries and adding it to a saucepan along with some sugar and lemon juice. Let that boil til it becomes nice and thickkkk! Let it cool completely, set aside.
Chop up your strawberries for the batter. Set aside for a little later.
Prep your crumble. That's oats, brown sugar, flour, butter and cinnamon. Cut the softened butter into the dry ingredients with a pastry cutter. If you don't have that, use two forks, or my personal favorite: your fingers!
Using your fingers to get the butter into the dry ingredients works well, but you need to be pretty quick or else the warmth from your fingers will melt that butter down. However, if you can do it fast enough, go for it! It's the easiest!
Once you have all those components ready, let's make some muffins!
You're pretty much going to mix the wet ingredients first. Whisk them up real well to make sure you don't have any stray egg white pieces in the batter. Then add in the dry ingredients and whisk til combined.
Here comes the fun part of these muffins!
Toss in the freshly chopped strawberries. Mix them in gently, making sure they don't fall apart too much or become mush.
During round one of testing, I just added the jam, mixed and moved on. BIG MISTAKE. I ended up with pink cupcakes. Which were cute, but definitely not the look I was going for!
Instead, divide your batter into your cupcake liners. Then add a teaspoon of jam on top of each and swirl in a little bit with a knife or toothpick. Just a gentle swirl, so it doesn't bleed much.
Add your crumble topping and bake!
Here's the kicker though… you have to wait until these are FULLY COOL before you can dig in. If you try to peel these while warm, the fruit sticks to the paper and won't peel properly.
These need their full resting time to come to room temperature and firm up enough to peel out of the liner.
But trust me, it's totally worth it! Once you take a bite of these, you won't be able to stop. So get ready for the best summer coffeecake you'll have this year!
If you make this recipe, be sure to tag me on Instagram. I'd love to see! Also, come follow along! We do lots of giveaways and I share lots of quick recipes and tips that never even make it to the blog! Oh, and you'll get to see lots of snaps of Gracie and Dave and our crazy behind the scenes fun!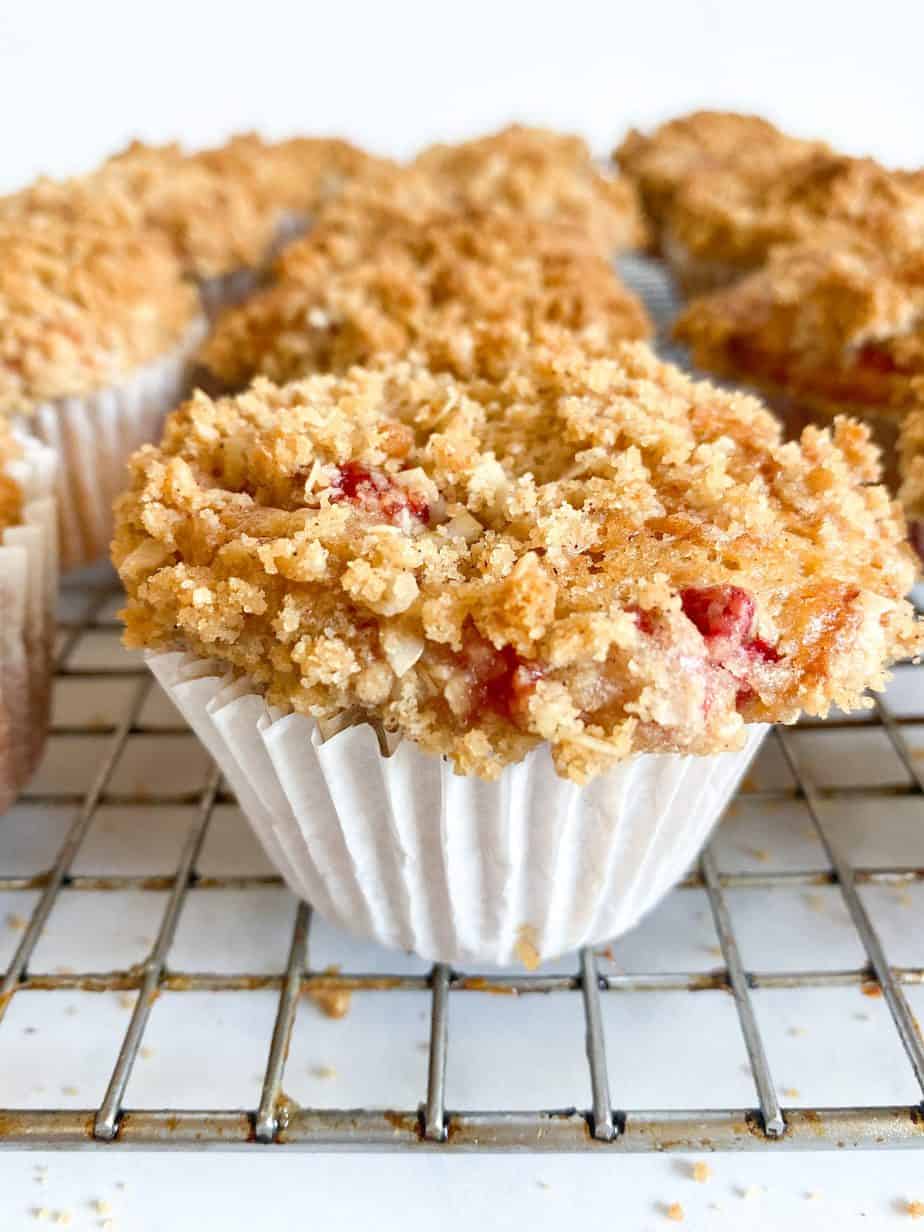 Strawberry Crumble Muffins
The perfect breakfast coffee cake. Strawberry Crumble Muffins are the perfect start of summer treat!
Ingredients
Jam

click here for a 3 ingredient homemade version or

use jarred high quality strawberry jam

Crumble

1/2

cup

quick oats

1/2

cup

brown sugar

1/2

cup

flour

1/4

cup

half stick butter, softened and thinly sliced

1

tbsp.

cinnamon
Muffins:
1/2

cup

1 stick melted butter

1/2

cup

real maple syrup

1

tbsp.

vanilla extract

1/2

cup

buttermilk

or 1/2 cup water and 1 tsp. vinegar

1/2

cup

plain Greek yogurt

2

eggs

2

cups

all purpose flour

2 1/2

tsp.

baking powder

1/2

tsp.

baking soda

1/2

tsp.

cinnamon

1/2

tsp.

kosher salt or fine sea salt

1 1/2

cups

fresh or frozen strawberries
Instructions
Preheat the oven to 350 degrees. Line your muffin trays with 12-14 cupcake liners.
To make the crumble topping:
Add all ingredients into a small bowl. Use your fingers, two forks or a pastry cutter to combine it all. Set aside.
To make muffins:
In a large bowl, add all wet ingredients (butter, syrup, vanilla, buttermilk, yogurt, and eggs). Whisk until fully combined.

Then add the dry ingredients: flour, baking powder, baking soda, cinnamon and salt, stirring until it is all combined. Add in the fresh chopped strawberries and gently fold in.

Divide batter among prepared baking tins. Add one teaspoon of jam at the center of each and using a toothpick, swirl in gently. Be careful not to stir completely so your batter doesn't turn pink.

Add your crumble topping to the muffins and bake for 25-30 minutes or until toothpick inserted at the center comes out clean.

Remove from oven and let them sit in the tins for 10 minutes. Then transfer to cooling rack and allow them to cool completely before enjoying with a cup of coffee. 
Notes
Feel free to swap out strawberries for any other berry you prefer!
Top with a little glaze if you want an extra bit of sweetness. Just combine powdered sugar with a touch of milk and stir until desired consistency!
If you enjoyed this recipe, be sure to check out these other favorites!