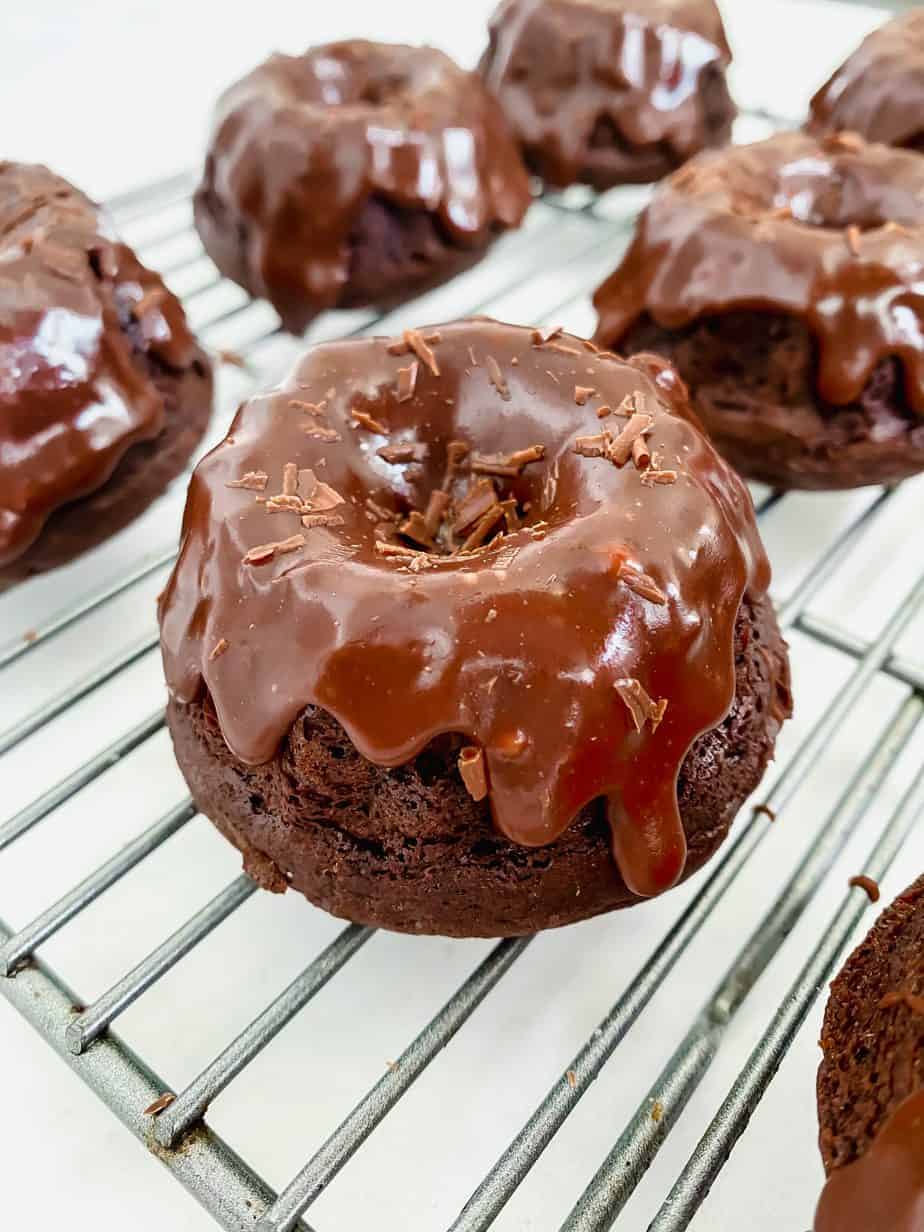 Adorable Mini Chocolate Bundt Cakes? Yes, please!
I have had this mini Bundt cake pan in my garage for ages. I think it may have been something I took from my parents' house when I got married (sorry, mom!).
I really wanted to try something with it, but was always afraid they'd get stuck in the pan. So I put it off.
Until just a couple of weeks ago. Almost 6 years after taking the pan. haha
I decided to make fluffy mini chocolate Bundt cakes with a really fudgy frosting.
But I new I wanted the frosting to set well. Not be gooey.
And these little babies delivered! They're just perfect. And we're all addicted.
By the way, eating 5 of them back to back will probably make you sick (I may or may not be speaking from experience…uh oh.).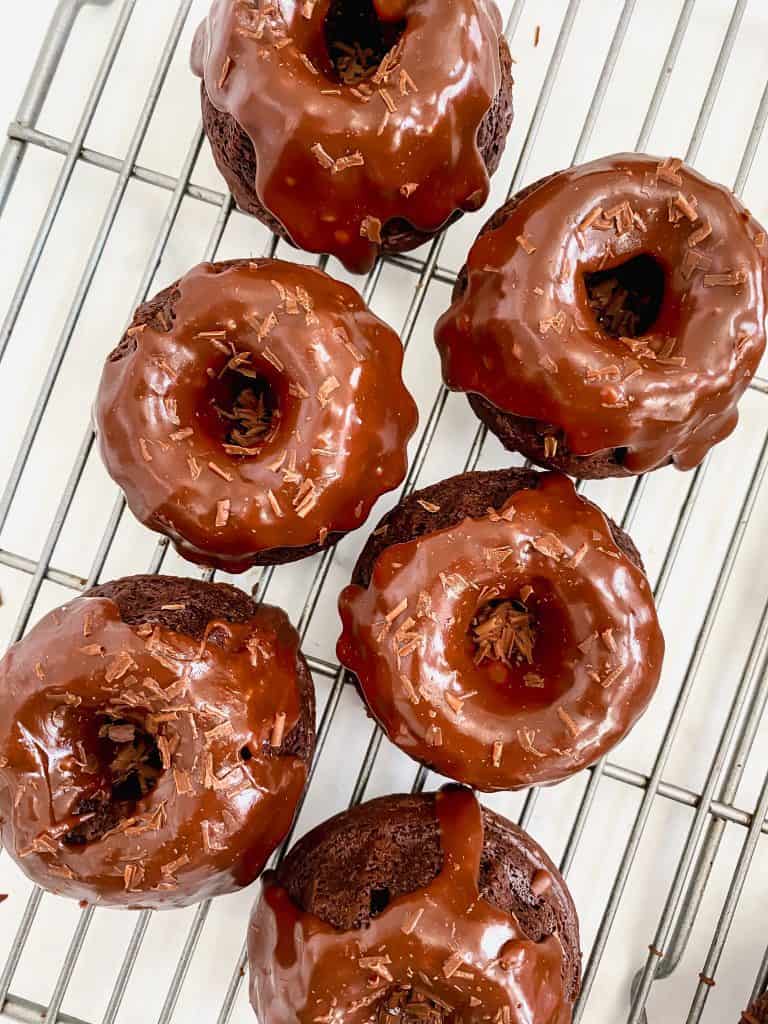 What makes these Mini Chocolate Bundt Cakes special?
Well, let's start with the basics- as delicious as a homemade cake is, I wanted something easy to whip up whenever you had a chocolate craving.
And that always sends me back to a boxed cake mix.
But don't worry- it doesn't taste like a boxed cake!
These are SO MUCH BETTER- do a simple secret ingredient:
Instant pudding!
Yep, instant pudding makes boxed cake mix moist and fluffy and soft and oh. my. goodness. just perfect!
You can try it with any cake recipe by the way- it doesn't only have to be this one.
Let's move on to the frosting- it's an easy one! I didn't want to use a jar of frosting, but I wanted to make sure the frosting tasted rich and delicious while being super simple to make!
This one is perfect. 3 ingredients and a few drops of water makes it perfectly fudgy, rich and it sets beautifully!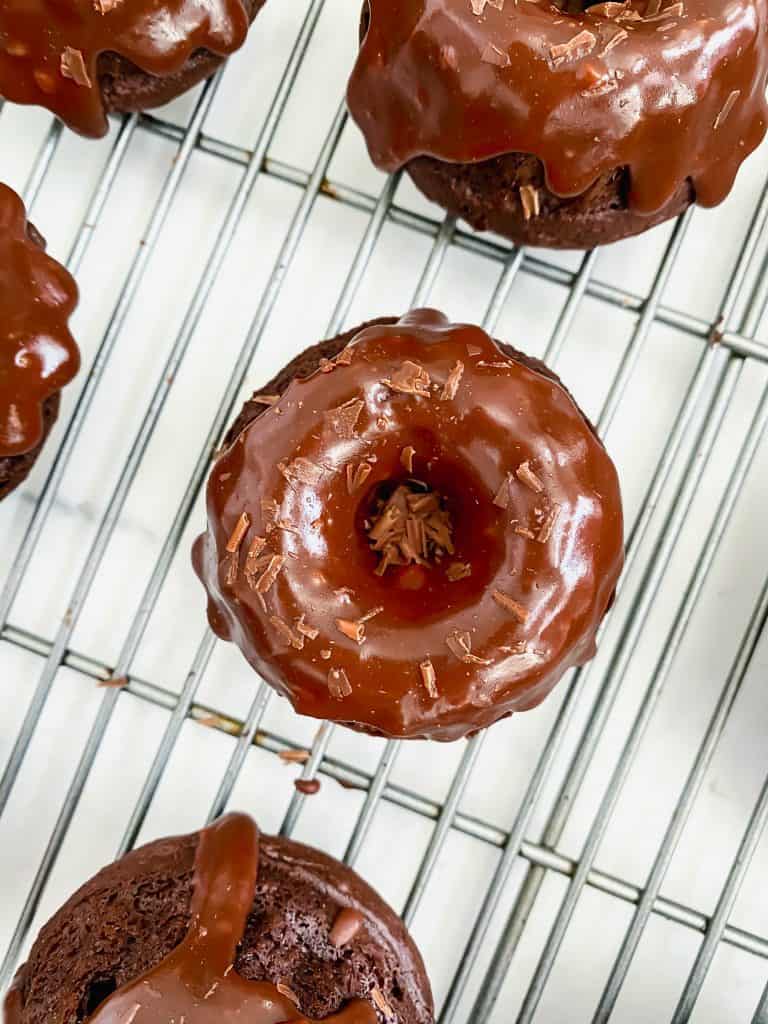 So let's walk through the steps of these mini Bundts:
First things first- the base! You're going to take a chocolate cake mix (pick your favorite, they all work here!) and put it in the bowl of your stand mixer (or a regular bowl if you're using a hand mixer).
Add whatever the box says to add, usually a couple of eggs, some oil and water. However, swap the water for milk- it'll make it more rich!
Then add a 3.4oz box of Jell-O instant pudding powder. Don't mix it with milk, just add the powder directly to the batter.
Now beat it well! It's going to be a reallyyyyy thick batter!
Now to make pouring into the little mini Bundt cake pan easier, I typically pour half of the batter into a Ziploc bag and cut the tip off to pipe into the pan. It works perfectly!
Now bake for just about 10 minutes. Keep an eye on them so you can take them out as soon as a toothpick comes out clean. Don't overbake so they remain fluffy!
Once they're out, invert as soon as you can so they don't get stuck in the pan. Let them fully cool.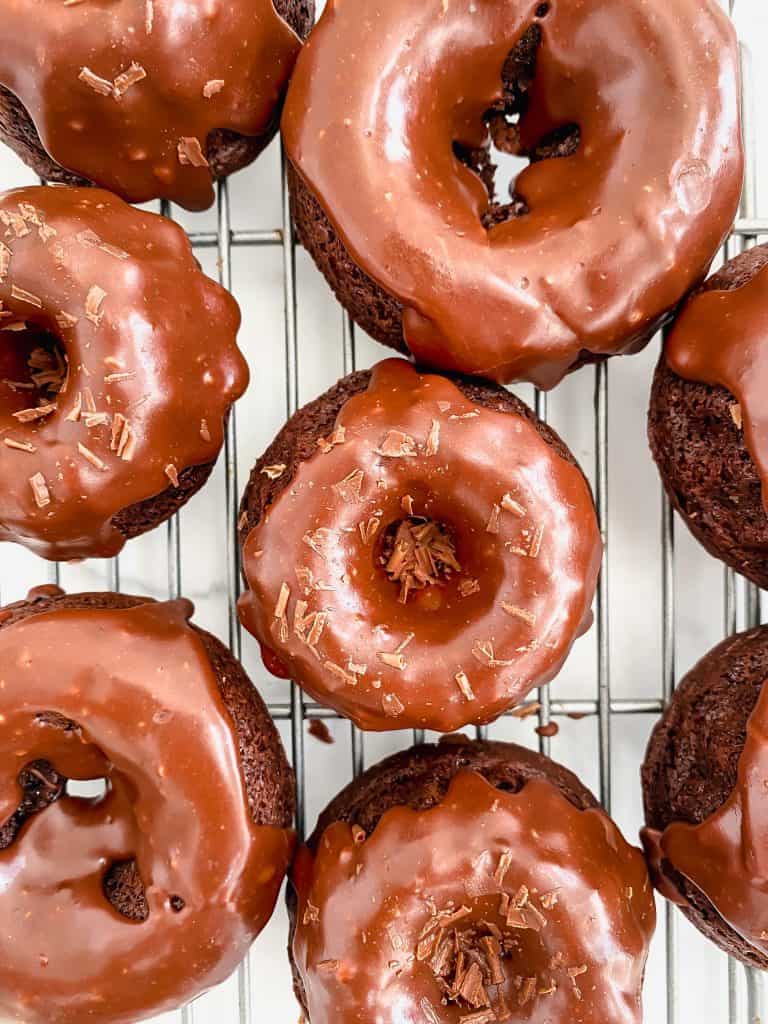 Now let's move on to the fudge!
Melt the butter and chocolate over LOW heat. Don't rush this by upping the temperature, you'll end up burning the butter and chocolate.
As this is melting, microwave a little bit of water so it's really hot!
Back to the chocolate- Low and slow until fully melted. Then remove from the heat and add the powdered sugar.
You'll notice it won't mix up because it's too thick- add a few drops of water.
The water goes a long way so just add tiny bits at a time and stir until it's your desired consistency. I like it to remain thick, but still be pourable with a spoon!
Get your sprinkles ready! It's time to frost!
If you have a wire rack, place the mini cakes on it and then place that wire rack on a baking pan. That will allow the excess frosting to drip down but contain the mess.
You can even line the baking sheet with foil so all you have to do is throw that away when you're done!
Once you're ready to go, drizzle a mini Bundt and immediately add sprinkles or any toppings. The icing sets quickly so you can't frost them all and then come back for sprinkles.
Repeat to all the mini cakes and voila! You're done!
Now serve yourself a glass of cold milk and enjoy a delicious little cake! The perfect Valentine's treat (or really, any day treat!).
You said you wanted Chocolate Fudge DONUTS?
Coming right up!
Just follow the exact recipe, but instead of pouring the batter into a mini Bundt cake pan, pipe into a donut pan.
Bake for 7-8 minutes and then let them cool.
Drizzle with the icing and top sprinkles and you've got the most tender, cakey donuts ever!
If you make these, be sure to tag me on Instagram! Or send me a photo. I love to see what you all are making :)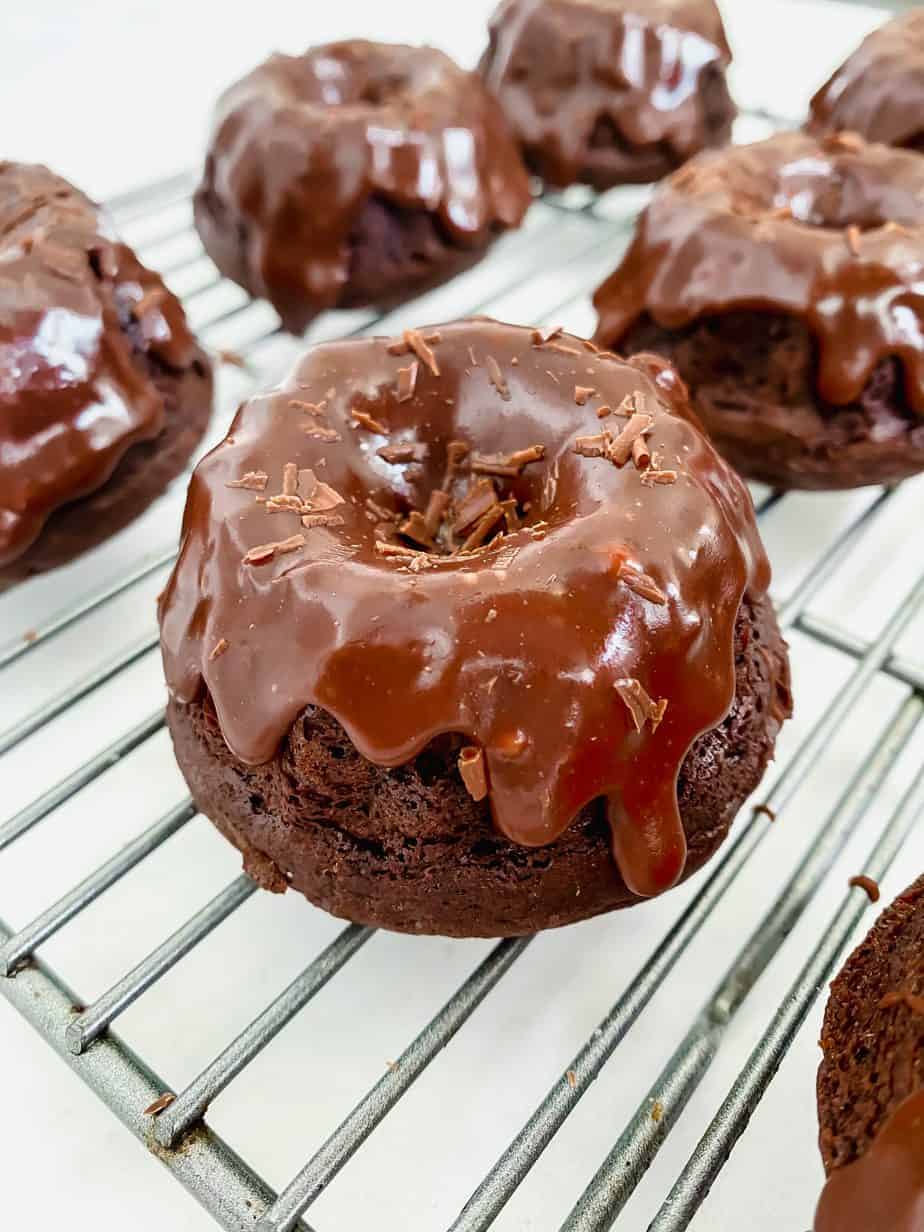 Mini Chocolate Bundt Cakes
A personal sized rich and delicious chocolate bundt cake... no one would believe you when you say it all starts with a boxed cake mix! Homemade easy fudge icing makes this a WOW dessert!
Ingredients
For the cake:
1

box chocolate cake mix

oil

milk

eggs

1

box instant chocolate pudding mix

1/2

cup

mini chocolate chips

optional
Frosting:
4

tbsp

butter

4

oz

bittersweet or dark chocolate

2

cups

powdered sugar

sifted

1/4

tsp

vanilla

boiling water

Sprinkles
Instructions
For the cake:
Preheat oven to 350 degrees. Grease your mini Bundt cake pan and set aside.

Add your boxed cake mix into a bowl. Add the amount of eggs and oil it calls for. Replace the water with milk. Lastly, add the pudding mix (just the powder!) and chocolate chips.

Beat on medium until well combined and it's thick!

Pour into the mini Bundt cake molds (use a Ziploc as a piping bag to make it easier-- how to is in the post!).

Bake for 9-10 minutes or until a toothpick is inserted and comes out clean. You want to make sure to remove them as soooon as they're done and not a minute later so they remain really soft!

Invert on a wire rack to cool.
For the fudge icing:
Make sure you're ready to frost, because as soon as you make this, you need to use it. It'll set too quickly so you can't let it sit there too long.

Place a little cup of water in the microwave and heat until boiling.

In a saucepan over low heat, melt the chocolate and butter, stirring often.

As that is melting, sift the powdered sugar into a bowl and set aside.

Once the chocolate and butter are fully melted and combined, add in the powdered sugar and vanilla and stir. 

You'll need water to thin it out, so add it a teaspoon at a time until it's still thick, but a pourable consistency (this is how I like it, but if you prefer a thinner icing, just keep adding water!).

Once it's all come together, pour over your mini cakes and add sprinkles immediately (you need to add the sprinkles immediately or else the icing will set and you won't be able to).

Let the frosting set for a couple of minutes and then enjoy!
Notes
For tips on how to pipe the batter into the mold or how to do a minimal mess icing, read the post!
If you liked this cute personal sized dessert, you might enjoy these!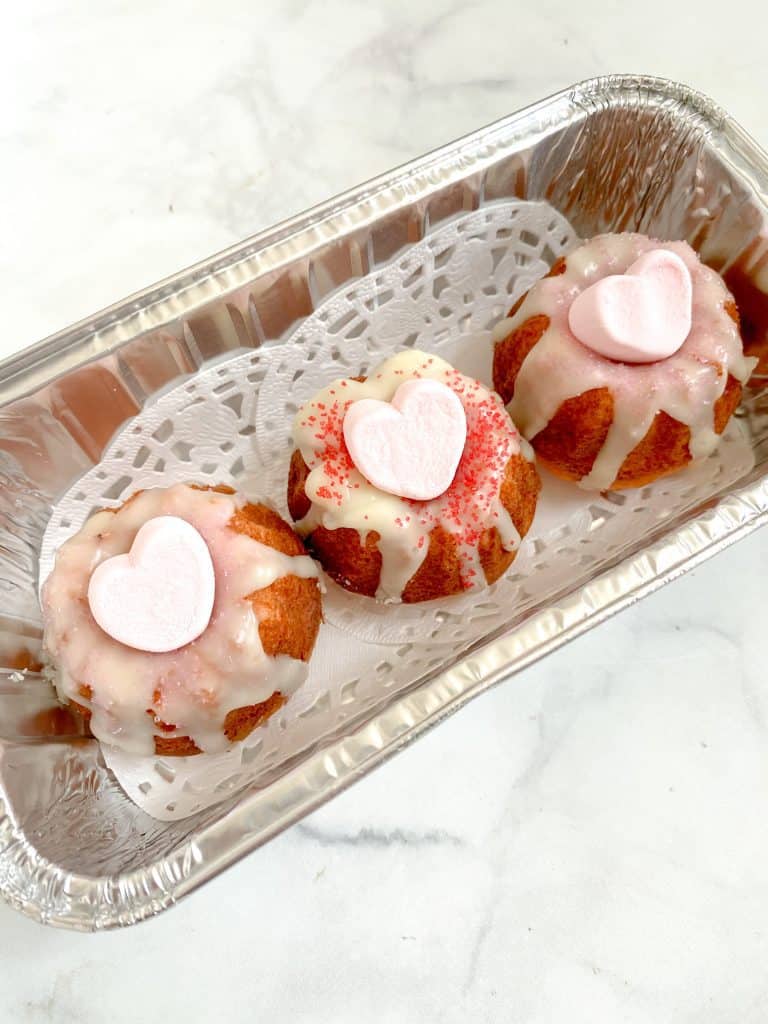 Mini Strawberry Bundt Cakes with White Chocolate Icing
Small Batch Apple Cider Donuts