This post may contain affiliate links. If you choose to purchase anything through these links, know the products come at no extra cost to you. I greatly appreciate you supporting my blog and family! :)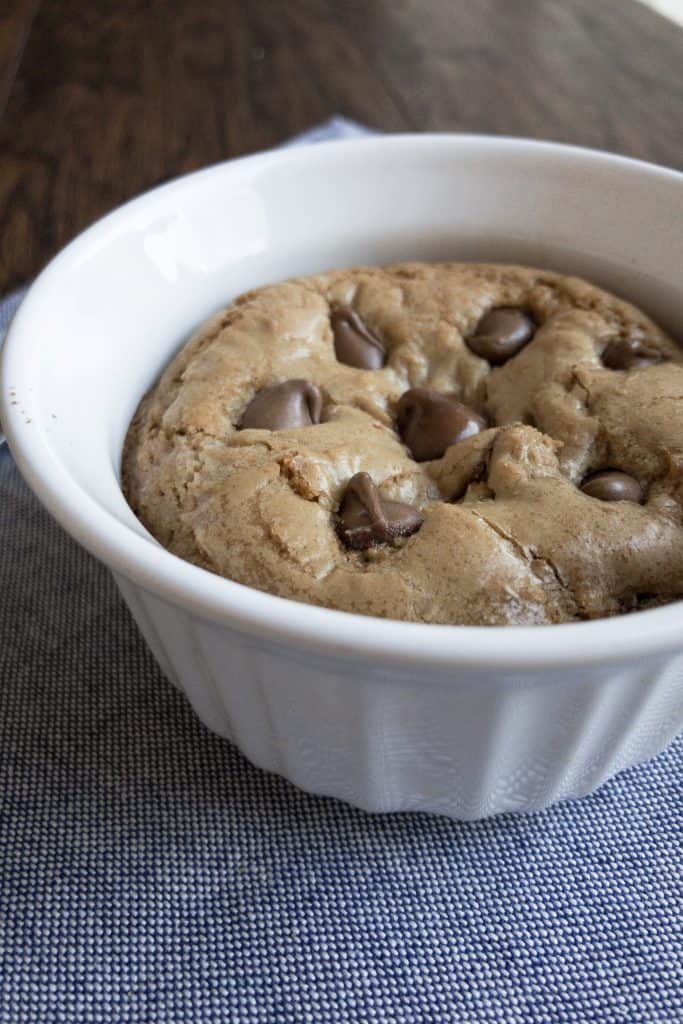 Why is a Single Serving Deep Dish Chocolate Chip Cookie perfect for me?
Ever since having Grace, I've noticed an increase in my chocolate intake.  I was never a chocolate lover…but now? I can snack on that stuff all day long. Enter: Single Serving Deep Dish Chocolate Chip Cookie.
Wait, back it up. Storytime. I know, I know. You're here for the recipe, but I just have to share my postpartum dilemma!
Soon after she was born, I started making loads of chocolate chip cookies: specifically Joanna Gaines' chocolate chip cookies from her Magnolia cookbook.  Oh gosh you guys, so good.  SO GOOD. 
The problem was, I was eating them all myself.  Here's my dilemma: I was CRAVING cookies. No bueno, I know. 
Here I am, already having given birth, and now instead of pregnancy cravings, I was having postpartum cravings.
Ugh, I had to fix this and fast! Or else I was never going to lose that baby weight!
So, I decided to come up with a single serving version of the cookie. It is just as indulgent as the originals I was eating by the handful, but I can only eat just one.
Ahh, That is the miracle of a Single Serving Deep Dish Chocolate Chip Cookie…haha
I made this recipe, coincidentally, on National Chocolate Chip Cookie Day. Speaking of those national holidays…who decides when they happen? And why are there so many?
Anyways, they're fun and I kinda like them so it's alright… Gives me an excuse to bake new things in order to "celebrate" ;)
Tips and Tricks for the Perfect Cookie for One…
Anyway, this cookie really is simple to make. I don't even mess with a bowl, I just grease the ramekin and do all the mixing in there.
However, if you want the cookie to pop out of the ramekin, grease it and set it aside. Prep the batter in another bowl and then pour into the ramekin.
I'm too lazy for that though. Just mix in the ramekin, bake and eat right out of it! It feels warm and cozy that way ;)
Oh, wait. There's only ONE reason that would make me stir things in a separate bowl and then pour in the ramekin…
That would be for a sugary crust! All I do is grease my ramekin with softened butter and then add some white sugar to the ramekin. Twist and turn it all over to coat the butter with the sugar and discard the excess.
This sticks to the cookie and creates the perfect crunchy, sugary crust. It won't pop out of the ramekin so if that's what you're looking for, don't do this.
But if you don't mind eating straight out of the cup (I mean why would you? There's nothing cozier!), prep this sugar crust and thank me later!
You can easily double this recipe if you want to make one bigger cookie to share! We've done that a few times around here ;)
If you're in need of some ramekins, check out this set. I loooove the pretty honeycomb design! And you can use them for so many other purposes (hello creme brulee!).
Variations and Add-ins:
You could also "bake" this cookie in the microwave! Put it in for 1 minute in a microwave safe bowl or mug. Check if it's cooked through as you like it. If you prefer a gooey center, 1 minute is probably good!
If you like yours a little more cooked through, simply keep adding 15-30 second intervals until it reaches your favorite cookie texture!
This results in more of a cookie / cake texture, but it's faster than using the oven and totally delicious!
Another option is to use your toaster oven! Set it to 300 and bake for 20 minutes. If it's not cooked through, raise it up to 350 and add another 5-7 minutes. Turns out amazing!
For add-ins, be creative! You could do:
M&Ms
white chocolate chips
shredded coconut
mini marshmallows in the batter
toasted marshmallows on top (after it's fully baked, add marshmallows on top and place in the oven on broil until toasty!)
The list goes on and on! If you have a good idea, drop it below!
What you'll need to make the ultimate Deep Dish Chocolate Chip Cookie:
Equipment:
ramekin
spoon
bowl (optional)
That is all for equipment. I told you it was easy!
Grocery List:
unsalted butter
brown sugar
granulated sugar
egg
vanilla
flour
baking soda
salt
chocolate chips
Most everything you need are basic pantry items. Or at least I hope you consider these basic. Everyone ought to have the ingredients to make last minute cookies!
If you make this cookie, be sure to tag me on Instagram or use the hashtag #toeatdrinkandbemarried. I'd love to see your creation and share your cookie on my page!
Single Serving Deep Dish Chocolate Chip Cookie
One heaping cup of cookie!
Ingredients
2

tablespoons

unsalted butter

melted

2

tablespoons

brown sugar

1

tablespoon

granulated sugar

1

large egg yolk

1/8

teaspoon

vanilla extract

1/3

cup

all-purpose flour

1/8

teaspoon

baking soda

pinch

of salt

3

tablespoons

Ghirardelli chocolate chips
Instructions
Preheat the oven to 350F.  Grease a 8oz ramekin and set aside.

Mix butter and both sugars in a small bowl.  Add in vanilla and egg yolk, stirring until combined.

Add in flour, baking soda and salt.  Stir and mix in chocolate chips.  Transfer to ramekin and top with more chocolate chips if you'd like!

Bake for 15-20 minutes or until golden brown.  Top with a scoop of ice cream and enjoy!
Looking for another delicious cookie recipe?
4 Ingredient, 15 Minute Oatmeal Cookies
4 Ingredient Nutella Lava Cake for One
Single Serving Deep Dish Chocolate Chip Cookie