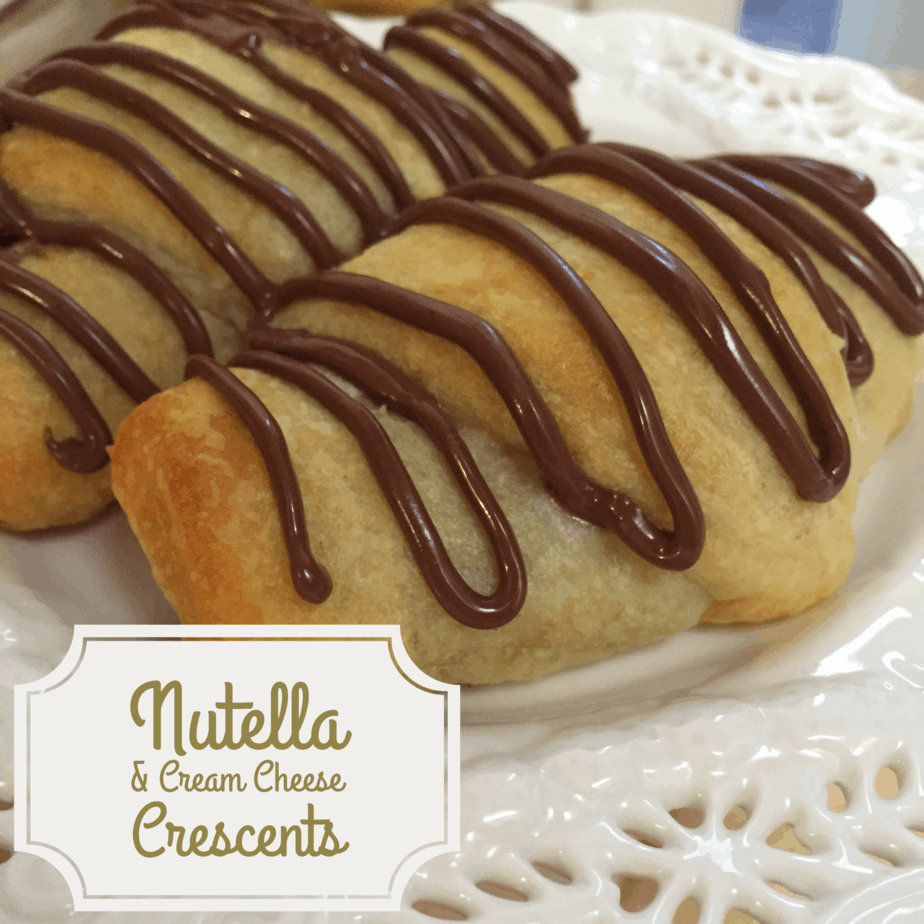 I love discovering ways to turn ordinary, every day ingredients, into something creative and delicious. Crescent roll desserts are some of my favorite creations.  There is an endless list of possibilities with a roll of crescents and I try to always switch it up when I'm planning to make a dessert with them. They're usually hassle free and can easily feed a crowd, which is the best part!  I while back, I posted my Cinnamon Roll Crescents and those were a hit, so I thought I'd share something new.  Today I bring you yet another crescent roll dessert with only three ingredients total.  It is by far one of the easiest, yet one of the tastiest we've tried!
---
Nutella & Cream Cheese Crescents
Recipe Type: Dessert
Prep Time: 5 minutes, Cook time: 8-10 minutes, Total Time: 15 minutes
Serves: 8
A fluffy roll stuffed with oozing Nutella and cream cheese drizzled with some more warm Nutella over the top.
Ingredients:
8 count crescent rolls
8 tablespoons Nutella
8 teaspoons cream cheese
extra nutella for drizzle
Directions:
Preheat oven to 350 degrees.  Unroll the crescents and place on baking sheet.
Spread one tablespoon of Nutella (it might be easier to microwave it a bit first) and place one teaspoon of cream cheese on each crescent.  Roll it up hiding the tip under the roll (this ensures the filling doesn't spill out).
Bake for 8-10 minutes, or until golden brown.  Let settle for a minute or two out of the oven.  Melt a bit of nutella and drizzle over the top.
For another delicious Nutella recipe, CLICK HERE!