All-American Apple Crumble Pie
This Apple Crumble Pie is the All-American Pie my dreams are made of. Perfect for Memorial Day, Fourth of July, Thanksgiving or Christmas, it is a simple pie, full of classic flavors that is a special treat for any holiday!

The pie of the year: All-American Classic Apple Crumble Pie!
Even though Thanksgiving is just around the corner and we are ready for all the All-American Classic Apple Crumble Pie our heart can handle, some places have completely forgotten about it altogether!
Macy's is already decorated for Christmas, some places already have twinkling lights and if you go to Target, they have pretty much skipped over Thanksgiving altogether with the amount of toys out on display for Christmas gifts. It's a sad reality.
Thanksgiving has always been one of my favorite holidays. There was just something so exciting leading up to it. It's like the kick off of the best time of the year!
I have fond memories of sleeping in and then stumbling into the kitchen to find the turkey was already in the oven and my mom was cooking up a storm! As I got older, I started getting up earlier to join my mom in the kitchen.
We would press play on all the holiday Christmas movies and let those run while we cooked. When we were tired of those, we'd move on to Michael Buble's Christmas album. It is the perfect thing to listen to on Thanksgiving day!
We'd usually divide up the tasks between my mom, sisters and I (that's a total of 5 girls!). Usually, my favorite was sticking to either making the homemade potato rolls, mac and cheese or any dessert!
We would make soooo many pies! Some to keep for dinner, and others to give away to our neighbors, family who we wouldn't be seeing that evening, pastors, and other friends!
My mom would often make pie deliveries bright and early on Thanksgiving morning so our friends would have home baked pies for dessert with their families!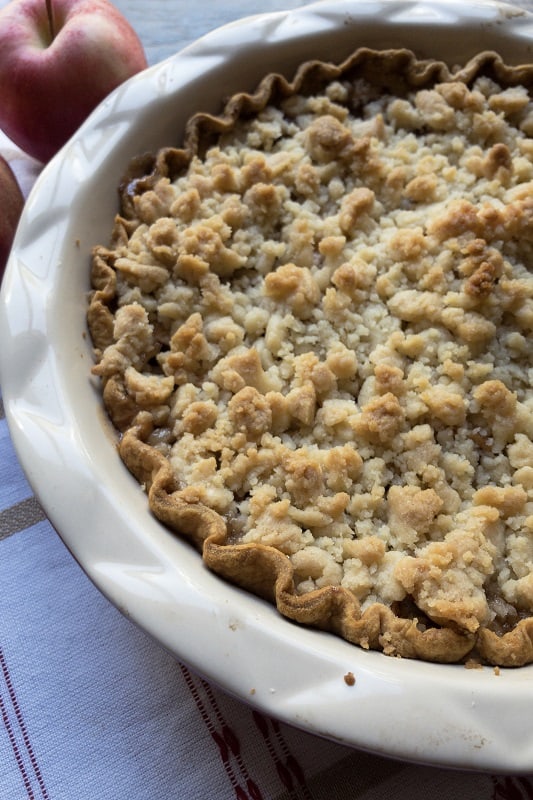 Who gets the Apple Crumble Pie you ask?
The easiest pie on the menu was always the apple crumble pie. I mean, it is practically fool proof. Peel and core the apples, toss them in cinnamon sugar then pour in a pie crust.
Combine butter, flour, and sugar, crumble over the top and bake. It really cannot get easier. That's why the youngest sisters were always making this one. Even a kid can pull it off!
Today I want to share with you how to make this totally simple, but completely delicious pie! I hope it makes its way around your Thanksgiving table!
And if my very favorite All-American Classic Apple Crumble Pie does make it's way to your table, send me a photo or tag me on Instagram! I'd love to check it out and feature your pie :) #toeatdrinkandbemarried
---
All-American Classic Apple Crumble Pie
The Classic Apple Crumble Pie you want to enjoy around every Thanksgiving table!
Ingredients
For the Pie:
1

homemade or frozen pie crust

5

McIntosh Apples

peeled, cored & sliced

1

tsp.

cinnamon

1/2

tsp.

lemon juice

1/2

cup

white sugar
For the Crumble Topping:
6

tbsp.

butter

softened

1

cup

flour

1/2

cup

sugar

dash of salt
Instructions
In a large toss all of the of the pie ingredients together and pour into pie crust.

With a fork, cut all of the topping ingredients together in a small bowl.  Add more flour if needed until it resembles coarse crumbs.  Sprinkle over pie.

Bake at 350 for 45 minutes or until golden brown on the top and the syrup is bubbly.  Allow to cool on a wire rack for 15 minutes before cutting into it.
---
Want some more pies?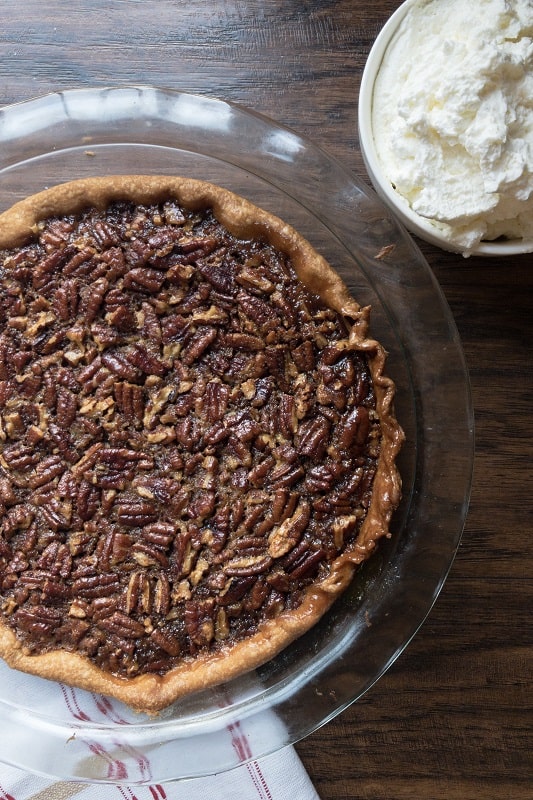 Apple Crumble Pie