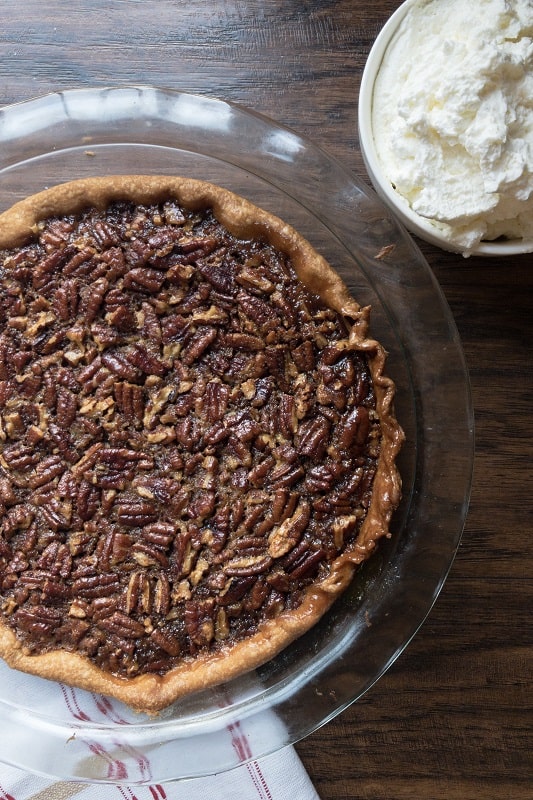 Thanksgiving is a time of many desserts for families across America…
You have apple pie, pumpkin pie, cheesecake, and maybe something chocolatey…
but my absolute favorite was one that we only got to enjoy on Thanksgiving day.
The one I dreamed about all year long was a good ol'…
Classic Pecan Pie topped with Homemade Whipped Cream.
Growing up, my absolute favorite, number one dessert was pecan pie.  We only ever had it on Thanksgiving day.
I'm not even joking…it wasn't a seasonal dessert for us.  It was a one day a year dessert for us (and hopefully the day after if there were leftovers!).
My mom actually often made mini pecan pies as gifts.  She would hide them from us though because if everyone in a house full of eight people took a mini pie, half her batch would be gone! haha
She would make these for neighbors, doctor's offices, and other families we were close to.  They definitely took more work than just a regular pecan pie, but they were adorable.
Today I want to share with you the recipe that we use for both the Classic Pecan Pie and Homemade Whipped Cream!
The recipe that we use is from the Karo bottle.  Yep, nothing fancy, just the good old fashioned, back of the bottle recipe.  It is simple, delicious and a real treat!
We have altered it a bit in the past, or just done a little twist here and there so I want to share those little tips with you!
I think you'll find this is a family favorite in my pie series this month!
---
Pecan Pie with Homemade Whipped Cream
A gooey and sweet pecan pie topped with a light an airy whipped cream!
Ingredients
For the pie:
1

cup

Karo Light Corn Syrup

3

eggs

1

cup

sugar

2

tablespoons

butter

melted

1

teaspoon

pure vanilla extract

1-1/2

cups

6 ounces pecans, roughly chopped

1

9-inch homemade pie crust (or prepared refrigerated/frozen deep-dish pie crust)
For Whipped Cream:
1

cup

heavy whipping cream

1/2

tsp.

vanilla extract

6

tbsp.

powdered sugar
Instructions
For the pie:
Preheat oven to 350F.  Combine the Karo, eggs, sugar, butter and vanilla until combined.  Add in the roughly chopped pecans and stir.  Pour into the pie crust and bake for 60 minutes or until you shake it and it's not liquid anymore.  Allow it to cool on a wire rack for 2 hours.
For the whipped cream:
Place the heavy whipping cream, vanilla and powdered sugar in the bowl of an electric mixer (or in a large bowl for your handheld mixer) and beat until fluffy.  Add more sugar if you prefer sweeter whipped cream.

Serve each slice of pie with a dollop of whipped cream on top.
---
Looking for some other delicious pie recipe?