Applesauce Walnut Spice Cake…this one tastes like Fall!
What if I told you could make a really delicious, flavorful cake with a boxed cake mix?
Yep, it's totally possible and turns out totally delicious!
Yeah, I know, seems like "cheating" in the baking realm with the boxed cake, but I think it's fair game.  I mean, we are adding more ingredients, so it's not totally a boxed cake mix….right?!
One of my favorite ways to make an easy dessert, but make it feel homemade is to start with a boxed cake (check out this recipe that also starts with a boxed cake mix!).
It cuts your time in half usually, which is a score when you're trying to bake something to include the kids.
You can make this with a yellow cake mix and add in your own spices, but to make it EVEN EASIER, look for a box of Spice Cake.
It's delicious all on it's own, but when we elevate it with a few more ingredients and a whipped cinnamon buttercream…mmmmm this one is divine!
This cake is incredibly easy to make and really brings in all the flavors of the season. 
Here's the how-to so you can make this one at home!
Ingredients:
For the Spice Cake:
Spice Cake Mix
Applesauce
Butter
Walnuts
Cinnamon
Nutmeg
For the frosting you'll need
Butter
Powdered sugar
Vanilla
Milk
Cinnamon
Most of the ingredients are repeats for the frosting and cake so you barely have a shopping list for this one.
For equipment, all you need is a bowl, spatula, baking pan. And then a hand mixer to whip up that frosting!
It's just that simple!
Now for the directions:
It all starts with a box of Spice cake mix.  It was a bit hard to find in my grocery store, but I eventually got ahold of it. 
Hopefully it's easier to find where you're at!  I think I just tried to buy spiced cake in late summer and you really need to wait for Fall to see lots of them!
Anyways, toss that mix in a bowl and add some applesauce, a bit of cinnamon and a little more of this and that and you've got yourself an incredible sheet cake.
Bake in an 8×11 or make it a two layer cake by baking in two 8inch circle pans.
For the cinnamon buttercream, you literally just have to whip it up and you're ready to frost it!
This is an incredible dessert to take to a doctor's office as a gift, to your kid's school office staff for a surprise treat or just to enjoy at home while watching a Fall themed Hallmark movies (when are those gonna start anyway?! Not so patiently waiting over here…).
I mean, I've got my Applesauce Walnut Spice Cake with Cinnamon Buttercream…I guess I can just enjoy this while I wait.
If you do make this Applesauce Walnut Spice Cake with Cinnamon Buttercream be sure to tag me on Instagram! I'd love to check it out and feature you on my page :)
---
Applesauce Walnut Spice Cake with Cinnamon Buttercream
Ingredients
For the Cake:
1

box Spice Cake mix

3

large eggs

1 1/3

cup

applesauce

1/2

cup

butter

melted

1/2

cup

walnuts

roughly chopped

1

tsp.

cinnamon

1/4

tsp.

nutmeg
For the Frosting:
1

cup

2 sticks butter, softened

4

cups

powdered sugar

1

tsp.

vanilla

3-4

tsp.

milk

start with less and add more until desired consistency

1

tbsp.

cinnamon
Instructions
For the cake
Preheat oven to 375F.  Grease a 9"x13" cake pan and set aside.

Combine all ingredients except walnuts with an electric mixer until smooth.  Fold in the walnuts.  Pour into baking dish and bake for 45-50 minutes or until toothpick inserted in the center comes out clean.  Allow to cool in pan for 30 minutes before inverting onto serving dish.
For Frosting:
Beat butter in the bowl of a stand mixer (or with handheld electric mixer) until fluffy and creamy (about 2 minutes).  Add in powdered sugar and beat on low (so as not to make a huge mess!).

Add vanilla and 2 tsp. of milk.  Keep mixing and adding little bits of milk until it reaches your desired consistency.  Add cinnamon and beat until evenly distributed.

Frost cake once it's completely cooled, cut in squares and you're good to go!
---
Looking for more Fall recipes? Here are some savory ones!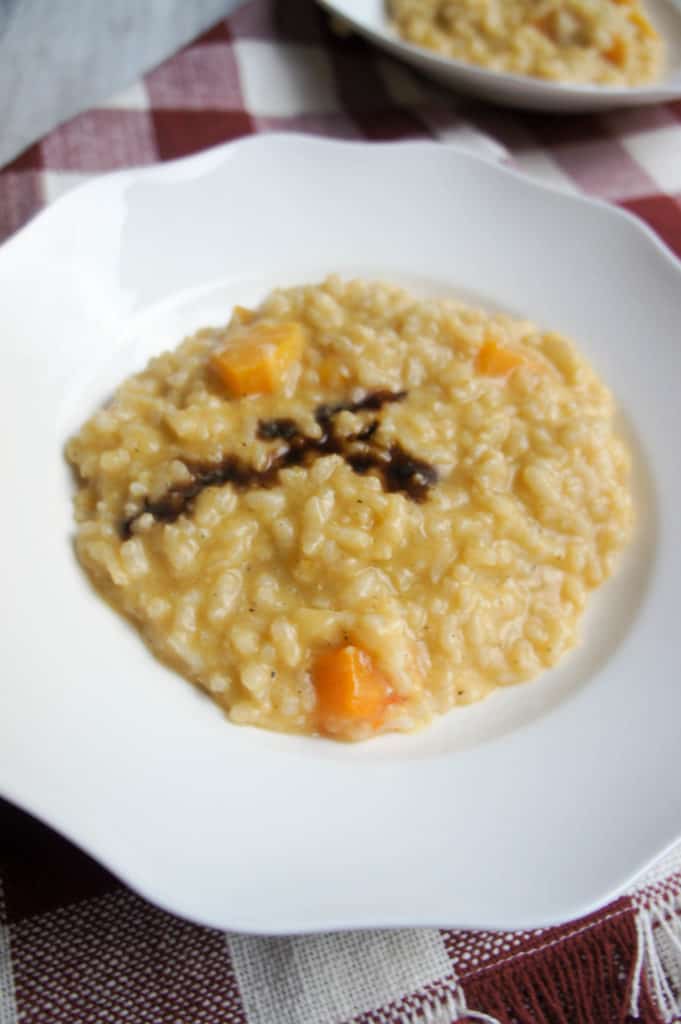 Butternut Squash Risotto
Cozy Carrot & Sweet Potato Soup