I remember the first time I had a truly hearty broccoli cheddar soup. I was with my grandma at Applebee's and they had some specials. One of them was unlimited soup.
My go to has always been baked potato soup but my grandma was certain broccoli cheddar was the best option on the menu and wanted me to try it!
I wasn't convinced. Broccoli definitely isn't my thing. But she told me that the broccoli isn't as strongly flavored as roasted broccoli or anything. she said the creamy cheese stands out the most.
She was right! What they brought was the very best thick and creamy broccoli cheddar soup.
Ever since that day, every time I've seen broccoli cheddar soup on a menu, I try it (and love it!). It's really the only way I like my broccoli… covered in cheese!
Nowadays, I get my broccoli cheddar fix from Panera Bread at least once a month. It is sooo good! Pair it with some French Baguette or a grilled cheese sandwich (!!) and you've got a warm and comforting meal!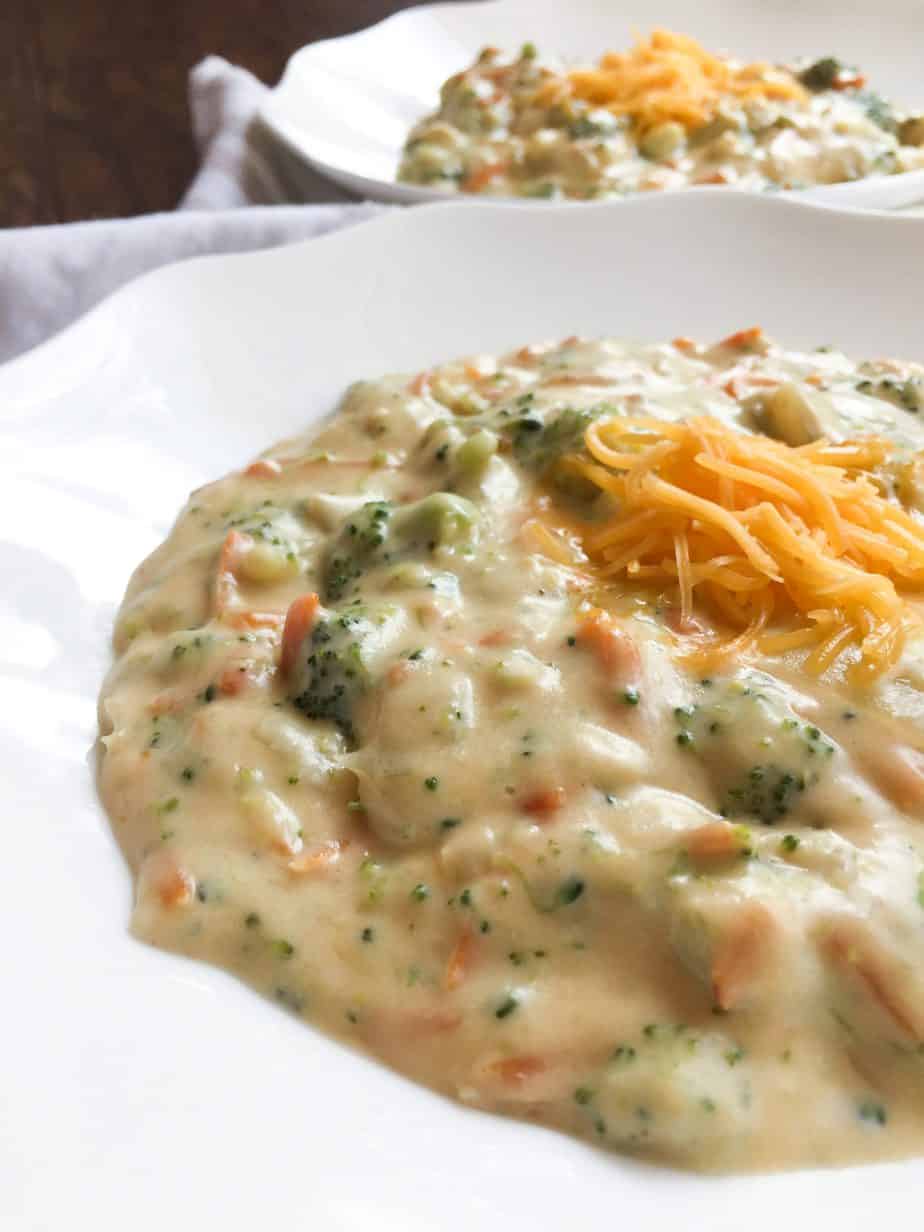 Do you have a broccoli cheddar soup preference?
I'll eat it any way, but thick and creamy always beats light and brothy. This specific recipe gets thicker as time goes by so it really becomes soooo delicious to pair with a good crusty bread and go to town dipping it.
Feel free to use frozen or fresh broccoli. Don't cut them down too much or they'll dissolve in the soup eventually and you'll just have green mush.
Leave broccoli florets relatively large and if they're too big after, you can always use your wooden spoon to break them down a little bit more after they're cooked. It's really easy!
Feel free to try different cheese blends, too! My favorite is definitely cheddar, but a yellow Cheddar/Provolone mix is delish. Pretty much anytime you combine a yellow and white cheese, you're sure to be successful!
Let me know in the comments what soup you'd love to see next!
And if you make this recipe, be sure to tag me on Instagram (@toeatdrinkandbemarried). I'd love to see it!
Thick & Creamy Broccoli Cheddar Soup
Ingredients
1

tbsp.

butter

1

yellow sweet onion

finely diced

1/4

cup

all purpose flour

1/4

cup

butter

1

tsp.

garlic salt

1/4

tsp.

black pepper

2

cups

cheddar cheese

shredded

1

bag of frozen broccoli

or roughly 12 ounces of fresh broccoli, chopped.

1

cup

carrots

shredded

1.5

cups

chicken broth

2

cups

half and half
Instructions
In a large pot, add one tbsp. butter. Once melted, add in onion and stir constantly until onions are soft and translucent.

Add in the remaining butter. Once that has melted, add in flour and whisk together constantly over medium heat for about 1-2 minutes.

Add in chicken broth little by little, continuing to whisk constantly. Then add half and half, still whisking as you pour. Continue stirring for about 2 minutes to allow sauce to thicken a bit.

Add the shredded carrots and broccoli and stir with a wooden spoon. Add garlic salt and pepper stirring until combined.

Reduce the heat to medium low and allow to simmer for 10-15 minutes or until the sauce has thickened further and veggies are soft.

At this point, if you like a very thick soup, feel free to blend it. If you like chunky with a little thickness, you're ready to serve!

Add 2 cups of shredded cheese to the soup and stir until melted. Serve in bowls and immediately add a little extra shredded cheese on top so it melts.

Serve with a side of crusty bread for dipping and enjoy!
If you enjoyed this soup, be sure to try these: