This post may contain affiliate links. If you make any purchases through them, know that they come at no extra cost to you.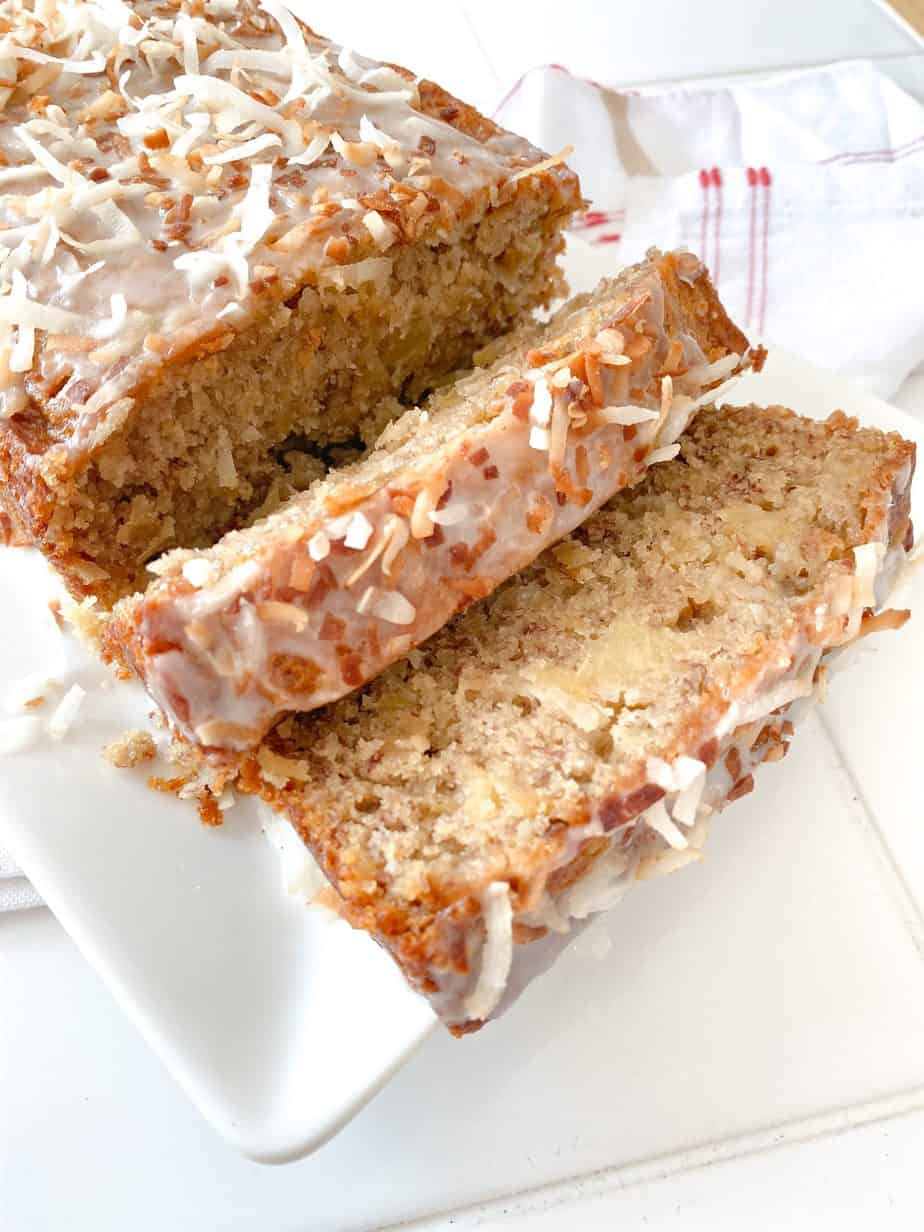 Why Piña Colada Banana Bread?
Because I live in Miami, that's why! As much as I WANT fall to be here, it is most definitely NOT. It's hot, humid and 90+ degrees every day.
We're not quite ready for cozy soups and apple crisp so let's hold on to summer just a few more days, mkay?
So about a month ago I made a Piña Colada White Chocolate Cake and it was amazingggg. But honestly? It had so many elements between all the layers and toppings, it was quite tedious.
I was looking for something easy. Then I saw 3 ripe bananas and I knew I had to try this.
I took the best elements of the Piña Colada Cake and put them in a perfect banana bread recipe and bam! A one bowl wonder!
No really, this Banana Bread comes together in one bowl, no blender or hand mixer required (but you can certainly use yours if you'd like!).
All you need is a whis/wooden spoon, large bowl and a loaf pan. That's it! And you're on your way to summer Piña Colada goodness!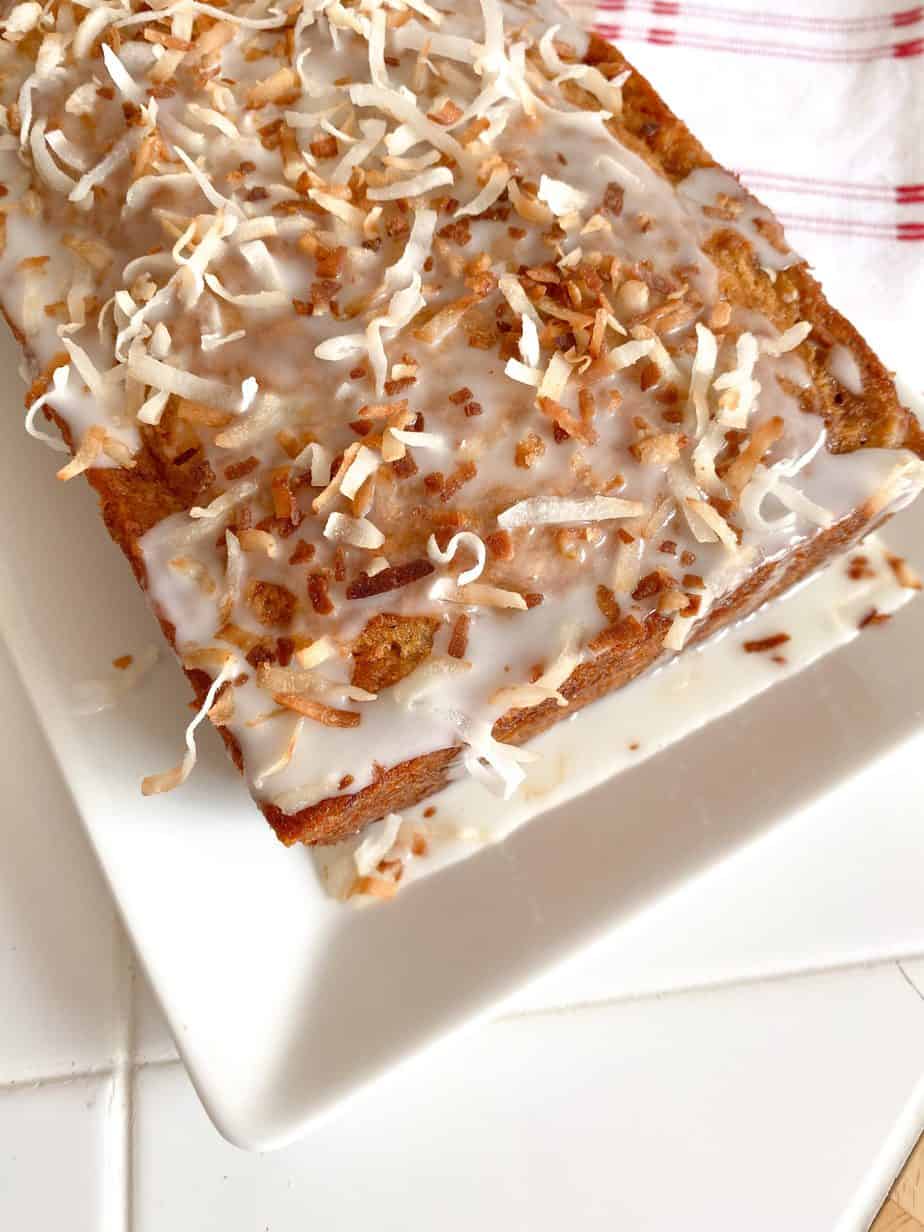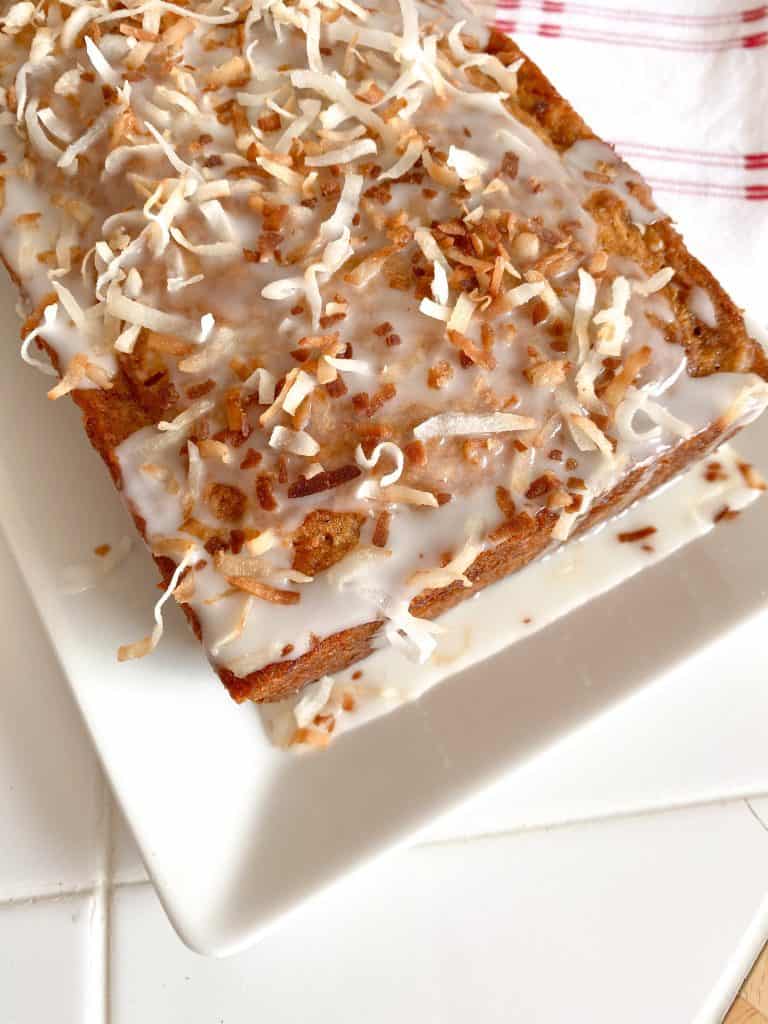 How to make a perfect Banana Bread…
Keep it moist and don't overcook! That's the main trick.
So often, a cake like banana bread doesn't necessarily "burn" for a long time. You can leave it in an extra 10 minutes and the color won't change… but the texture will!
Dried out Banana Bread is no fun! We want a moist crumb, texture from the bananas and almost like a muffin consistency (versus a cupcake).
This is fairly simple to achieve if you follow the cook times pretty closely and watch your bread!
Keep in mind, all ovens are different. So my banana bread may only take 50 minutes whereas yours may need 55-60. But the key is to just stay nearby and check it often (toothpick test) to make sure you take it out as soon as you can!
Also remember, the heat stays trapped in the pan for a while after you take out the bread, so it'll finish cooking up while sitting on the counter.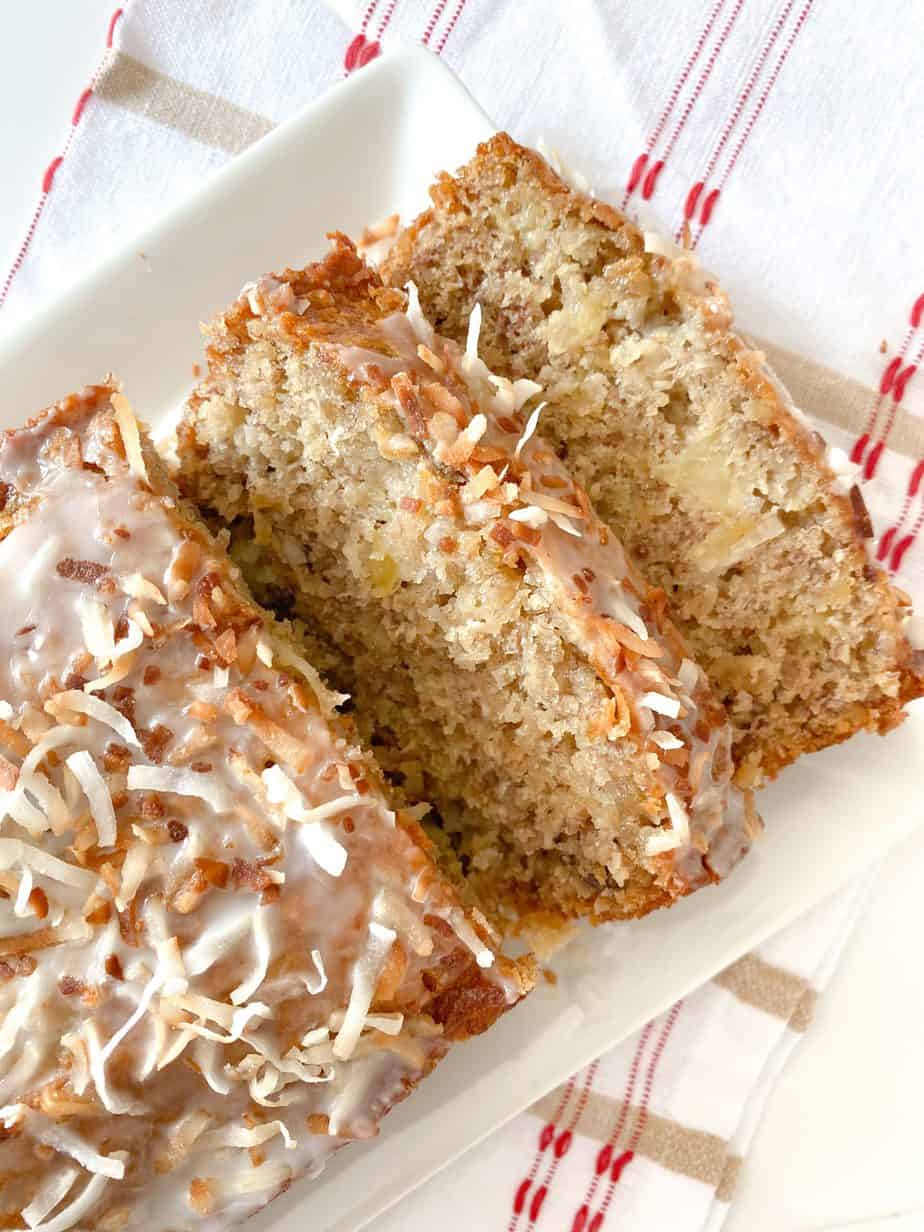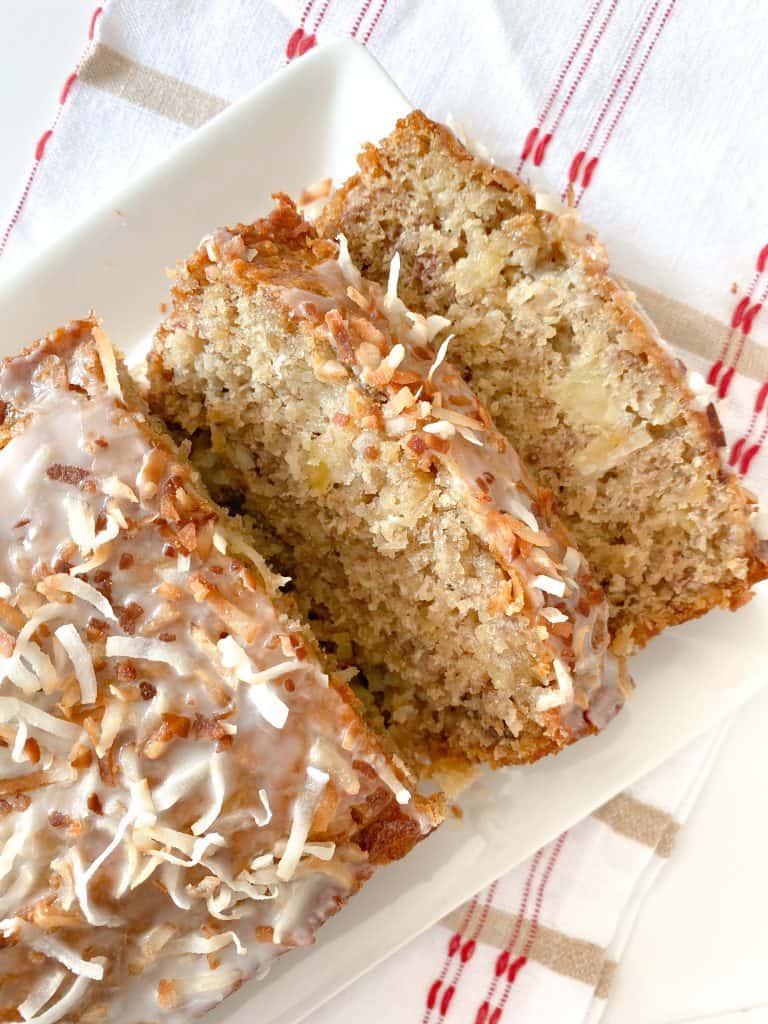 How to mix a summer cocktail flavor into banana bread?
It's easy! Just add your favorite elements. In this case, there are three:
-instead of pureed pineapples, they're tidbits/crushed
-don't use coconut extract… we're using shredded sweetened coconut inside and toasted coconut flakes on top! yum!
-instead of rum straight into it, we're infusing a little in the bread, as well as using it to make the glaze
It's not complicated at all, and it only takes a few simple swaps of ingredients to make this!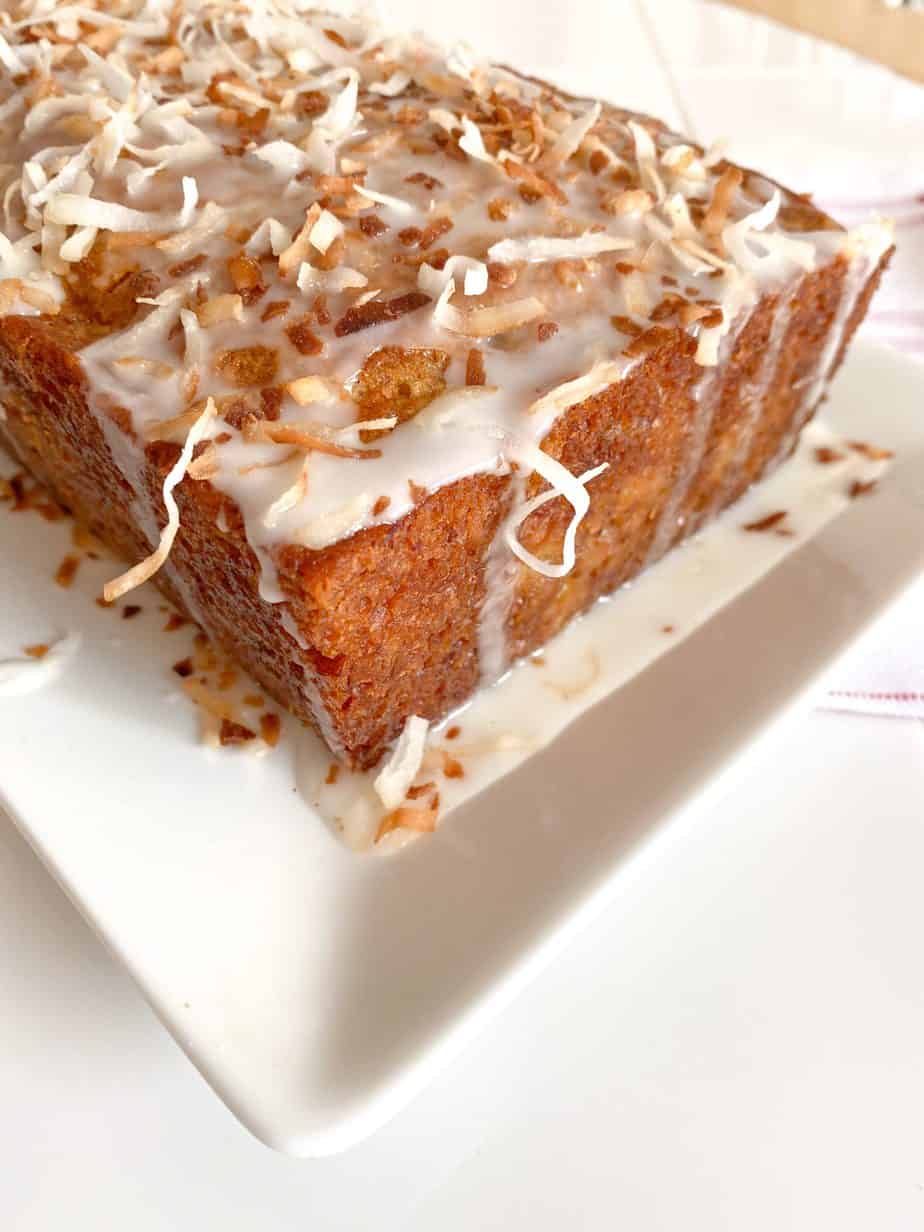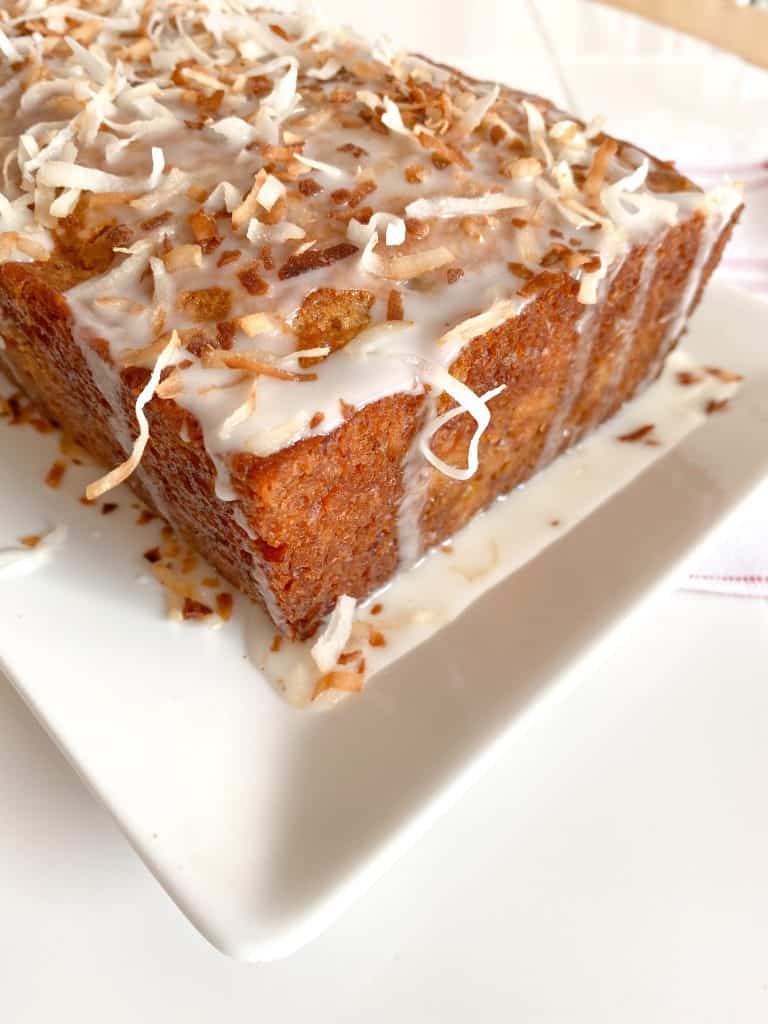 The steps are simple and easy!
Preheat your oven and prepare your pan (grease it well and always line with parchment paper too just in case!). If you're in the market for a new pan (or just want to upgrade to the ultimate non-stick pan), check out this USA bread pan that is perfect!
As with most banana breads, start with peeling and mashing your bananas. For this recipe especially, I like to make sure they're extra mashed so as not to get chunks of bananas when it's baked.
This is piña colada banana bread after all… the only chunks I want are pineapple pieces!
Add in the sugar, egg, butter, rum and vanilla and stir.
In a separate bowl, whisk the dry ingredients, then add to the wet and stir again until just combined. Don't over mix or you'll end up with a dense bread and no one likes that!
Stir in the pineapple chunks and coconut flakes. Sweetened or unsweeted coconut works, whatever you prefer! I personally always go for sweetened, yum!
Bake for around an hour or until a toothpick inserted comes out clean. Usually this is about 60-70 minutes.
While it is cooling, toast the coconut! This is really easy. Just add your coconut to a pan over medium-low heat and toss often until you get it a nice golden color and toasty, too!
As the coconut cools off, make the rum glaze. This stuff is awesome. Mix powdered sugar with rum and milk to get the consistency you like. Or omit the milk and only use rum if you want a stronger flavor.
When the bread is fully cool, use a toothpick or skewer to create some holes on the top. Nothing too big, just enough for the glaze to seep in.
Pour the glaze over the top and immediately sprinkle the toasted coconut so it sticks.
Really, it is amazing! Add a scoop of vanilla ice cream for a perfect Sunday BBQ dessert.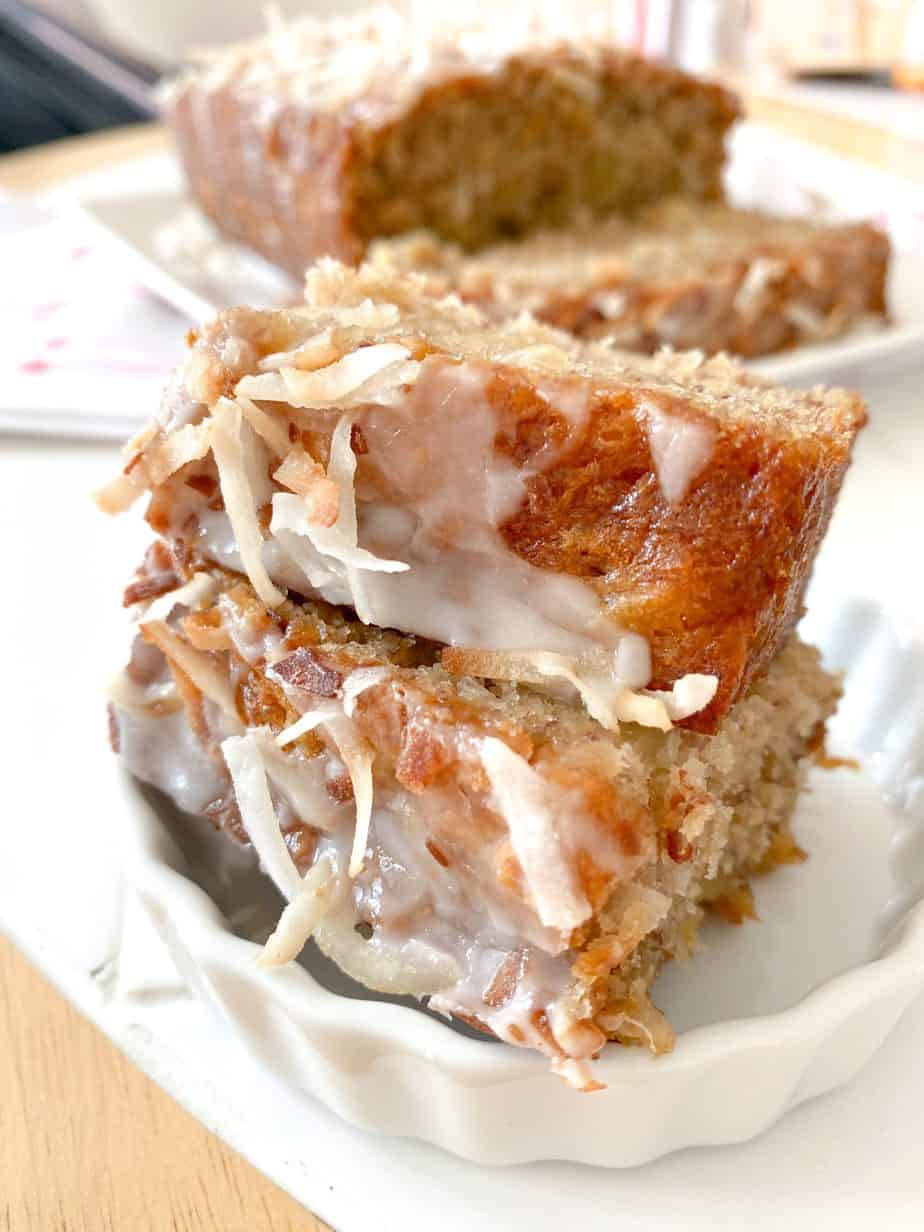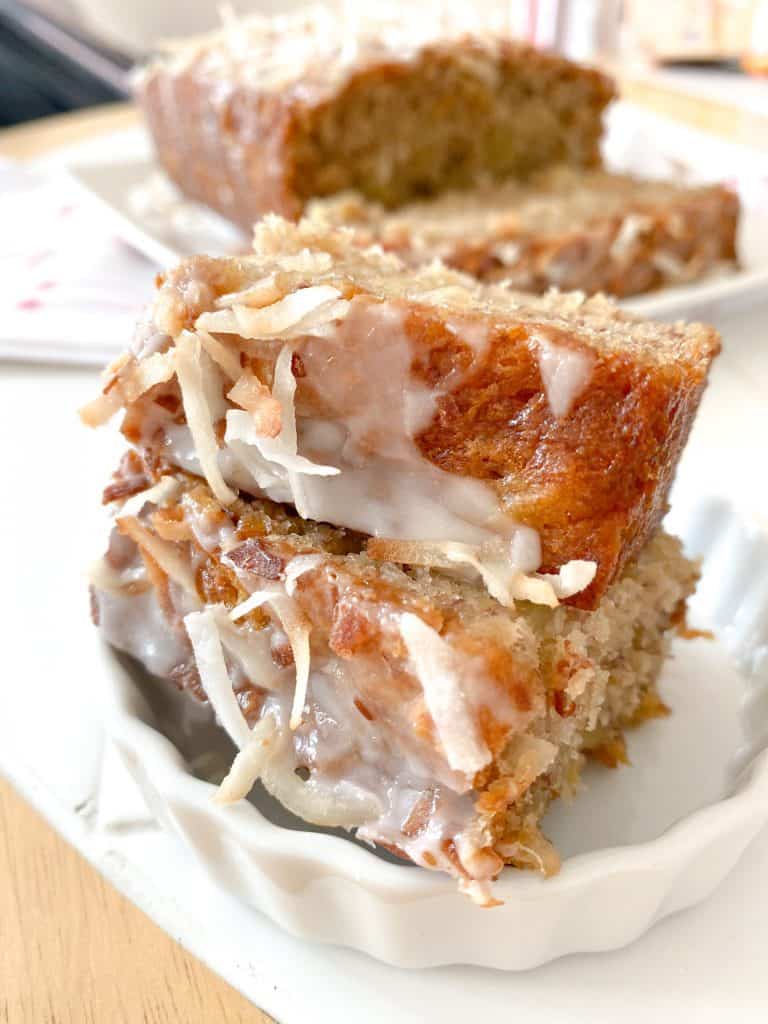 Other ways to make this banana bread:
Make it like a pineapple upside down cake if you want a pretty cake.
Take a square brownie pan and pour your crushed or sliced pineapple on the bottom. Omit the pineapple from the batter and only add the coconut flakes.
Pour the banana bread layer over the pineapples and bake until a toothpick inserted comes out clean (usually around 30 minutes).
When it comes out of the oven, let it cool a little, then flip it and make the rum glaze. Top with toasted coconut.
Now you will have a beautiful Pineapple Upside Down Banana Cake with a Rum Glaze and Toasted Coconut. Sounds super fancy, still super simple!
There are so many ways to take an old favorite recipe and make it bigger and prettier!
Final tips:
This is an easy recipe. Don't let the ingredient list or the fact that it's two desserts in one trip you up. It's simple and straightforward to make.
Line up all of your ingredients, then sort out what will be your wet ingredients and dry ingredients. Work in batches that way to make everything flow faster and easier.
You'll see this is super simple and so delicious!
If you're making this for kids or someone who's pregnant and feel uncomfortable with using the rum, feel free to omit it. Only add vanilla to the bread instead of both rum and vanilla. And use milk only for the glaze. You could always use a rum extract too if you'd like!
Enjoy and please share if you made this! Tag me on IG, I'd love to see it and share your picture @toeatdrinkandbemarried.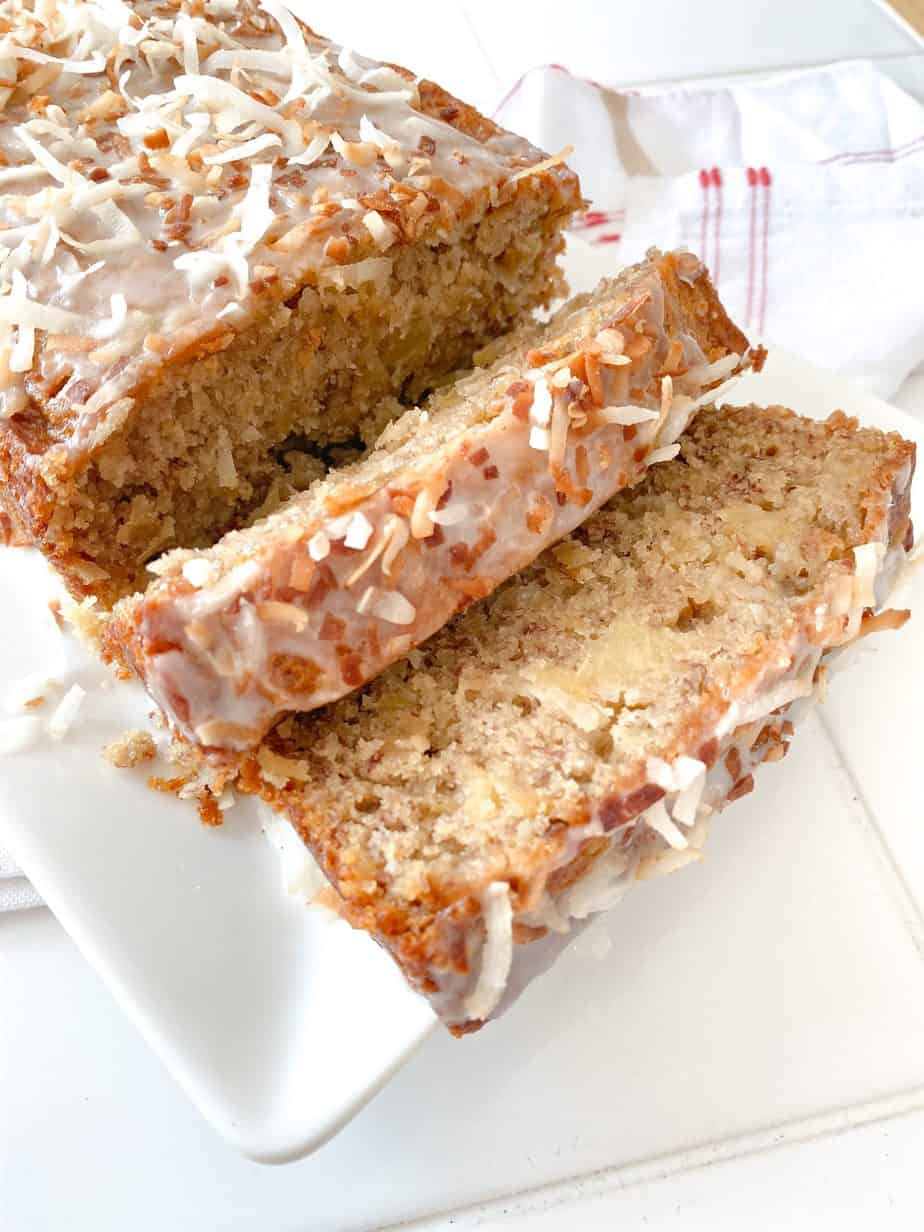 Piña Colada Banana Bread
Bananas and pineapple come together to make a dessert that is a cross between your favorite snack and favorite cocktail. 
Ingredients
For the bread:
3

ripe bananas

1/2

cup

brown sugar

1/4

cup

granulated sugar

1

egg

6

tbsp

butter

softened

1/2

tsp

vanilla extract

1

tsp

rum or 1/2 tsp rum extract

1 1/2

cups

all purpose flour

1 1/2

tsp

baking powder

1/2

tsp.

baking soda

1/4

tsp.

salt

3/4

cup

pineapple bits

1

cup

shredded coconut
Rum Glaze
1/2

cup

powdered sugar

2

tbsp.

pineapple juice

1

tsp.

rum

1/2

cup

toasted shredded coconut
Instructions
For the bread:
Preheat oven to 325F. Line a 9x5 loaf pan with parchment paper and grease. Set aside.

Peel and mash the bananas in a large bowl until no chunks are left. Stir in the sugars, egg and butter until well combined. Add in the extract and rum (or only extract if you prefer!). 

Combine the flour, baking powder, baking soda and salt. Then add to your wet ingredients and stir until just combined. 

Stir in the pineapple bits and shredded coconut and pour into your loaf pan.

Bake for about an hour and check with a toothpick. Check in 5 minute increments after that if it still isn't done. Let it fully cool in pan then remove and set on a plate.
For the topping:
While the bread is cooling, toast your coconut. Add the 1/2 cup coconut flakes to a pan over medium-low heat and stir constantly until golden. Transfer to a small dish and let it cool down.

As the coconut cools, go ahead and make the rum glaze. Combine the powdered sugar, pineapple juice and rum until a glaze comes together.

Make small holes on the top of your bread using a toothpick or fork. Pour the glaze over the top and immediately top with the toasted coconut. Let it harden a little bit and then slice and enjoy!
If you liked this recipe, be sure to check out these favorites!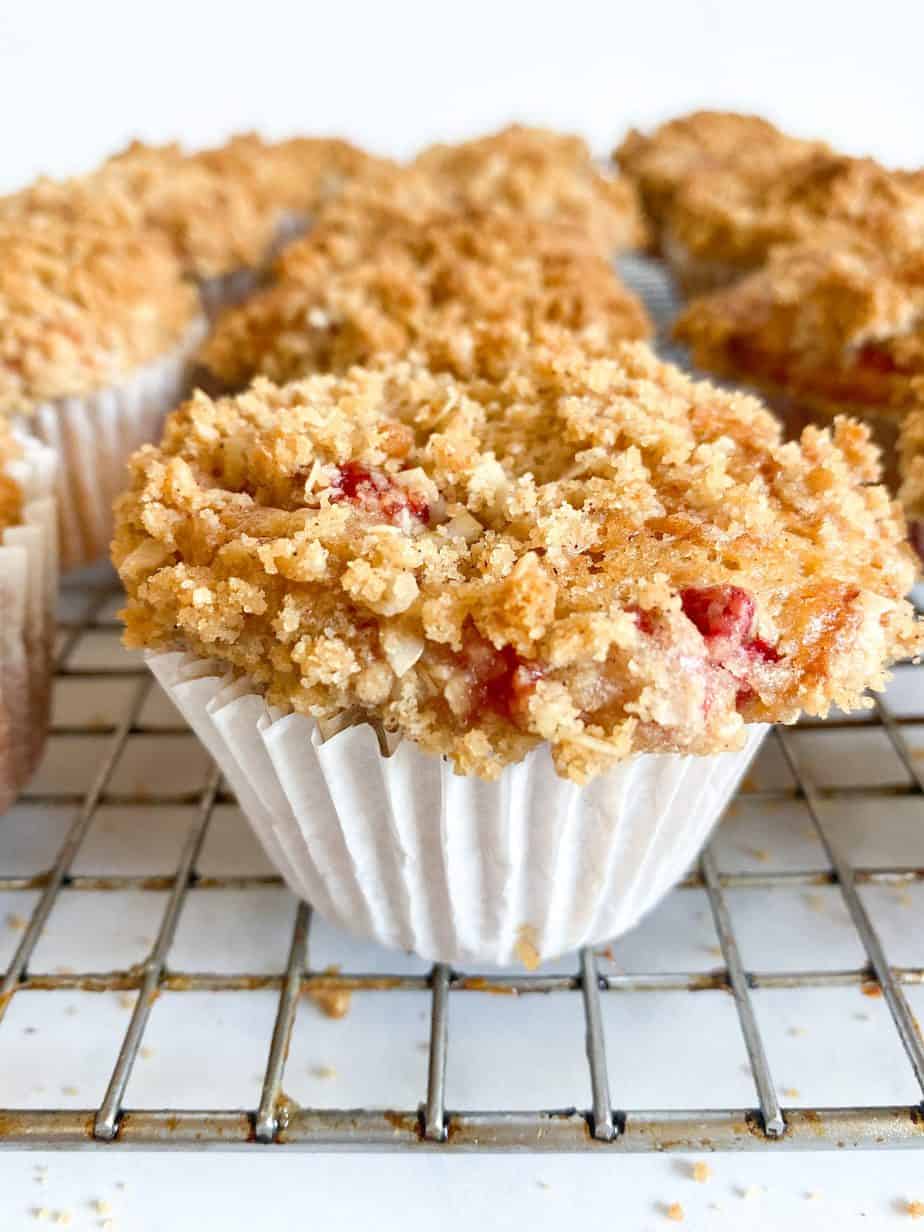 Strawberry Crumble Muffins