Easy Nutella Lava Cake for one? And just a simple 4 Ingredient recipe? Coming right up!
You know those nights when you're alone, kids are in bed, hubs isn't home yet and you're done cleaning the house and ready for the next day? Yeah, they're not often, but when they do happen, I always want a reward! hahaha Cue: this amazingly easy Nutella Lava Cake for One!
This is the perfect evening snack. You can totally share this if you want a romantic evening, but honestly, keeping it all to yourself is pretty exciting, too! This is not a diet approved cake AT ALL, but I don't care. So worth it! Especially after a long evening of cluster feeding. Once the babies are in bed, I'm having this as a treat!
This really is such a simple recipe. Mix, 3 ingredients, dollop some Nutella in the center and bake. Maybe even go take a shower. By the time you're done, you'll have a warm, gooey centered cake waiting for you.
Top with whatever your heart desires: powdered sugar, whipped cream, more Nutella, sprinkles, ice cream… really, the options are endless. Or don't, top it, it's fine juuuust as it is, really. But now that we're on this topic: do you like powdered sugar on your desserts? I loooove it and Mikey haaaates it! He says the powdered sugar makes him have a cough attack! lol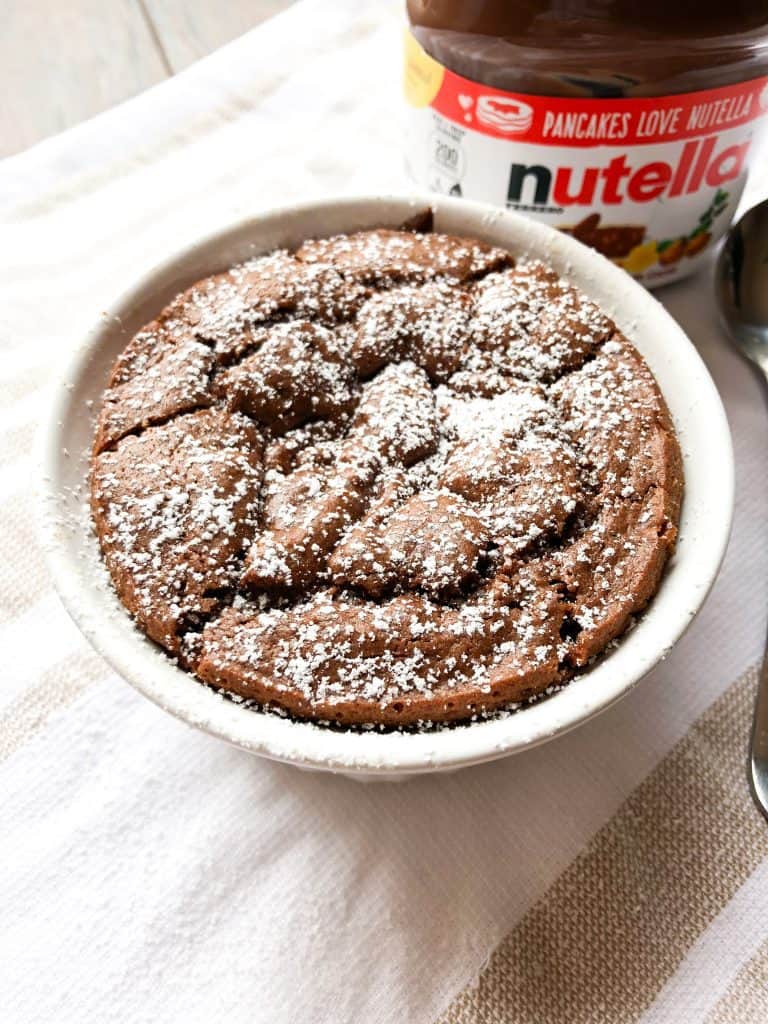 Easy Nutella Lava Cake for One. Long title for a simple dessert, huh? I just wanted to make sure you really know what you're getting yourself in to! Anyway, this really is a fun little recipe to keep in your back pocket for a treat night. So easy, minimal mess and totally delicious! And remember, I won't judge if you choose not to share. Make it and hide wherever you want to enjoy it. It's 1000000% worth it, I assure you.
If you make this, be sure to tag me on Instagram! I'd love to see it!! :)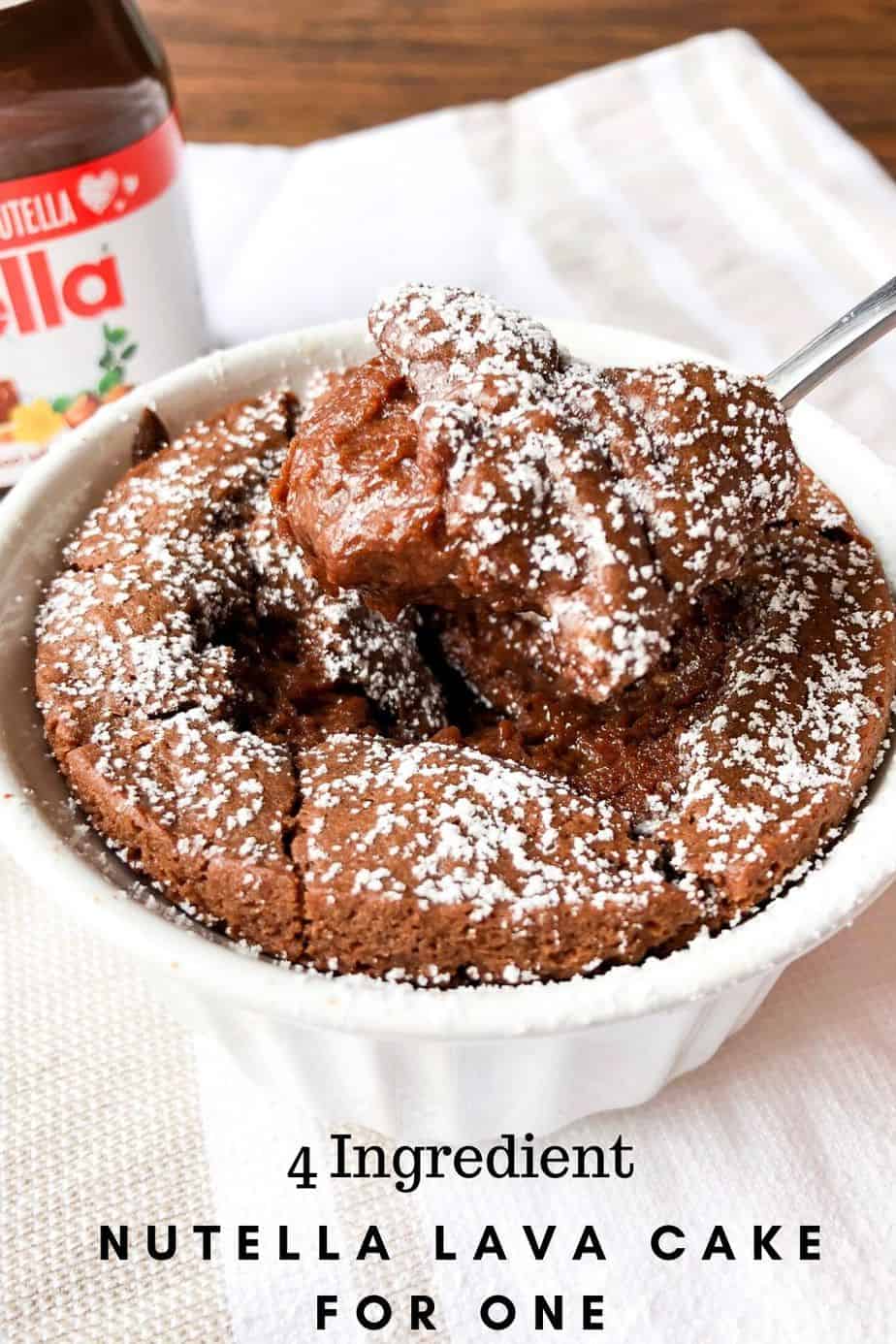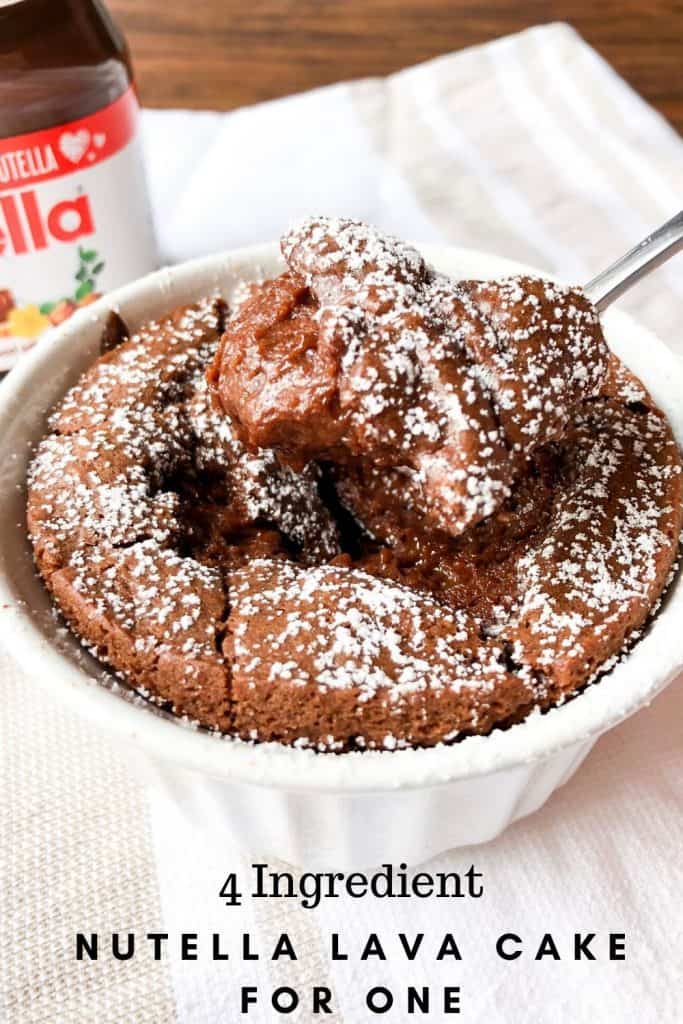 Nutella Lava Cake for One
Easy, 4 Ingredient Nutella Lava Cake for One. Cake like edges and gooey center make this a delicious treat!
Ingredients
4

tbsp

all purpose flour

¼

tsp.

baking powder

¼

cup

+ 1 tablespoon Nutella

3

tbsp.

milk

sugar for coating ramekin

optional

ice cream

optional (but totally recommended).
Instructions
Preheat oven to 350 degrees. Spray either a ramekin or oven safe mug with cooking spray. For a nice little crunch to the edges, sprinkle some sugar in the cup and let it stick to all the edges and bottom. Set aside.

In a small bowl, combine the flour, baking powder, 1/4 cup of Nutella and milk. Whisk well until smooth. Add one tablespoon of Nutella into the center. It will sink a bit on it's own.

Place ramekin/mug on a baking sheet and place in the oven. Bake for 16-18 minutes. This part is tricky. Sometimes it could be up to 20 minutes, oftentimes it's less. It really just depends on your oven. You want to watch it to ensure the outer edges are cake like and puffy and the center around the Nutella not completely set. Remove from oven and let cake cool for a couple of minutes.

Top with some powered sugar or ice cream (or both!) and enjoy!
Looking for another single serving recipe? Or how about more Nutella deliciousness?