This post may contain Amazon affiliate links. If you choose to purchase anything through these links, know the products come at no extra cost to you.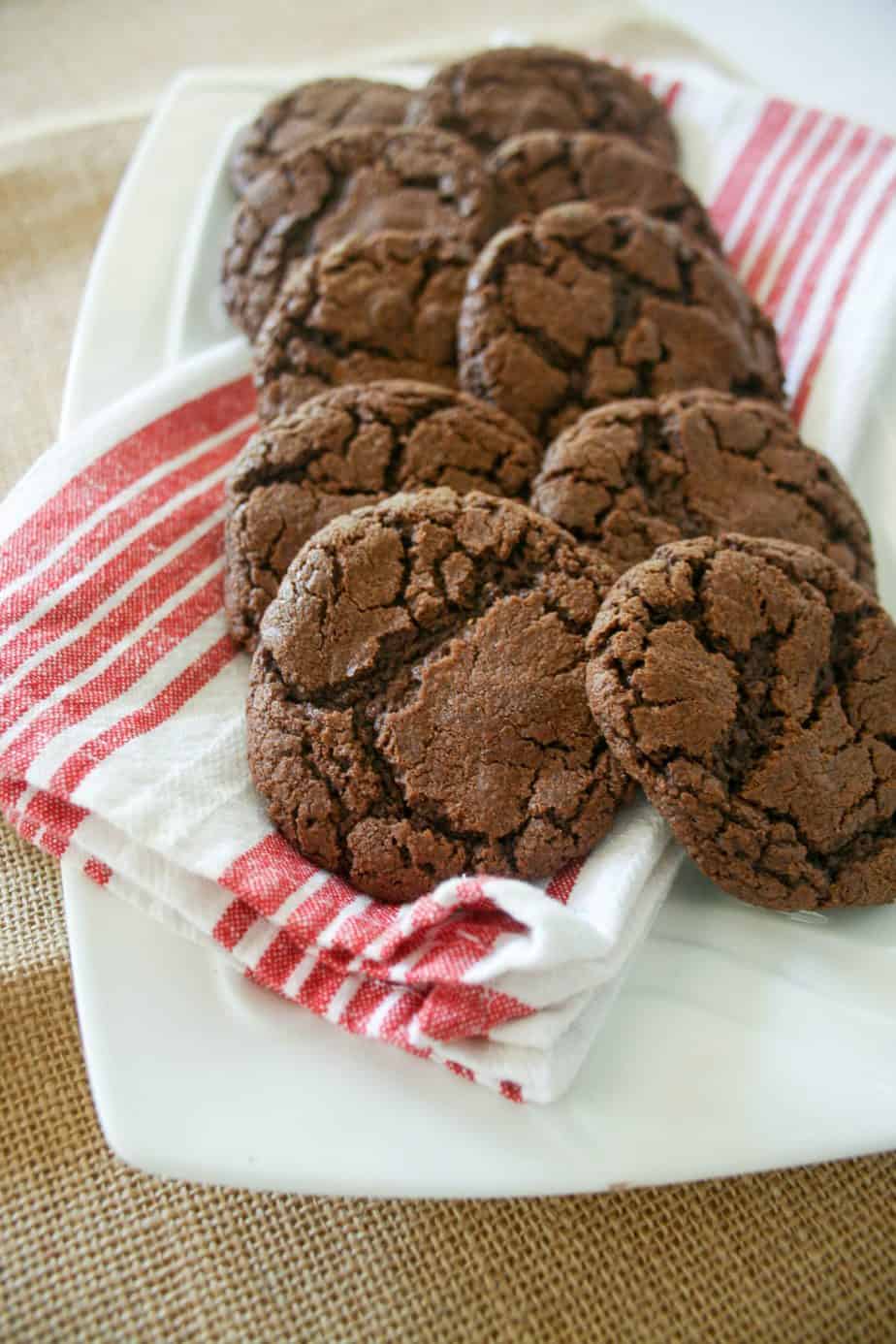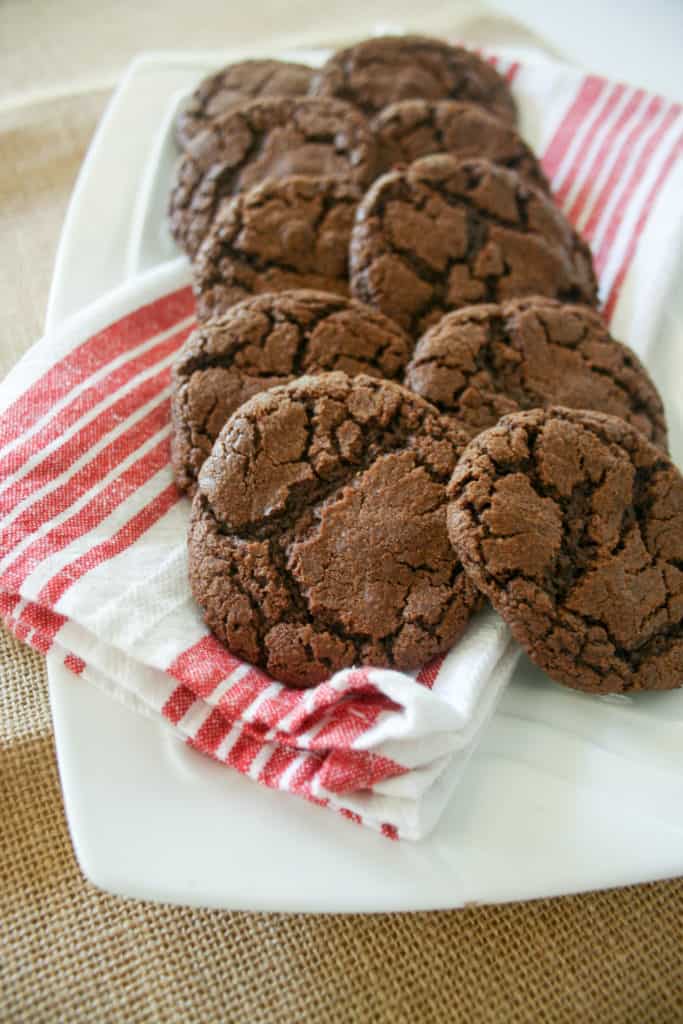 The easiest 4 Ingredient Nutella Cookies you will ever make.
Or really, not just 4 Ingredient Cookies. These will be THE BEST Nutella Cookies you've ever made. You can even compare these with 20 ingredient recipes. These will always win. Ha!
A couple of days ago, my father-in-law told me about an amazing cookie recipe that my sister-in-law had made.  He told me it was simple with just four ingredients, made a small batch (just about a dozen) and was ready in less than 15 minutes. 
4 Ingredient Nutella Cookies? You got me there! It sounded like the perfect recipe for a family of two who love sweet treats.
Do you think you'd love a good Nutella Cookie? (hint, I do!)…
Nutella is one of those things that has people either 100% committed or not at all. You don't just feel meh about Nutella. You love it or hate it. I'm sure you can guess where I stand!
I don't know about you, but I think Nutella goes with everything! Lather it on toast, pancakes, fruit, cupcakes…the options are endless!
Tonight I bring you a new Nutella idea (or well, new to me!). A simple, straightforward recipe for Nutella cookies! They have just four simple ingredients that you surely have on hand and can whip together at any time.
The best part about this recipe is that the main ingredient IS Nutella, so it is what you taste most and what keeps the cookie soft and chewy. Who needs flour in a recipe when Nutella holds the dough together perfectlyyyy! YUM!
Speaking of Nutella. Amazon has the best deal on it. It can get pricey, but I buy this one (the large size!) for only about $12. If I could subscribe to a monthly delivery I would! hahaha
We made these cookies last night and they were just as amazing as they were described to us. This is a sweet treat that everyone is sure to enjoy.
As usual, I used my FAVORITE USA pan. I've raved about them before and I'll do it again because they are truly the best! Nothing ever sticks to them. You don't have to grease your pan or lay parchment paper on it. Simply bake on it and wipe clean with a paper towel or cloth when done.
They're perfect for roasting veggies, or sheet pan dinners, too! Such a staple for every kitchen! I'll never buy another sheet pan again (and I mean it!).
Add ins & Adjustments for an even better Nutella Cookie
Okay, this doesn't need to be any better… but if you're looking for a little extra pizzazz… look no further, I've got it for you.
My faaaavorite thing to do to these cookies is this: as soon as they are out of the oven, indent the middle with a spoon. Fill that indentation with Nutella. Boom, done. A great cookie is suddenly even better!
For a Nutella mocha cookie… Add 1/2 tsp. cocoa powder for extra chocolate flavor. And if you'd like, add 1/2 tsp. instant coffee powder to make it that deep mocha flavor.
You will ever so slightly taste the coffee and cocoa while the instant coffee gives it that rich flavor. A perfect addition for a coffee lover!
Add-ins…
Let's vote down below which are the best add-ins:
~Nutella filled center
~M&Ms
~chocolate chips/white chocolate chips
~chopped hazelnuts
~Rolled in powdered sugar
Any other ideas? I'd love to hear them down below!
If you make this recipe, tag me on Instagram! I would love to see your creations and share them :)
Shout out to my sweet sister-in-law Monica for sharing these delicious 4 Ingredient Nutella Cookies!
4 Ingredient Nutella Cookies
Ingredients
1/2

cup

+ 1 tbsp all purpose flour

1

extra large egg

1

cup

Nutella

1

tsp

baking powder

Optional: powdered sugar for dusting
Instructions
Preheat oven to 350F.  Line 1 large baking sheet with parchment paper or grease it.

Combine all of the ingredients in a large bowl until there are no more egg streaks or flour lumps.

Form a dozen 1.5 inch balls or use a small ice cream scooper of equal measurements.  Place on baking sheet, about 2 inches apart.

Place in oven and bake for about 10 minutes.  Let the cookies cool on the sheet for 5 minutes before removing and serving.  Dust with powdered sugar & enjoy!
Feel free to browse some more Nutella recipes around here… c'mon, I know you want to!
4 Ingredient Nutella Lava Cake for One
Nutella Rice Krispy Ice Cream Cake
4 Ingredient Nutella Cookies