Fourth of July is just around the corner!
And with that comes the need for some really delicious desserts!  I mean, the burgers and hot dogs are certainly important, too but c'mon dessertsssssss…..
Sure, you can go the apple pie route.  That's classic.  I"m not telling you not to make it… but how about we add a new pie to the mix this year?
This summer pie is fresh, light, and delicious.  It has a delicious cinnamon sugary crumbly topping that is (probably) the best part! You can go the homemade pie crust (go, you!) or keep it simple and buy a crust.  Whichever you decide to use, it is positively amazing!  Any idea what kind of pie I'm talking about? (pretend you didn't read the title! haha) You guessed it!
Peach Crumble Pie!
This is a family favorite!  You can top it with some whipped cream to make it even lighter and cooler for the summer heat, but know that it is amazing just as it is.  You can certainly enjoy this cooled down, but you're going to have a hard time restraining yourself from taking a slice right out of the oven!
This is a simple, easy to make pie, using fresh peaches, but you can certainly used canned if that's what you've got!
A quick tip on oven temps: since we all have differently powered ovens, 30 minutes in mine might be different than 30 minutes in yours! Keep an eye on it and if it begins to brown too much, cover it with some aluminum foil so the top doesn't burn.  :)
OH! And if you want to make a double batch of crumble, I won't judge.  Pile it on! Yummm.
---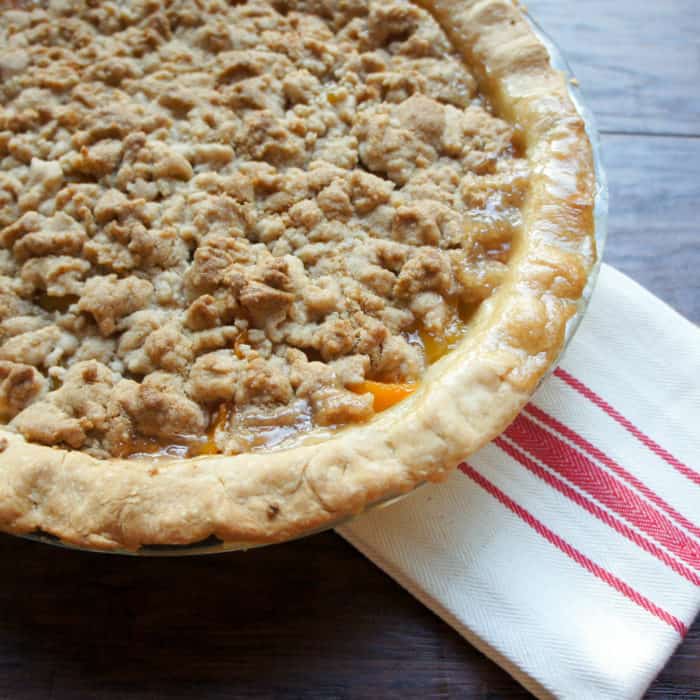 Peach Crumble Pie
Ingredients
1 9

inch

pie crust or a homemade pie crust

5

large peaches

sliced and peeled

1/2

cup

melted butter

3/4

cup

white sugar

3/4

cup

brown sugar

1

cup

flour

1

teaspoon

cinnamon

1/4

teaspoon

ginger

2

pinches

salt

1

Tablespoon

cornstarch
Instructions
Preheat the oven to 375 and line a baking sheet with aluminum foil (to place your pie on and catch any syrup spills).  Make pie crust or open your store-bought one and press into 9 inch pie plate.

In a large bowl, whisk together both sugars, flour, salt, cinnamon and ginger.  Add melted butter and stir with a wooden spoon until it has come together.

In a separate bowl, toss the peaches with cornstarch and around 3/4 of the mixture you previously prepared.  Pour into pie crust.

Crumble the rest of the mixture and place on top of the pie.  Use it all (and maybe even some more if you want it extra crumbly!

Place the pie on baking sheet and bake for 40-50 minutes or until filling is bubbly and the top is golden brown.
---
You might want to make these for your Fourth celebration as well!