S'mores Dip for 2.
 The perfect summertime treat.  Well really, it's a great transition-into-fall dessert.  It's warm, gooey, full of chocolate and everything I love.  What makes this one of my favorites is all the textures. You have the creamy chocolate, puffy and toasty marshmallows and crunchy graham crackers.  It is certainly the perfect treat to whip up at any time. Especially when you can make it a S'mores Dip for 2!
S'mores is an ultimate favorite treat of mine.  I'm not lying when I say I've had a s'mores every afternoon for the past 2 weeks. #pregnancycravings, ya know? With both Grace's and this pregnancy, I've had daily headaches, especially during that 2pm afternoon slump… well, this helps cure that, hands down.  I look forward to my s'mores treat, and when Grace goes down for a nap, I sometimes even make this recipe for myself.  No sharing involved. No regrets. ;)
 Can you believe this s'mores dip only has 3 ingredients?!
I don't know when S'mores became one of my favorite desserts, but this is a decadent yet simple way to enjoy it.  It's less work and mess than regular ole s'mores, too!  That's always a plus. ;)  Check out the recipe below and you'll see what I mean.  This is the perfect quick dessert after dinner, or during a fun game night (or date night) or to go with an at home movie.  This is so easy to make, I often take the ingredients over to someone's house and assemble it there when we're having a get together.  It's a crowd pleaser!
If you make this dessert (which I really think you should), be sure to tag me and hashtag #toeatdrinkandbemarried.  I want to see it!  (seriously, go make it…now!)
---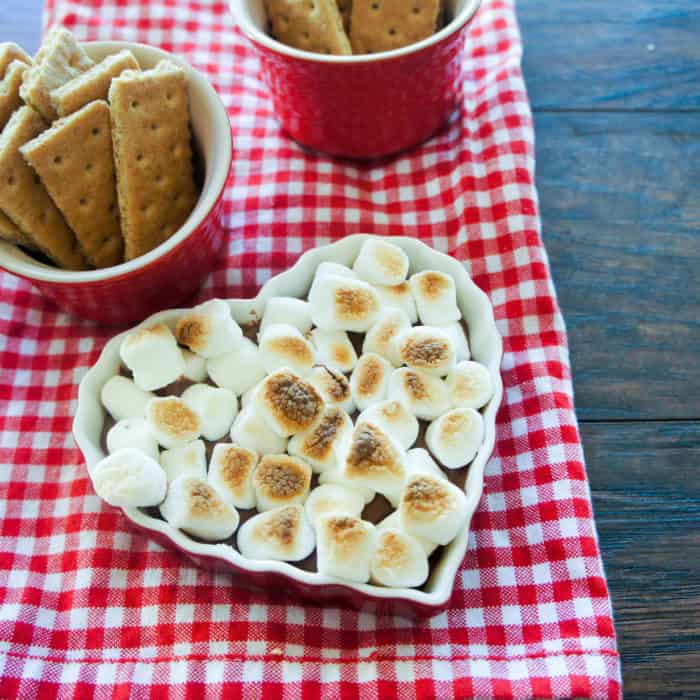 S'mores Dip
Ingredients
3-4

tablespoons

Ghirardelli chocolate chips

I always use milk chocolate, but you can use any type!

2-3

tablespoons

marshmallows

graham crackers
Instructions
Place chocolate chips in small ramekin.  Microwave in 20 second increments, stirring between each session, until melted.

Layer marshmallows over the melted chocolate and place the ramekin into the oven with the broiler setting on high.  Watch closely and take out when marshmallows are fluffy, toasty, and golden brown.

Remove from oven and let cool for a couple of minutes, then serve with graham crackers.
Notes
The chocolate to marshmallow ratio varies depending on the size of the ramekin.  Just always keep the ramekin halfway full of melted chocolate and half of marshmallows. This recipe can be adjusted to any serving size! ;)
If you look around my site, you'll find loads of s'mores recipes… I'm sure you'd be able to tell I'm a s'mores lover! haha Here are my most popular S'mores desserts!
And for one more amazingly delicious recipe… if you live in perpetual summer year round (AKA Miami…) you might want a refreshing s'mores dessert… try this S'mores Milkshake by Dessert for Two. It's one I come back to over and over again!