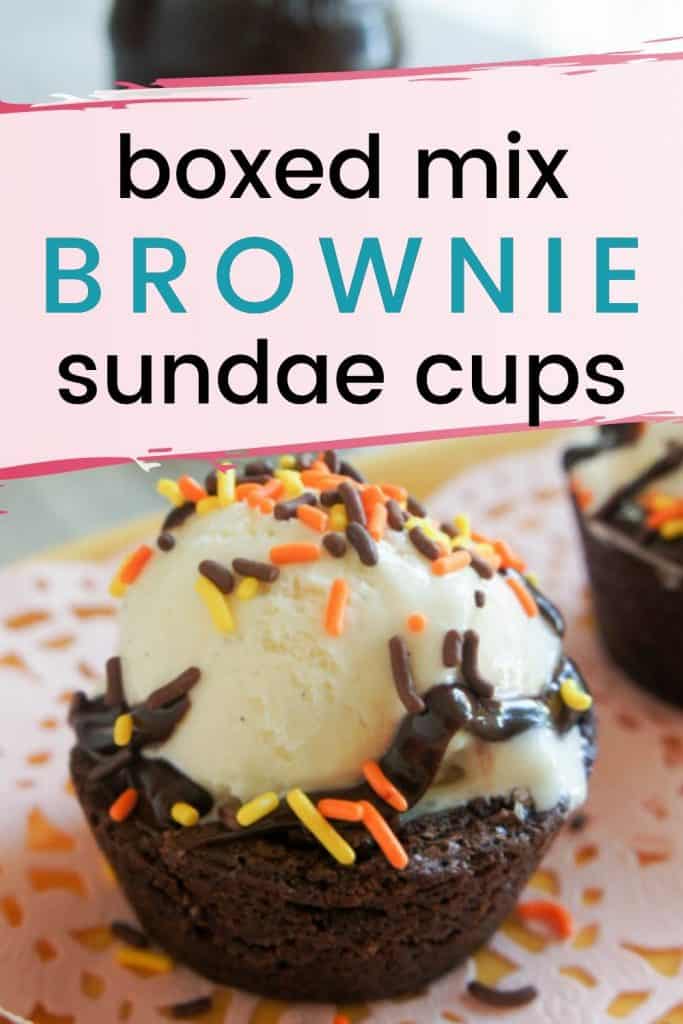 Brownie Sundae Cups are the perfect way to serve a sweet treat!
Brownies or ice cream.  Which would you choose? How about BOTH! Brownie Sundae cups for the win!  Visit just about any restaurant, and they are sure to have a variation of this dessert.  Brownies might be a bit more like chocolate cake or lava cake or even a souffle, and always topped with ice cream.  It's usually served warm and quite delicious.
Recently, we were having friends over and I planned to make brownies topped with ice cream for dessert.  I knew I wanted something utterly decadent so a good dark chocolate brownie would do the trick.  Then I got to thinking…. "what if I make these brownies into cups?"
That way everyone has their own cute little cup, and it looks so much better than just a piece of brownie (nothing wrong with that, it is how we do it most often around here! haha).  I figured it couldn't be much harder to make brownie cups so I set out to make them.
Brownie Sundae Cups look fancy, but are incredibly simple to make at home!
You follow the recipe for your brownies as usual, but grease a muffin tin instead of a 9×13 pan.  Pour the batter in and let them bake up (they'll be ready much faster…also a win!).  As soon as they're out, while still hot, use the back of a spoon to press an indentation in the middle of it.
Let your little brownie sundae cups cool down and they are ready to top with whatever you want! I used some vanilla ice cream, Smucker's hot fudge and sprinkles.  Cause duh.  Sprinkles make everything better!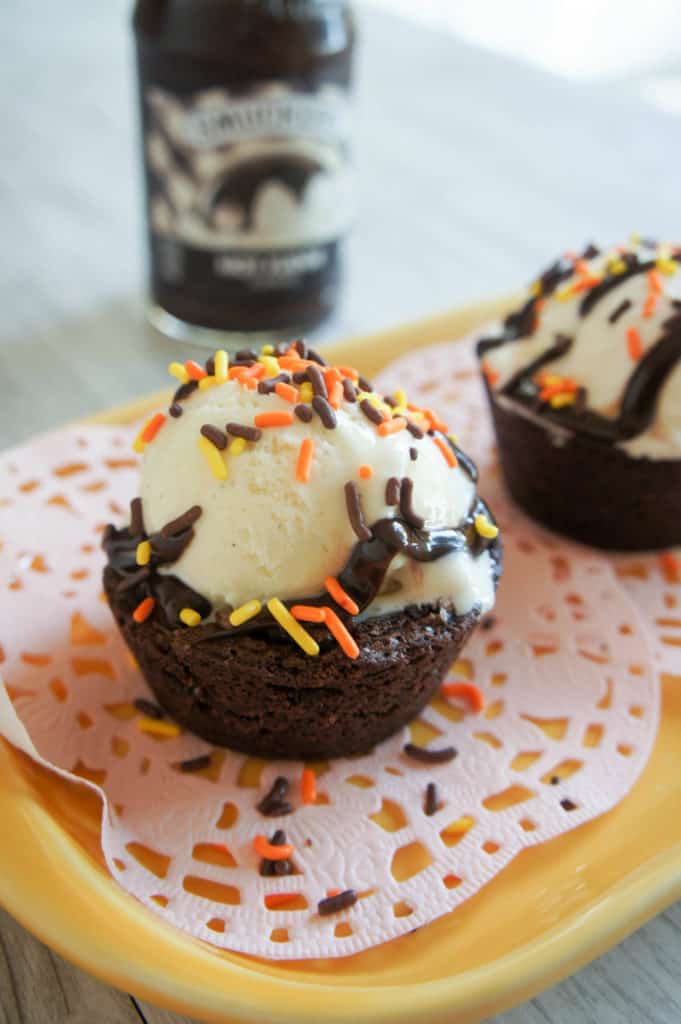 Brownie Sundae Cups
Ingredients
1

box of your favorite brownie mix + ingredients to prepare it

your favorite ice cream

hot fudge sauce

sprinkes
Instructions
Preheat your oven to whatever your packaging says. Grease one mini muffin tin and then grease the bottoms of another.

Prepare your brownie batter as directed on packaging and place in the oven. Bake as directed, undercooking by about 10 minutes. If you don't have cooking directions for using a mini muffin tin, start with 15 minutes. Check to see if the centers are cooked through, but still soft. you don't want these to over bake at all, but also don't want goo in the center. If they're too gooey, add another 2-3 minutes at a time, until the centers are set.

Once they come out of the oven, let them sit for 5 minutes. Then take your second muffin tin and press gently over the muffins to create the "cup." If you don't have a second mini muffin tin, you can take a spoon and create the indentation by pressing down gently. Takes a little longer, but it'll work too!

Then allow your brownies to fully cool on a wire rack.

Once they are cooled through, fill the cup with your favorite ice cream, then top with fudge and sprinkles or peanuts. You can get creative here!

Enjoy :)
Looking for some more sweet treats?