Small Batch Strawberry Nutella Muffins are the perfect treat to finish off a package of strawberries and container of Nutella.
These are simple, easy and so delicious. I'm telling you, you'll keep coming back for more.
That's when you'll thank me that these are a small batch and don't make 24 muffins!
Chocolate covered strawberries have long been a favorite treat of mine. We used to go through phases of making a package daily, and eating them every afternoon.
Seriously, they're so good.
Then, we discovered crepes. Specifically, strawberry Nutella crepes. That gooey warm Nutella coating all of the strawberries inside a veryyyy thin pancake… Mmmmm.
It was that delicious treat that drove me to this idea of a Strawberry Nutella Muffin.
I love the little bit of nuttiness the Nutella brings in so I decided to add a little almond extract too.. it enhances that muffin flavor just perfectly!
What makes these special?
Well, let's start with… you can use the leftover strawberries in your fridge!
I love my strawberries to have a bite in them. Crisp and hard. Once they start to get mushy… wellllll…
I've been known to throw the rest of the pack away.
I did start freezing them for smoothies, but there are only so many strawberries one can (or should!) keep in the freezer, ya know?
So I moved on to finding something to bake with them.
I've come up with strawberry jam and strawberry muffins… both delish and definitely favs!
But I wanted to add something special… something…..
chocolatey!
Enter: Nutella!
Nutella is the easiest way to turn any plain recipe into something indulgent and addicting (check out my Nutella Banana Bundt cake if you want proof!).
Really, it's so simple to add to almost any cake batter or use as a frosting!
These muffins are EASY and you're going to fall in love. You might even find yourself buying extra strawberries to have enough for them… ;)
If you don't have buttermilk, you can still make these!
Try these options:
-combine 3/4 plain yogurt or sour cream with 1/4 cup water. Then use 1/4 cup for this recipe
-Combine 1 cup milk and 1 tablespoon vinegar or lemon juice. Let it sit for 10 minutes, then just 1/4 cup for this recipe.
Worst case scenario, you can just use regular milk… but I love the tang of the buttermilk flavor!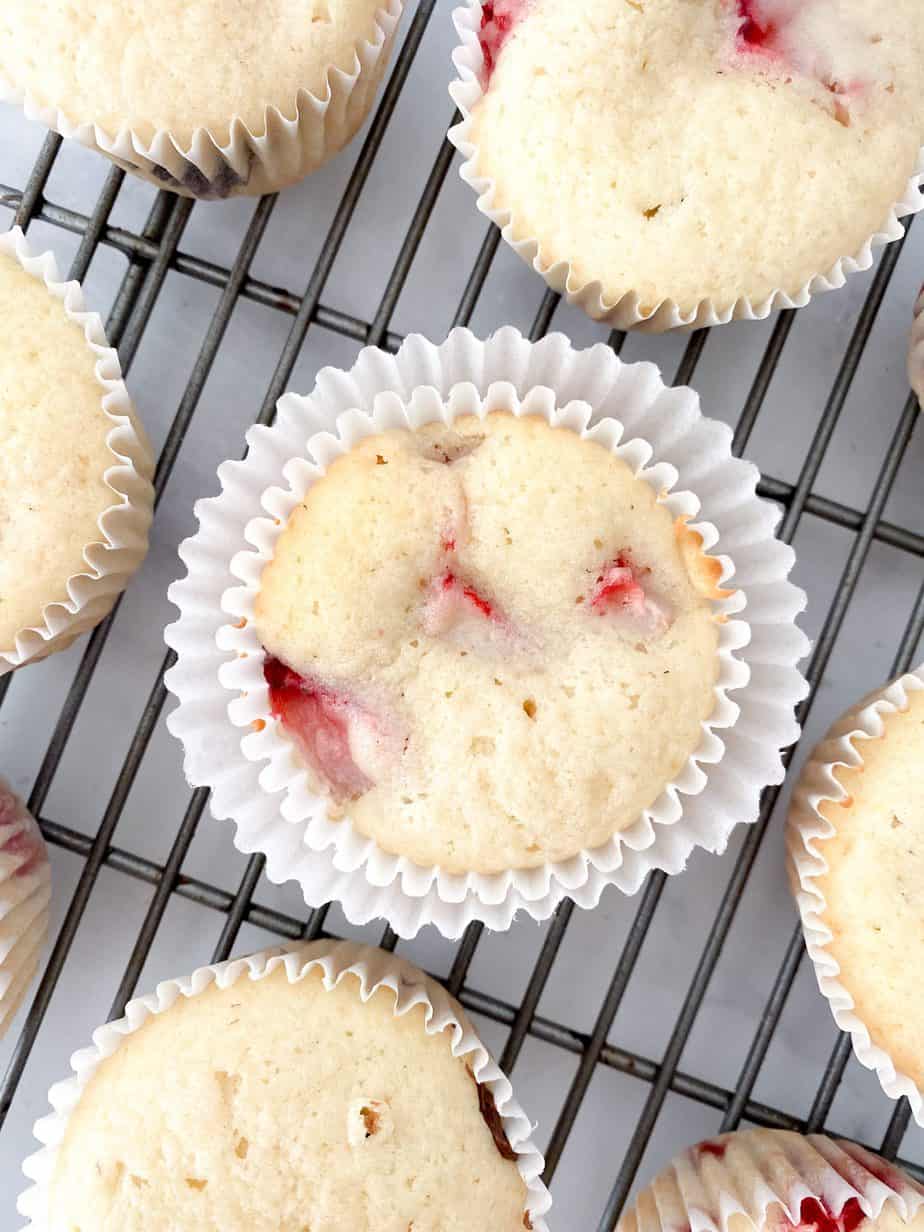 How to make these Small Batch Strawberry Nutella Muffins:
What's really fun about this recipe is that you can make it by hand- no stand or hand mixer required.
Just a good ol' fashioned spatula and bowl will do the trick. But of course, if you have a mixer and want to use it, by all means do so!
These are simple: Combine your dry ingredients, set aside.
Stir the softened butter and sugar well. Then add in the egg and extracts. Add half of your flour mixture, stir. Add all of the buttermilk, stir. Then the remainder of your flour mixture and stir until combined.
Lastly, add in your chopped strawberries and give them a quick fold.
For the Nutella, I like to have some in the center and the tops!
So I line a muffin tin, then pour 2 tablespoons of batter in each hole. I put about a teaspoon of Nutella in each, trying to keep it right at the center. Then I top with another 2 tablespoons of batter.
Now you can leave them with the Nutella surprise or add a bit more on top. I always add extra because why not?!
You should get about 9 muffins from this batter.
Bake for 20 minutes or so and then remove from the oven and let them almost fully cool. If you peel the wrapper too quickly, the strawberries will stick to that and make the muffin fall apart. No bueno.
Once they're cool, ENJOY!
If you make these, be sure to tag me on instagram. I love seeing what you guys are making :)
Small Batch Strawberry Nutella Muffins
Tart strawberries meet sweet Nutella in this delicious combination of flavors. This muffin is the perfect thing to make with your leftover strawberries. And it's makes only 9 muffins so you can have a treat, but not fill your kitchen with desserts!
Ingredients
1

cup

flour

1

tsp.

baking powder

1/4

tsp.

salt

1/4

cup

half stick unsalted butter, softened

1/2

cup

sugar

1

egg

1

tsp.

vanilla

1/4

tsp.

almond extract

1/4

cup

buttermilk

Nutella

about 1/3 cup
Instructions
Preheat your oven to 350F. Prepare a muffin tin with liners and set aside.

In a small bowl, combine the flour, baking powder and salt. Set aside.

In a medium bowl, combine the softened butter and sugar well with a spatula (or whip with a stand/hand mixer). Add the egg, vanilla extract and almond extract. Stir again to combine.

Add in half of the flour mixture and stir until combined. Add the buttermilk, stir again. And then the other half of the flour and stir to combine.

Add in the chopped strawberries and fold them into the batter until they're evenly distributed.

Divide amongst muffin tin. I do 2 tbsp batter, 1/2 tsp Nutella in center, and another tablespoon or two of batter on top. I typically get 9 muffins out of this.

Bake for 20-25 minutes or until a toothpick inserted into one comes out clean.

Remove from oven and let them cool for 5 minutes before transferring to a wire rack to fully cool.
If you loved this treat, check these out!
Mascarpone Dark Chocolate Loaf