These M&M Brownie cookies are the perfect way to start your weekend- I can promise you that!
From the day I met Mikey, he made it clear brownies were his absolutely favorite dessert. He loves them soft and a little gooey and hates the edges.
I, on the other hand, LOVE the edges. I like the crisp corner.
Yep, we're a match made in brownie heaven. ;) Whenever we make a batch of brownies, I eat the outsides and he eats the insides. It's perfect!
Well, things were going well with brownies until… we made brownie cookies.
Not sure where I saw that if you add a little flour to your brownie batter, it thickens up perfectly to make cookies. I didn't believe it, but I had to try it.
Many times these turn out to be Pinterest Fails, but I assure you this one was not.
The Inza Favorite M&M Brownie Cookies were born!
We've made this cookie time and again. I've tested and OVER tested it. I have made them too flat, too thick. Looking like snowballs or thin crisps.
But the one recipe we keep coming back to is THIS ONE. It is so easy to make.
And when I say easy, I mean it! It only takes 5 ingredients:
-1 box brownie mix
-2 eggs
-1/4 cup flour
-1/4 cup oil
-3/4 cup M&M's.
Yep, that's it! When you remove a little liquid and add extra flour to brownie batter, you're left with a dough that resembles cookie dough.
The directions for this one are super simple!
Mix the brownie mix (we love Ghirardelli), eggs, flour and oil until combined (you can use a wooden spoon or mixer!). Add in the M&M's and mix until just combined.
Don't overmix the M&M's or they'll bleed into the dough and lose their color.
Using a cookie scoop, place scoops on a parchment lined cookie sheet about 2 inches apart. Bake at 375 for 10-12 minutes.
They will look underdone. Do not, and I repeat DO NOT, put them back in the oven until they look fully baked. When you do that, you'll end up with hard cookies.
Let them stay underdone and leave them on the baking sheet until they set. 15-20 minutes or so and they'll still be warm and delicious, but perfectly soft. The hot baking pan finishes cooking them so they're no longer raw inside.
Ta-Da! The perfect M&M Brownie Cookies are ready to be devoured!
What to do with a big batch of M&M Brownie Cookies, you ask?
Eat them all.
Share them all.
Make them for Thanksgiving.
Make them for Santa.
Make them for Valentine's Day.
The list goes on and on!
These are perfect cookies to let kids have fun in the kitchen. Few ingredients and the dough isn't messy so let them roll them up and add a few M&M's on top (or let them eat the M&M's like mine does!).
This is a simple recipe with amazing results. I assure you it'll be a family favorite!
These simple cookies fit any holiday!
See the red and green M&M's? What day is today?
Oh yeah, it's January 4th.
Oops. Just over here trying to use up all the leftover Christmas M&M's I bought from BJ's.
But really, these are a great way to bring a little color to any themed party or festivities.
Just purchase the in season M&M's (I know for sure they have Valentine's, Patriotic, and Autumn colors), and you can turn these cookies into the perfect celebration treat!
Oh one more thing: these can be freezer cookies!
Yep, you heard that right! You can prepare the dough as usual, and pop these in the freezer for whenever you get a cookie craving.
Prep the dough, line a plate or baking sheet with parchment or wax paper. Scoop the dough and line them up (don't need to space them since you're not going to bake them). Then place them in the freezer.
Once they're frozen, transfer to a container or Ziploc bag. You can bake these straight from the freezer to the oven. No adjustments necessary. :)
I also bake them in the toaster oven quite often. My only tip though is to still bake them from frozen, but reduce the heat to like 300 degrees and bake a little longer.
And don't crowd the pan! Toaster ovens can't handle too many cookies at a time. Okay, I guess that was a second tip. ;)
These are seriously so easy and so addicting! You won't be able to get enough!
If you make these, be sure to tag me on Instagram @toeatdrinkandbemarried. I love to see my favorite cookies out in the wild!
M&M Brownie Cookies
Ingredients
1

bag brownie mix

2

eggs

1/4

cup

flour

1/4

vegetable oil

3/4

M&M's plus more for topping
Instructions
Preheat your oven to 375 and line a baking sheet with parchment paper.

In a large bowl, combine the brownie mix, eggs, flour and oil. Once combined, add in the M&M's. Mix those until just combined.

Using a cookie scoop, scoop your cookie dough and set them 2 inches apart on the prepared baking sheet. Top with a few more M&M's if you'd like. 

Bake for 10-12 minutes. Until the edges look ready and only the center looks a bit underdone. 

Remove from oven and set them down to cool for about 15-20 minutes. Remove from baking sheet and enjoy warm with a tall glass of milk! 
If you loved these cookies, be sure to try out these other family favorites!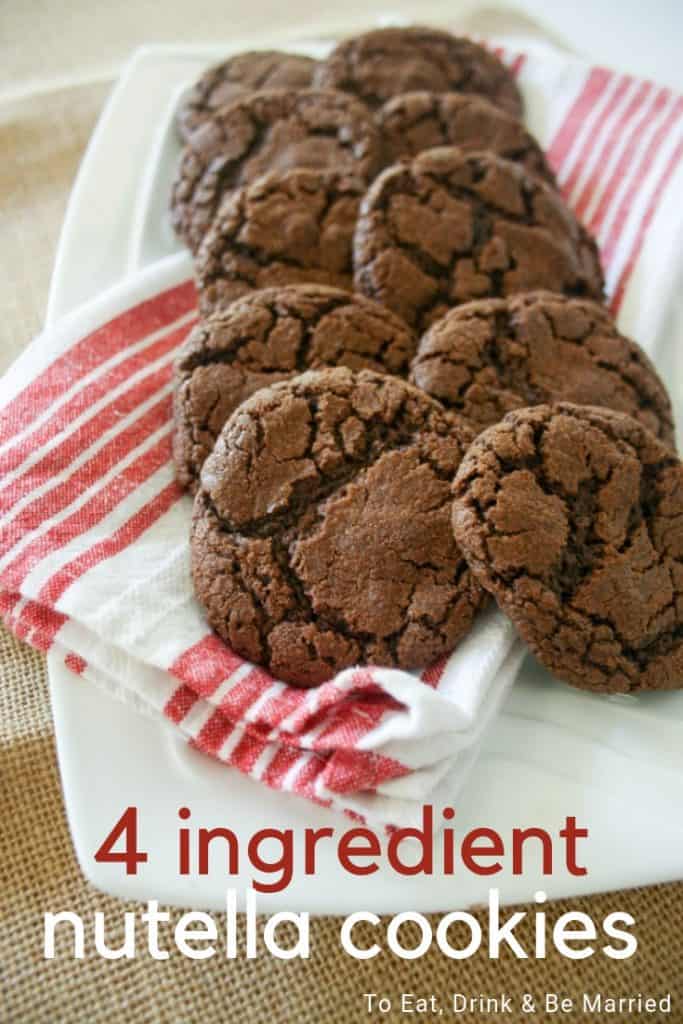 4 Ingredient, 15 Minute Oatmeal Cookies