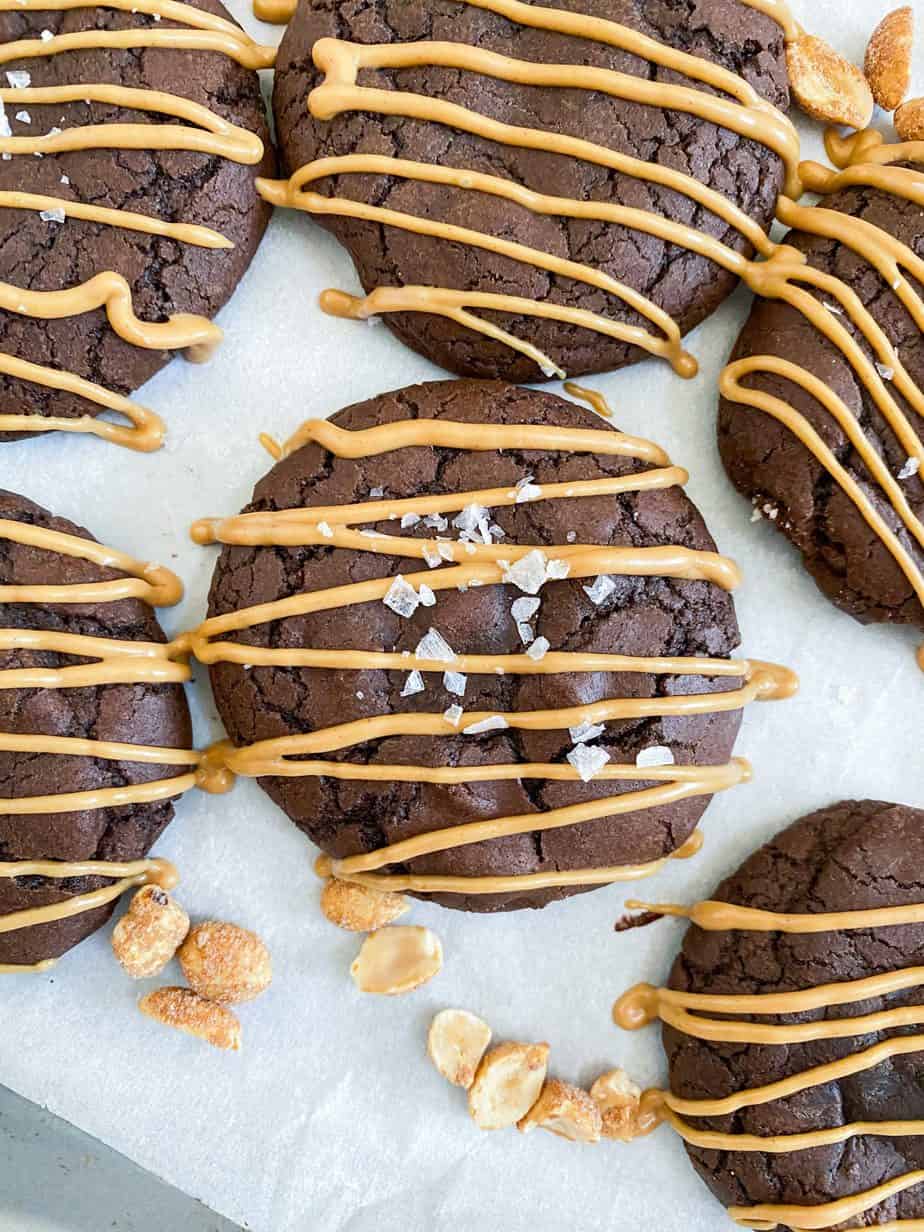 Peanut Butter Brownie Cookies? Like a peanut butter cup but in cookie form?
You're saying a little bit of peanut butter stuffed in a gooey brownie cookie?! YES PLEASE.
These cookies are so ridiculously easy and delicious! The outsides are set, with a little crackle topping.
The inside of the brownie layer is slightly gooey but set enough to hold the creamy peanut butter.
Really, the brownie and peanut butter portions are a match made in heaven!
Are you team chocolate and peanut butter or absolutely not? I know people have strong feelings on this one. Seems like people either LOVE or HATE this.
I am 100% on board for the flavor combination! I love the salty, nutty flavor with the sweet chocolate, especially when it's dark chocolate. Yummm.
Peanut Butter Brownie Cookies are EASY.
First, let's work on that peanut butter filling. This is super easy!
Just add a few scoops of peanut butter to a small ziploc or piping bag. If using a ziplock, cut a small corner off.
Now pipe quarter sized discs of peanut butter onto a wax paper lined plate. Pop that in the freezer until the little discs are frozen. They should be ready by the time the batter is mixed up.
The brownie portion is SO easy. Just mix up a boxed brownie mix with a little extra flour and it'll take the consistency of cookie dough.
Now let's assemble these cookies!
When the peanut butter discs are frozen, remove them from the freezer and start putting your cookies together!
Use a 2 tablespoon scoop to measure out the needed cookie dough. Now flatten that little ball so it's even.
Using a spatula or knife, carefully lift one disc of peanut butter off the plate and drop it in the middle of the cookie dough disc. Start turning all the edges of the disc over the peanut butter until it's fully coated.
You're not going to turn these into perfectly round balls, they will stay semi flat discs. Put the assembled cookie dough onto that same plate because they're going into the freezer for 20 minutes or so until the oven is preheated.
You might need to do the peanut butter assembly in batches because the peanut butter melts quickly.
A couple of tips: pop them back in the freezer for a minute or two if they start to soften too much. Also, don't use your fingers to lift them off the plate. The warmth of your hand will melt them much faster!
Time to bake these little guys!
Once these are ready to come out of the freezer, you're ready to bake!
Set your oven to 350 degrees and keep those cookies in the freezer just until you're ready to put them in the oven! Place them on a parchment lined baking sheet 2 inches apart and then place in the oven.
Bake for 10-12 minutes or until the edges are set but the very center still looks a bit soft.
These cookies continue to bake on the hot pan after they come out of the oven and get hard very quickly. So you definitely do not want to overbake!
Once you remove them from the oven, let them sit on the hot pan for 3-4 minutes until they're just set enough to transfer to a wire rack. There you can let them cool and then enjoy.
The directions seem long because I wanted to detail everything for you, but believe me they're really simple to make and move quickly!
You're going to LOVE these (if you're on team peanut butter and chocolate of course! haha). They stay soft in a ziploc or tupperware for up to a week… if they even last that long!
As always, if you make these, I'd LOVE to see them! Share a picture or tag me on Instagram!
Peanut Butter Brownie Cookies
Ingredients
1

boxed brownie mix

2

eggs

1/4

cup

vegetable or canola oil

1/4

cup

all purpose flour

1/2

cup

peanut butter
Instructions
Place your peanut butter in a piping bag or large Zip lock bag. Cut the tip off and pipe quarter sized discs onto a wax paper lined plate. Place in the freezer while you make the dough.

In a large bowl, combine the brownie mix, eggs, oil and flour until well mixed and it forms a dough. Scoop a chunk of cookie dough using a 2 inch scoop. Flatten it and lift one piece of peanut butter and place in the center. Turn all of the edges of dough over the peanut butter until it's completely coated. Keep the cookie dough semi-flattened. Place on the wax lined plate. Once all are done, place in the freezer.

Preheat your oven to 350 degrees. Once it reaches temperature, remove the cookie dough from the freezer and lay on a parchment lined baking sheet 2 inches apart. Allow them to fully cool.

Melt 2 tablespoons of peanut butter and transfer to a ziploc bag. Cut a very small piece off the tip and drizzle the cookies. Top with flaky sea salt if you'd like!
If you liked these cookies, be sure to try the following!
Strawberry Donuts with White Chocolate Glaze