These 3 Ingredient Chocolate Souffles are what souffle dreams are made of.
I mean, look at those cracks full of sweetened condensed milk.  Totally gooey… so absolutely delicious. These little chocolate souffles are what dreams are made of!
I will confess… this wasn't the only bit of sweetened condensed milk on this souffle.  Mine may or may not have had two or three more squirts along the way… Just sayin'. Also, no regrets!
Since before we got married, Mikey always told me he couldn't wait for me to try his dad's souffles.  His dad makes both lemon or chocolate souffles, but the chocolate were always Mikey's favorite.  I was pretty sure those would be my favorite, too.  
Soon after we were married, I got to try these desserts Mikey raved about! My father in law is a master cook.  Like, every single meal he makes is absolutely amazing.  
Whether it's classic Cuban breaded steak or American Haystack Chicken, everything is positively amazing.  Best part? He gives me any recipes I want.  WIN! Safe to say I pretty much want the whole cookbook. hahaha
Look at that stream of delicious sweetened condensed milk!! Shout out to my awesome step-mom-in-law Maritza, for pouring that while I take the photos.  Looks pretty appetizing, huh? ;)
So, can you make a souffle?
Of course you can! Don't be scared by the fancy word "souffle."  These are actually really simple and easy to make (but seem soooo much fancier than that!).
They just have 3 ingredients (a pinch of salt doesn't count as an actual ingredient, does it?) and in 4 steps, you'll be done! Really, these are fool-proof.
What makes these puffy and gorgeous, you ask?
Well, that would be the whipped egg whites. So this recipe starts off really easily. Melt chocolate. Simple enough right?
Separate eggs and add yolks to the chocolate. Done. Add whites to a separate bowl and whip whip whip! Let those stiff peaks form.
When you have a huge bowl full of sweetened egg whites, fold in that smooth chocolate. You'll be tempted to eat the batter just like that. BUT DON'T! Cook these babies up.
You'll see them puff up before your very eyes in no time. Try not to open the oven as you're baking them since that cuts the growth process. You want them as tall as they'll possibly go!
Once they come out of the oven, have everything ready to serve. Your spoons, powdered sugar, ice cream, sweetened condensed milk, more chocolate (no one will judge!) because as soon as they come out, you'll want to enjoy!
They're fluffy, airy and light, and perfect at that piping hot first bite. Love at first sight, for sure! MMMmmm. THE BEST! ♥
Oh, and one more thing…
Do not, and I repeat, DO NOT, skip the part where you line the greased ramekin with sugar. It is so quick and easy, but yields the perfect crunchy sugary crust for that light souffle.
You will regret not making it, I assure you. It really is another simple step to make this seem fancy and hard. But really, it's not. It's simple, easy, and I'm 100% certain you can make this!
If you make this recipe, be sure to tag me on Instagram or use the hashtag #toeatdrinkandbemarried. I want to see and share (and I'm sure my father in law would, too!)!!
---
3 Ingredient Chocolate Souffle
Ingredients
1/3

cup

sugar

plus additional for sprinkling

5

ounces

bittersweet chocolate

chopped

3

large egg yolks

at room temperature

6

large egg whites

pinch

of salt

Butter for greasing ramekins

Optional toppings: powdered sugar

sweetened condensed milk, whipped cream, ice cream
Instructions
Generously butter soufflé dish and sprinkle with sugar, knocking out excess.

Melt chocolate in a metal bowl set over a saucepan of barely simmering water, stirring occasionally until smooth. Remove bowl from heat and stir in yolks (mixture will stiffen).

Beat whites with salt in a large bowl with an electric mixer at medium speed until they just hold soft peaks. Add 1/3 cup sugar, a little at a time, continuing to beat at medium speed, then beat at high speed until whites just hold stiff peaks. Stir about 1 cup whites into chocolate mixture to lighten, then add mixture to remaining whites, folding gently but thoroughly.

Spoon into soufflé dish and run the end of your thumb around inside edge of soufflé dish (this will help soufflé rise evenly). Bake in middle of oven until puffed and crusted on top but still jiggly in center, 24 to 26 minutes. Serve immediately.
---
Looking for another chocolate dessert?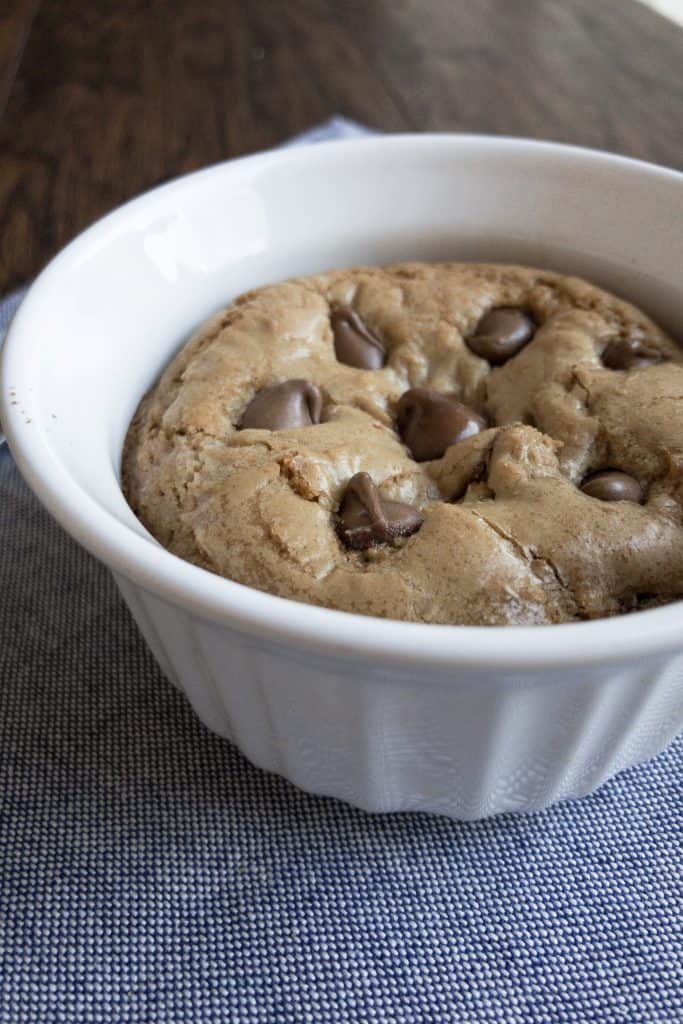 Single Serving Deep Dish Chocolate Chip Cookie
3 Ingredient Chocolate Souffles