Do you all remember the Apple Pie Pizza at the Pizza Hut buffet?
Well I do, and I can say that Apple Pie Pizza was the main reason we went! hahaha
When we were little, we had a pizza hut near our house. We were homeschooled so sometimes as a treat, my mom would take us to the Pizza Hut for the lunch buffet.
I remember as a kid that was the coolest experience ever. I LOVED going there. It was so much fun to get to choose your own food and eat all the pizza you wanted. It was a big deal back then. lol
Anyway, as much as we loved all the pizza, the best part was for sure the apple pie pizza.
It was a perfectly crispy crust with softened apple slices topped with an oat crumble. Oh, and the best part: loads of glazeeee! Yessss!
Ugh, I still think about it and want to go see if they have it!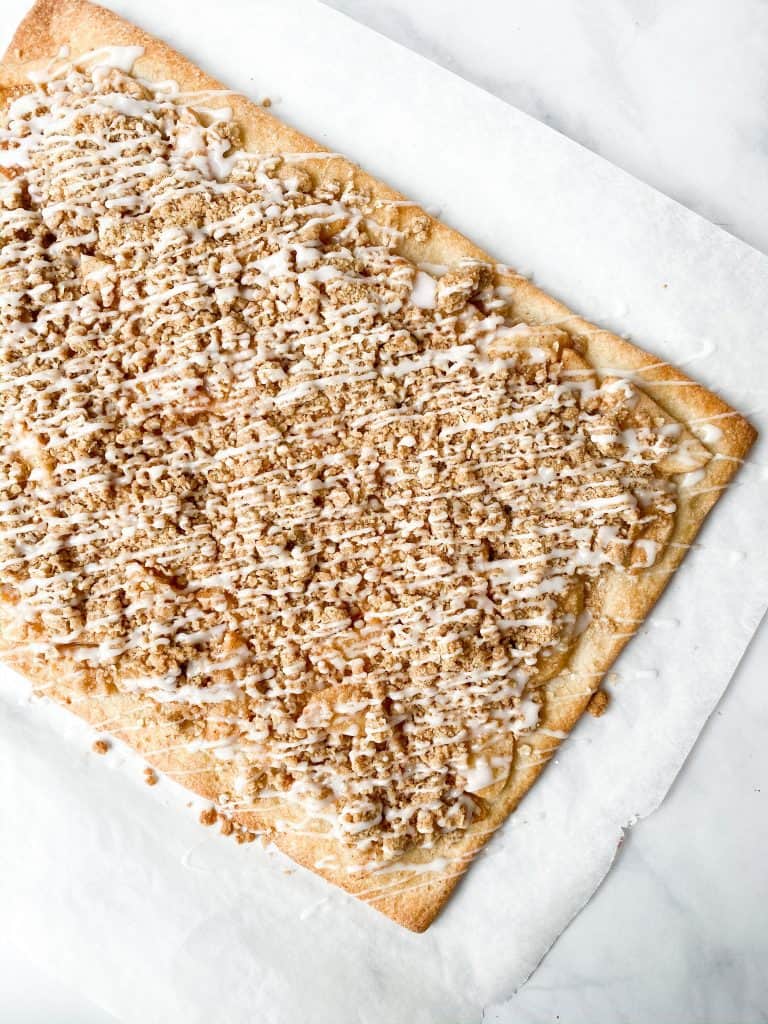 Unfortunately, we no longer live near a Pizza Hut sooo I had to recreate this at home.
Guys, it was so easy!
You can definitely make your own pizza crust using my recipe, or for an even easier experience, just buy a Pillbury pizza crust and use that. Cuts the time in half and you'll have your apple pie pizza in no time at all!
If you make my homemade crust, be sure to bake it for about 15 minutes first, then add the apples and topping and continue baking.
If you're using a Pillsbury crust, you just need to bake for 5-7 minutes until you don't have a completely raw dough. Then add all the toppings and continue baking.
This really is so easy! I hope you're able to try this soon because its DELISH! If you make this, be sure to send me a pic via email or tag me on IG. I'd love to see! :)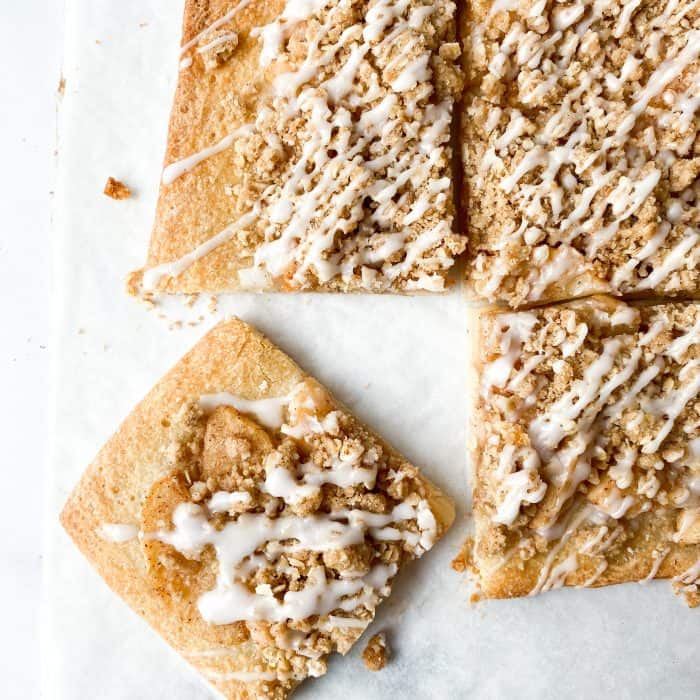 Apple Pie Pizza
Ingredients
1

Pillsbury pizza crust

3

gala apples

peeled and sliced

1/2

tsp.

cinnamon

2

tablespoons

butter
  Topping:
1/2

cup

quick oats

1/2

cup

brown sugar

1/2

cup

all purpose flour

4

tablespoons

butter

softened

1

tablespoon

cinnamon

Glaze

1

cup

powdered sugar

2

tablespoons

milk

1/2

tsp.

vanilla
Instructions
In a large saucepan over medium low heat, melt butter. Add apple slices and cinnamon and stir until softened. Set aside

Roll out your pizza dough and set on a parchment lined pizza pan or baking stone. Cook for about 5-7 minutes and then remove from the oven. Top with apples.

In a small bowl, add all the topping ingredients and using a pastry cutter or two forks, cut the butter into the rest of the ingredients until crumbly. Sprinkle the crumbles all over the top of the pizza.

Bake for 20-25 minutes or until the crust is lightly golden and the crumbles are set and golden as well. Remove from oven and allow to cool for 10 minutes or so.

As your pizza is cooling, combine all the glaze ingredients in a small bowl and stir. Add more or less milk according to the thickness you prefer. Then, go ahead and glaze that pizza!

Slice and enjoy!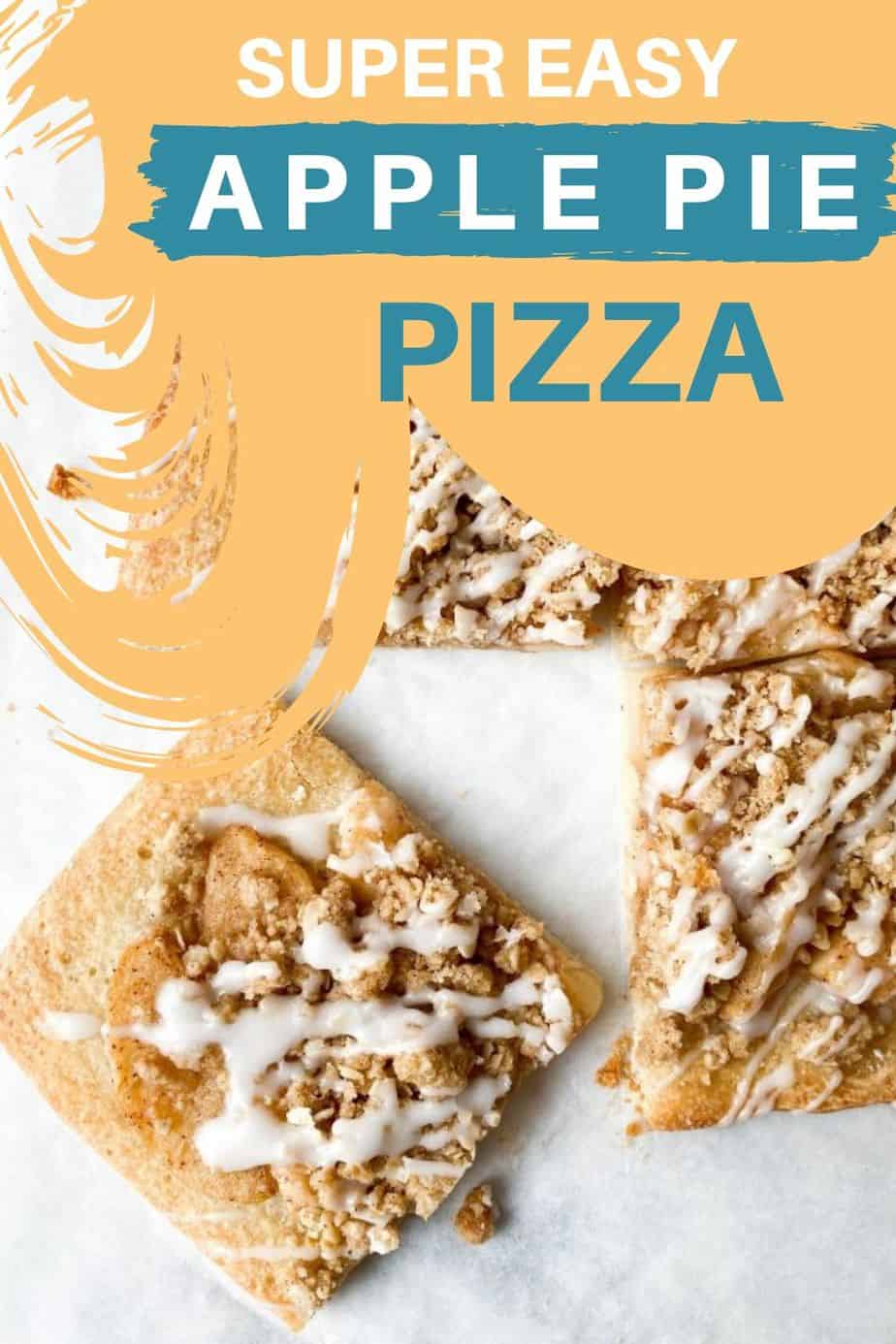 If you have some more leftover apples, check out one of these recipes!