2 Ingredient Pizza Sauce… say what!!!
Yep, you heard it right, this is a simple and the easiest 2 Ingredient Pizza Sauce! It's so simple, your toddler can put this together for you… although I wouldn't recommend that unless you want to pick up a big mess. hahaha
I used to buy jars of pizza sauce, but more often than not, I'd use half one day and the other half would end up in the fridge for a couple of months til it got crusty and gross and then I'd just dump it. It was a waste! The jars of pizza sauce around here are way too big for one pizza!
That's when I got to thinking, how can I recreate this… So I read the label on the pizza sauce I typically purchase and realized something…
This is basically a 2 Ingredient Pizza Sauce!
Just kidding, it actually has a bunch of spices and herbs in it, but I knew how we could do it with 2 ingredients: Italian Seasoning! Yep, all I did for this delish pizza sauce was combine a small can of tomato sauce with some Italian seasoning straight from the bottle.
Guys this is amazing. It's easy to make, you can make just what you need, or a little more if you need some for the next night. And not only is it delicious, but it just has two simple ingredients… ingredients I'd dare say most of us have on hand usually anyway!
Now, for a little secret… can I give you a tip that kicks this up a notch? Add a teaspoon of sugar. Yep, you read that right. Some of my favorite pizza sauces are slightly sweet, and when you add the sugar to this one, it really makes the pizza soooo much better! We love it with the little secret ingredient!
I hope this helps you make homemade pizza and not have huge waste in the end. You'll either use all, or close to all of this and not only is that an accomplishment in itself, but this is seriously my favorite pizza sauce now! If you make this, please tag me on IG or send me an email. I'd love to see! :)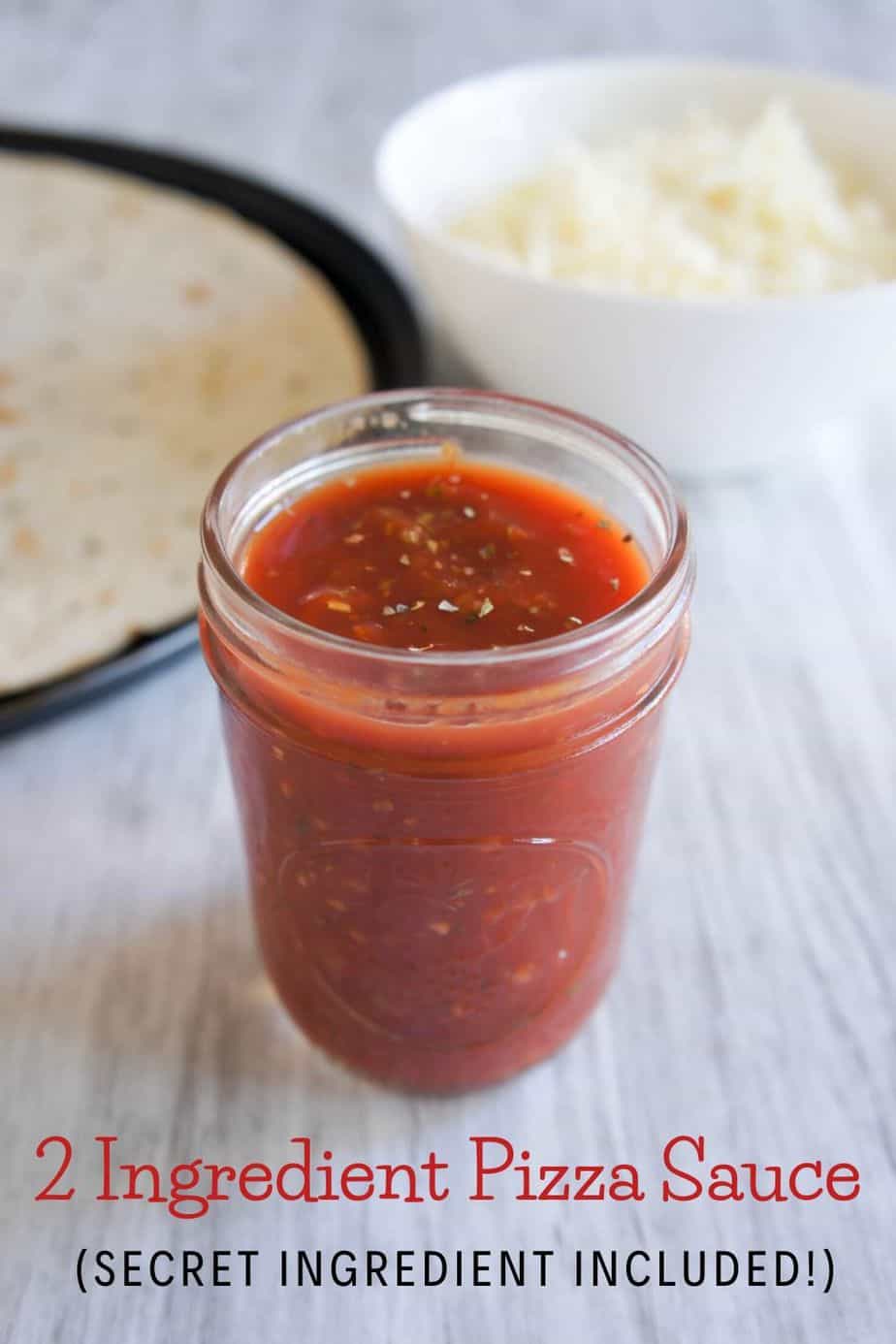 2 Ingredient Pizza Sauce
Ingredients
1 8.5

oz

can tomato sauce

1

tablespoon

Italian seasoning

SECRET INGREDIENT: 1 teaspoon sugar
Instructions
Combine all ingredients in a mason jar or a bowl.

Use immediately on your favorite pizza or pasta.

That's it! Enjoy :)
For other recipes under 5 ingredients, check out….