Pause on all sweet content for these Garlic Smashed Potatoes.
I typically stay away from savory recipes because I just LOVE creating sweet ones. But this garlic smashed potatoes recipe is so easy and delicious, it can't be missed!
Seriously, this is soooo easy. A few steps to get there, but it is straightforward and incredibly simple.
First things first: have you heard of smashed potatoes?
I had never until a few years ago when someone I follow shared they made them. They looked so good!
Golden potatoes, smashed and then broiled so they get some crisp edges as well as some fluffy insides.
Seriously, there's no way to mess up potatoes, but there are many ways to make them RIGHT! This is one of them.
Spread out the parboiled potatoes on a parchment lined baking sheet.
Then, using the bottom of a glass, press them gently.
This is one of the simples, yet fanciest ways to make potatoes!
I just want to share a few tips to make sure you get that perfect crisp edge!
Firstly, selecting the right potato.
Russet potatoes are great for baking, but they're not awesome for boiling. They're also far too large and not very creamy.
For this recipe, you're going to want those tiny golf sized golden potatoes. Yukon Gold / Honey Gold are the ones I always go for. They're soft and creamy and perfect!
Wash your potatoes and then place them in a large pot of water, bring to a boil and then let them simmer until the potatoes are fork tender. Don't overcook them or they won't smash well!
As they're boiling, grease your baking sheet.
Once they're done, drain them and let them sit for a few minutes to make sure they're not super wet. Alternatively, you could dry them with a towel if you want to hurry up!
Now place them on your baking sheet and use the bottom of a glass to smash each potato. You can also use a fork.
I've tried both ways and they both yield excellent results. The fork does give you a rougher look so if you're going for "pretty" I'd avoid that. However, if you want more crisp to your potatoes, the fork method is the way to go!
Brush them with a little olive oil or melted butter and sprinkle with flaky sea salt and garlic powder. Now, place them in the oven under the broiler and watch them closely!
You want them to get crispy, but not burnt! At this point, it's really up to you! Let them crisp up until it's how you like them. :)
When they come out of the oven, feel free to add your favorite herbs or grated parmesan. You can pretty much add anything you'd like to these!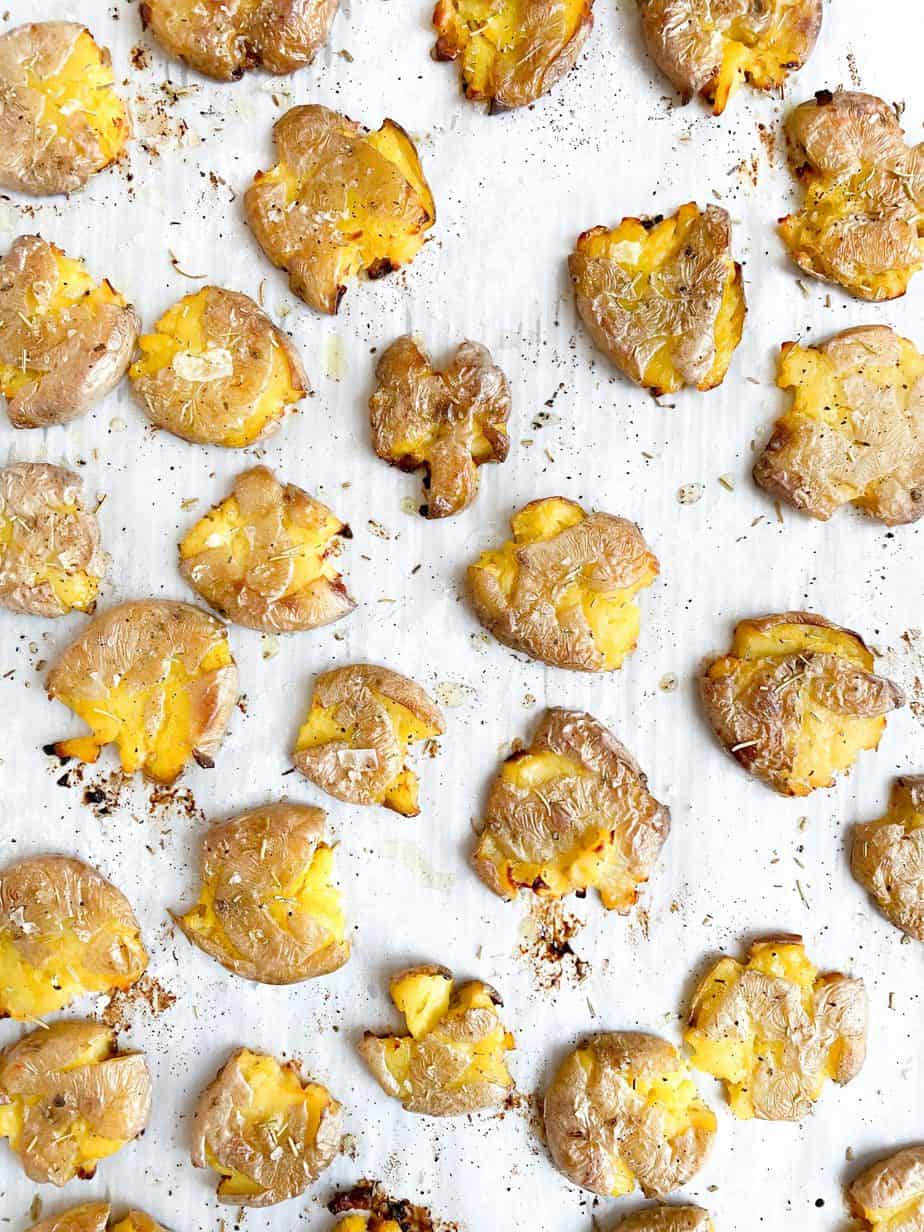 Easy Peasy, right?
That's the way to do it! Super simple and perfect for so many occasions.
We often make these as a side for meatloaf. I also love them when we grill some meat. So perfect for an outdoor summer meal!
If you give these Garlic Smashed Potatoes a try, be sure to tag me on Instagram @toeatdrinkandbemarried. I'd love to see! :)
Garlic Smashed Potatoes
Ingredients
Yukon Gold mini potatoes

Butter or olive oil

Garlic powder

Flaky Sea Salt

Optional: favorite herbs

parmesan cheese...
Instructions
Place potatoes in a pot of boiling water and cook until you can pierce them easily with a fork.

Remove from the water and let them dry. 

Transfer to a greased baking pan and smash them with the bottom of a glass or with a fork, about 3/4 of the way down. Brush with melted butter or olive oil and sprinkle with sea salt and either garlic powder.

Place in the oven and turn on the broiler. Cook until desired crispiness.

Once they come out, sprinkle parmesan cheese or other fresh herbs if you'd like. 
If you enjoyed this recipe, try this for dessert: