Vegan Snickerdoodles, you ask? Are they even good?
All I have for you is one word: YES! These Vegan Snickerdoodles are the perfect blend of a chewy and moist cookie that is coated in the perfect blend of cinnamon sugar to make them an amazing treat!
I'm the first to admit, I usually steer clear of vegan recipes. I know vegan recipes have come a long way, but all I can ever think of is flavorless, dry food. I know that isn't the case, and people like Pinch of Yum are doing amazing things with vegan dishes (I mean 11 pages of vegan food? It's gotta be delish!). It's even made me want to branch out and try more options, even if I don't consider myself a vegan.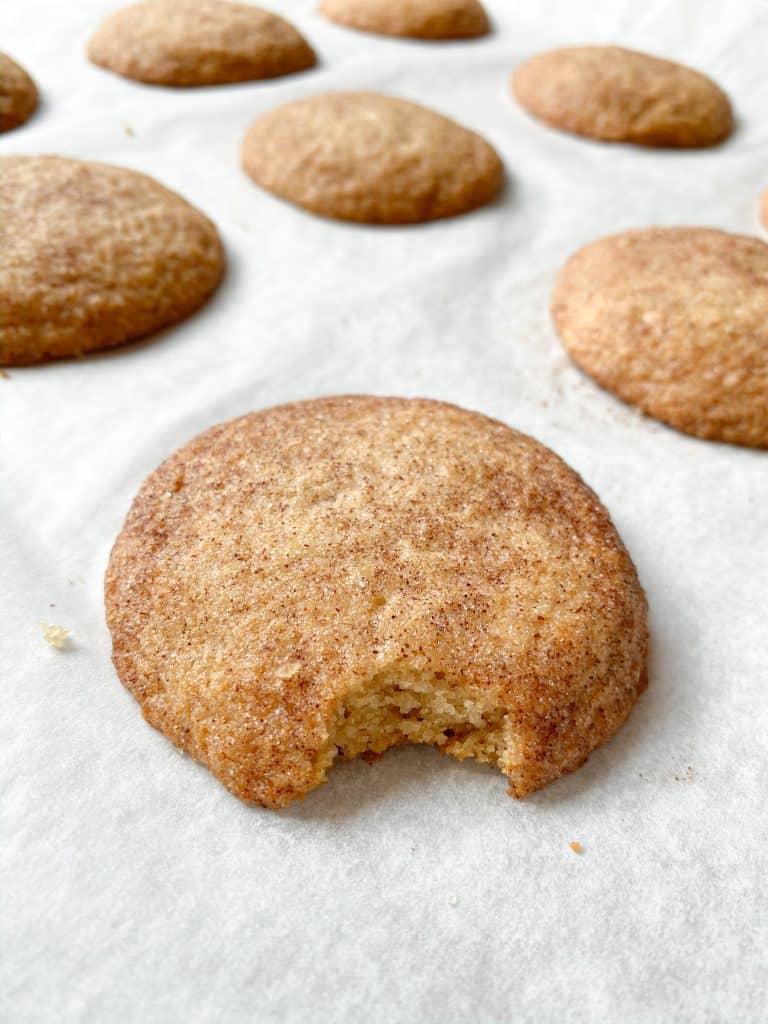 WHY Vegan Snickerdoodles, you ask?
A few months back, I wanted to experiment with a couple of vegan recipes since there are a couple of people I know who are vegan. Some were alright, but this right here was one of my favorites. These cookies are dairy and egg free, but not flavor free.
These are delicious! You would never know they are vegan. They are full of that delicious flavor we're accustomed to, while still being compliant to a vegan diet. Don't take my word for it, check out Gracie enjoying one of these delicious treats! These were supposed to be for friends, but we devoured them before getting these to them… oops… had to make a second batch. ;)
I'm 100% certain you'll love these, even if you're not vegan! If you make this recipe, be sure to send me a pic either on IG or email. I'd love to see! :)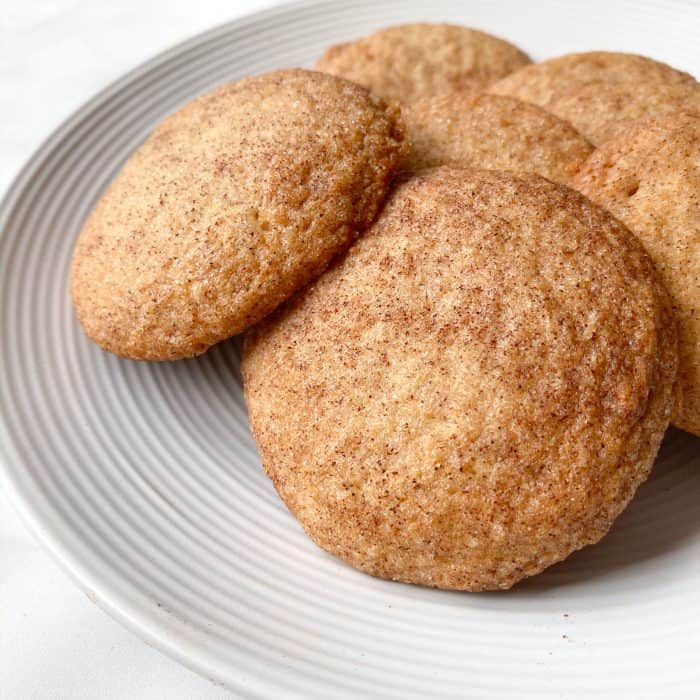 Vegan Snickerdoodles
Ingredients
4

tablespoons

sugar

1/4

cup

coconut oil

melted

2

tablespoons

applesauce

1/2

tsp.

vanilla

1/2

cup

all purpose flour

1/2

tsp.

cream of tartar

1/2

tsp.

baking soda

pinch

of salt

1-2

tablespoons

milk substitute of choice

coconut milk, soy milk, almond milk...
Topping:
2

tablespoons

sugar

2

teaspoons

cinnamon

dash of nutmeg

optional for extra flavor
Instructions
Preheat oven to 375 degrees. Line a baking sheet with parchment paper.

Combine the topping ingredients in a shallow dish and set aside.

In a large bowl, combine the flour, cream of tartar, baking soda and salt.

In a second bowl, stir together the sugar and coconut oil. Add applesauce (preferably room temperature) and vanilla and stir to combine.

Add dry ingredients to wet ingredients and mix until the dough forms. Don't over mix so they don't become tough, but if the batter is too dry or stiff, add 1 tablespoon at a time of the milk substitute until the it has a cookie dough consistency.

Using a mini cookie scoop, roll out small balls and roll in the cinnamon sugar. Place on baking sheet and using a glass cup, press down to flatten a bit (they'll continue to flatten in the oven so don't press down too much).

Bake 10-12 minutes or until lightly golden brown. The cookies will be soft but become firmer as they sit out and cool. Once they've firmed up a bit, transfer to cooling rack to finish cooling.

Enjoy!
If you enjoyed these cookies, you might like: