Peanut Butter Chocolate Chip Cookies- the big debate!
Let's do a poll. Peanut butter cookies: with chocolate chips or without?
I'm always torn with this. I LOVE peanut butter cookies. One that I think is totally underrated is Subway Peanut Butter Cookies.
When they're fresh, they are buttery, soft, warm and almost feels like a bite of creamy peanut butter in your mouth.
But then, chocolate makes EVERYTHING better, right? Including peanut butter cookies?
I think so. I think I have finally given in- chocolate chips make peanut butter cookies better. Especially in this recipe!
You've got a soft peanut butter cookie. Seriously, it is so soft, a baby can chew on it. ;)
Add in a scoopful of chocolate chips and you've got a perfect combination of flavors.
Extra points if you happen to have dark chocolate chips. Mmmm. I want some more cookies now!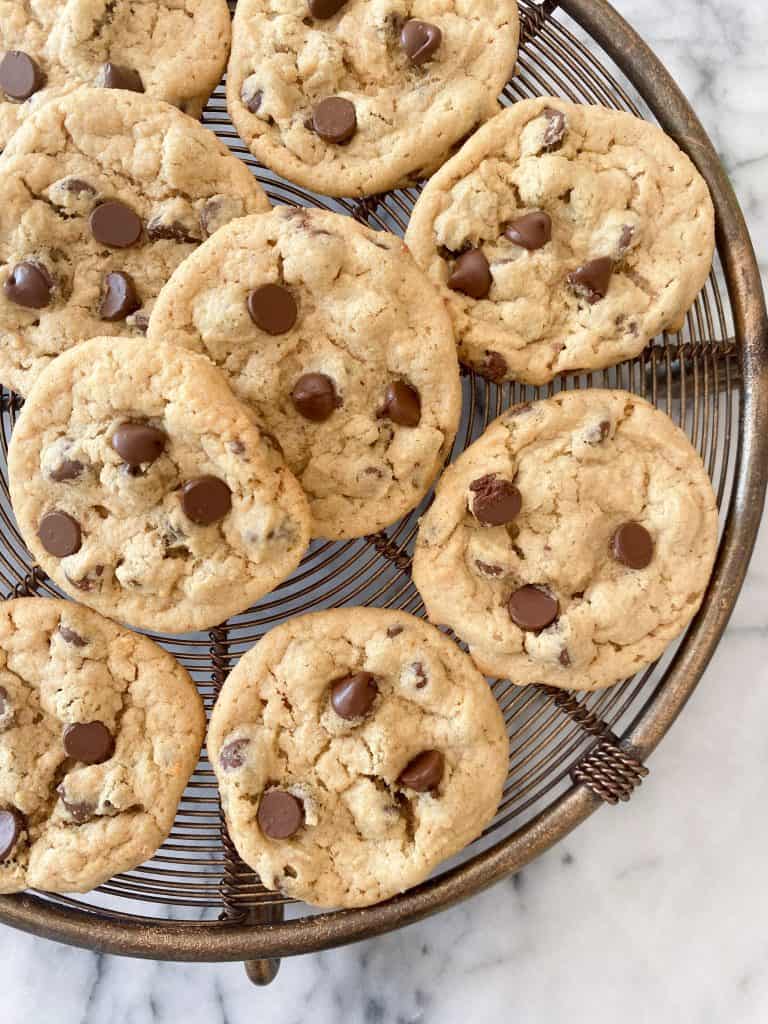 What do you need for some homemade Peanut Butter Chocolate Chip Cookies?
Equipment:
–Large Bowl & Spatula or Stand Mixer
–Measuring Cups
–Cookie Scoop
–Baking Sheet
–Parchment Paper
These are really just the basics. Pretty standard baking things that most people likely already have in their kitchen!
Ingredients:
–Peanut Butter: I've used any kind. Jif, generic supermarket brand, etc. They're all good, but it definitely does have to be creamy peanut butter!
–Chocolate Chips: Again, I've used all sorts, but in these, I prefer Ghirardelli Milk Chocolate Chips or Nestle Dark Chocolate Chips. Both melt perfectly into these!
–Unsalted Butter: generic, Land O' Lakes, any will do!
–White Sugar
–Brown Sugar: Light brown sugar will work just fine, but add dark brown sugar for a moister cookie and slightly sweeter flavor!
–Egg
–Vanilla
–Cornstarch: this keeps your cookie from getting tough or hard!
–Baking Soda
–Baking Powder
–Kosher Salt
–All Purpose Flour
Let's get to baking some cookies!
These are seriously so easy! If you have a stand mixer, all the action happens there.
If you are going to use a bowl and spatula, it's really just as easy- you just need to put some mixing skills in!
Preheat your oven so it's ready to go and prep your baking sheet.
Peanut butter and unsalted butter go into a bowl. Mix really well. If you're using a stand mixer, cream for one minute. If you're mixing yourself- just try your best to cream until lighter in color!
Add both sugars and beat again. Let's try to get it light and fluffy now! So keep mixing!
Add egg and vanilla and mix again until smooth.
In a separate bowl, combine the flour, baking soda, baking powder, cornstarch and salt. Add the flour little by little, mixing until fully combined.
Drop in the chocolate chips and stir!
Use a cookie scoop to distribute batter evenly throughout your baking sheet. Top the cookies with a few extra chips.
Bake for around 10 minutes until a little golden at the edges. Let them cool on the pan for a few minutes then transfer to a wire rack to fully cool.
You're ready to enjoy! :)
Looking for some peanut butter cookie variations?
Let's dive into this section. Always one of my favorites. ;)
Well, we've got some simple ones first: you can combine both dark and milk chocolate. Or semi sweet even. Try different chocolates, you might find one you love more!
Another option is to chop up a chocolate bar instead of using chocolate chips. This usually yields more of a melty look- kind of like those cookies you see all over Pinterest. Extra tantalizing!
You can also swap out chocolate chips for peanut butter chips. Or combine chocolate AND peanut butter chips. Honestly, that sounds amazing.
Use M&M's instead of chocolate chips. This is a fun way to make the cookies festive- just use the colorful ones for the season you're in!
The same basic cookie recipe can now be for Valentine's, Fourth of July or Christmas! Easy peasy mom hack. ;)
Want to get salty and sweet? reduce the chocolate chips to 3/4 cup and add 1/3 cup chopped up pretzel sticks! Crunchy, soft, sweet, salty, all the good flavors!
You can also try some chopped up Cape Cod chips instead of pretzel sticks. Just a classic crunchy potato chip for some extra texture!
For a fun little treat, top with marshmallows instead of chocolate chips. Extra sweetness, a little gooey, so good!
Seriously, you can do SO MUCH with these cookies. If you try any of these, or come up with one of your own, let me know! I want to see what you made. :)
Peanut Butter Chocolate Chip Cookies
An easy peanut butter chocolate chip cookie recipe. Comes together quickly, perfect to make with kids. Get adventurous and try new mix ins!
Ingredients
1/2

cup

unsalted butter

room temperature

1/2

cup

creamy peanut butter

1/2

cup

white sugar

1/2

cup

light brown sugar

packed

1

egg

1

teaspoon

vanilla

1

teaspoon

cornstarch

1/2

teaspoon

baking soda

1/2

teaspoon

baking powder

1/2

teaspoon

kosher salt

1

cup

all purpose flour

1

cup

chocolate chips

dark, semi sweet, or milk!
Instructions
Preheat oven to 350F. Line two baking sheets with parchment paper and set aside.

In a small bowl, combine the flour, cornstarch, baking soda, baking powder, and salt. Set aside.

In the bowl of a stand mixer, add the butter and peanut butter and beat for about 1 minute until creamy and smooth.

Add the brown and white sugars and beat again for 1-2 minutes until pale and fluffy.

Add in the egg and vanilla and give it a quick whip to combine.

Add the flour mixture little by little, beating just until combined.

Pour the chocolate chips in and stir until evenly distributed.

Using a 2 inch cookie scoop, measure out cookies and place 2 inches apart on prepared baking sheets. Top with a few more chocolate chips.

Place in the oven and bake for 10 minutes or until edges are golden.

Remove from the oven and let them sit on the tray for 5 minutes and then transfer to a wire rack to cool. Top with flaky sea salt if desired.
If you enjoyed this easy cookie recipe, be sure to check these out!