Strawberry Crumble for Two
Do you have a container full of strawberries that are right about to go mushy? That's riiiight where you need these strawberries to be and you will have the perfect Strawberry Crumble for two!
A small batch dessert that is perfect for a spring or summertime treat. Prepare this for a date night, or brunch. Whenever you eat it, I promise you'll enjoy it!
This one is also incredibly easy. That may be what I love most about it. ;)
It is simple, with straightforward ingredients that you likely already have in your fridge and pantry. Nothing extra, nothing crazy. Just simple, good ingredients!
What you'll need to make this springtime dessert for two!
Equipment:
small bowl
spoon
two ramekins
Ingredients:
strawberries
turbinado sugar
cornstarch
lemon juice
quick oats
brown sugar
flour
butter
salt
See what I mean? If you've got the strawberries, you probably have everything else!
Well except the lemon. You might need to go get a lemon.
BUT IT'S WORTH IT! ;)
So go get that lemon. Hurry, I'll wait here for you.
A quick run through on how to make this easy Strawberry Crumble…
Combine the ingredients for the filling… that's simply just a quick toss of the strawberries, lemon juice, sugar and cornstarch.
Divide between two greased ramekins and set aside.
Now prep the topping… whisk the dry ingredients and then add the butter.
Use a fork to cut butter into topping. You should have pea sized pieces of crumble.
Use your fingers if it's not really coming together well. Sometimes that's faster and easier. :)
Divide between both ramekins, sprinkling over the top. But don't press it down.
You want to leave room for the strawberry juices to ooze out.
*insert heart eyes here*
Seriously, not only is this dessert tasty, but once it's baked up and you have crispy crumble and oozing strawberry juices, it's beautiful too!
Now just bake, cool for a bit, top with vanilla ice cream and enjoy.
It's that simple. I told you so!
Some fun variations here…
This simple dessert is my favorite as is, but swap the fruit for others to try fun combos.
Swap the strawberries for blueberries and you'll end up with a perfect blueberry crumble for two.
Or maybe you just have a handful each of strawberries and blueberries? Put both in and make it a berry crumble!
Do you like a citrus kick? Add a splash more of lemon juice.
Do you like more of a crunch in your crumble? Add a tablespoon of chopped pecans or walnuts to the crumble topping.
The options to vary this recipe are endless. You can go on and on with fun combos, mix ins and toppings.
But all I beg of you is one thing…
Add that scoop of ice cream on top! Mmm…
If you make this recipe, be sure to tag me on Instagram or send me a pic. I love to see your creations!
Strawberry Crumble for Two
Ingredients
Filling

2

cups

strawberries

sliced

2

tbsp

turbinado sugar

1

tbsp

cornstarch

1

tsp

lemon juice

Crumble

4

tbsp

quick oats

4

tbsp

brown sugar

4

tbsp

flour

2

tbsp

butter

softened

Pinch

of salt
Instructions
Preheat oven to 375 degrees. Grease two 8 oz ramekins and set aside.

 

In a bowl, combine the strawberries, sugar, cornstarch and lemon juice. Evenly divide between ramekins and set aside.

 

In a small bowl, whisk the oats, sugar, flour and salt. Add the softened butter and using a fork, cut into the mixture (or if you're in a rush, use your fingers!). Sprinkle over the strawberries, but don't press it down.

 

Place ramekins on a foil lined baking sheet and bake for 25-30 min.

 

Allow too cool almost completely before adding some ice cream. Enjoy!!
If you enjoyed this small batch recipe, be sure to check these out!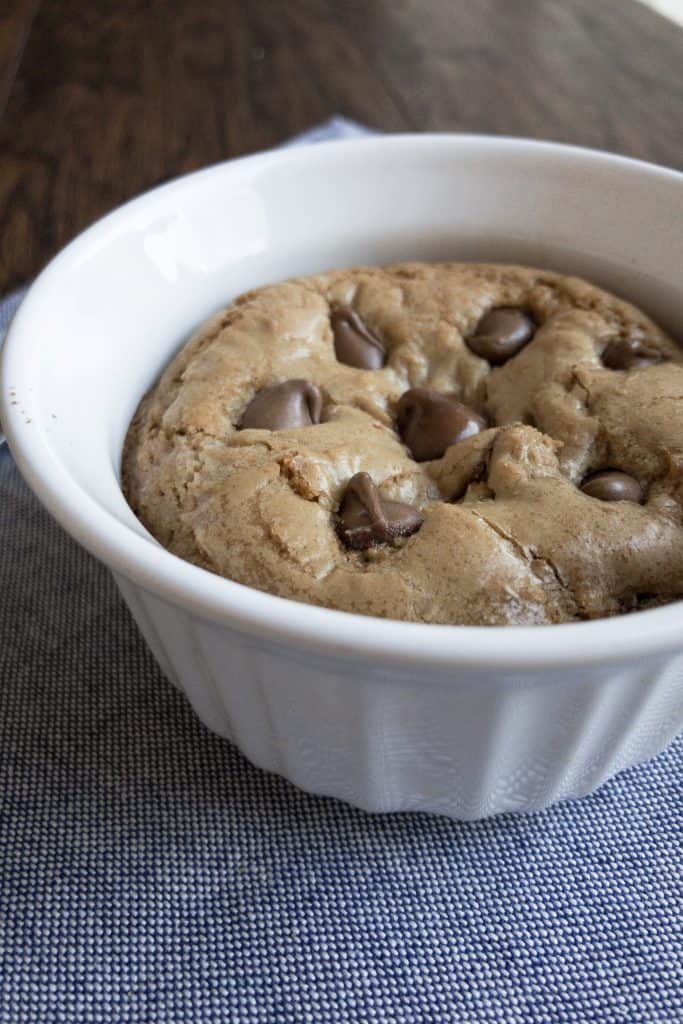 Single Serving Chocolate Chip Cookie