4 Ingredient Cadbury Easter Cookies. SAY WHAT?!
Run, don't walk to pick up all of the leftover Cadbury Eggs from Easter. You have got to gather these 4 Ingredients to make some Cadbury Easter Cookies.
Can you guess the secret ingredient?
If you guessed boxed cake mix, you got that right!
You know I love a good boxed mix recipe, but elevated to make it special. One of the most popular recipes on my site (and by far the most requested cookie at home!) is my Brownie Cookie recipe. Also made with just a few ingredients, one being boxed brownie mix.
Seriously, using a boxed cake mix and elevating it to the point where you can't even tell is one of my best mom hacks. You can make cookies to feed a crowd cheaply, quickly and still be delicious!
No one will ever know they come from a boxed cake mix.
So let's dive in.
What will you need for the perfect boxed cake mix cookie?
Equipment:
Bowl
Spatula
Cookie Scooper
Measuring cup
Ingredients:
Boxed yellow or white cake mix
Oil
Eggs
Mini Cadbury Eggs
That's it! Easy peasy. Let's get cooking!
To make the cake batter more of a dough consistency, all you'll need to do is omit the water (or milk) from the boxed cake mix. When you combine the egg and oil with the cake mix, you get a thick batter.
All you need to do is stir in the mini Cadbury Eggs, scoop on a parchment lined baking sheet and bake.
Thats the quick version.
If you want to take an extra 5 minutes to make it a little cuter, carefully chop up those cadbury eggs. You can use a knife to slice them or pour them in a ziplock and hit with a rolling pin until they're crushed.
I like the crushed look more because the colors of the candy shell mix up so nicely in the cookie and you don't have the huge eggs sticking out of the cookie.
One other thing to make it extra cute is to take a few crushed eggs and place them on the top of the cookie. They look adorable when they bake and melt into the top of the cookie. I also love the texture crunch when you bite in.
A few tips on these simple Easter Cookies
Baking tips:
10 minutes in the oven, 5 sitting on the baking pan afterwards and then you're good to go. They're so easy!
You want them to sit on the baking pan those extra few minutes out of the oven because they come out VERY soft. They'll fall apart if you try to remove them from the pan too quickly.
Transfer to a wire cooling rack so they can fully cool and then enjoy!
These are cakey, soft and chock full of Cadbury Eggs to celebrate springtime!
Stock up on Cadbury Eggs after Easter and make a few batches!
Freezing Tips:
Yes you can totally freeze these! You can freeze them both unbaked and baked.
For unbaked cookie dough
scoop onto a wax lined plate and press the extra crushed Cadbury Eggs on top.
Pop them in the freezer until they're chilled through. Once frozen, transfer to a large Ziplock. They keep in the freezer for 3-4 months.
Just bake them from frozen following the directions. You might need to add a minute or two to the baking time.
Or allow them to thaw and follow the directions to bake. Super easy and just as delicious! You really can stock up on Cadbury Eggs and make a batch to keep in the freezer.
For baked cookies:
Once they're fully cooled, place in an even layer in a Ziplock bag. You can stack them too. Pop in the freezer and they'll keep for about 1-2 months.
Just thaw on the counter and enjoy! Or pop in the microwave once thawed for a warm cookie that tastes like it came straight from the oven.
YUM!
Whatever way you make these or enjoy them, you will love how easy these are.
A perfect cookie to involve kids in. They're so easy to make, with such few ingredients and equipment necessary, you'll want to make these over and over with the kiddos!
If you make these cookies for Easter or any other time, be sure to send me a pic or tag me online. I'd love to see them!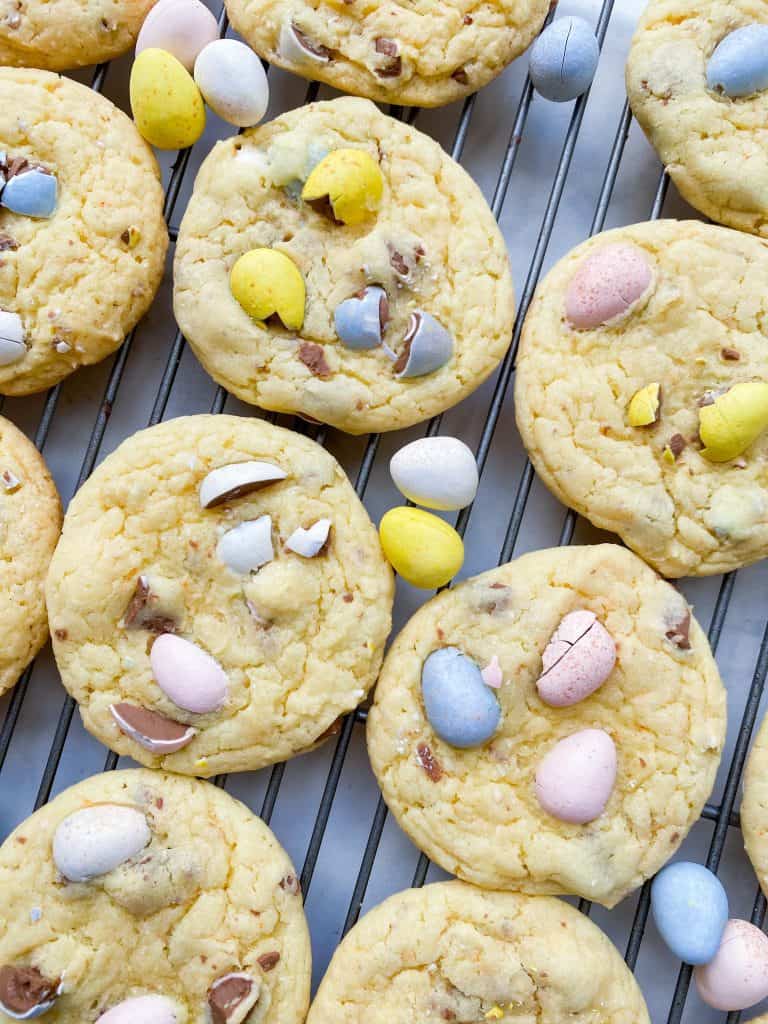 4 Ingredient Cadbury Easter Cookies
4 Ingredients to make the perfect Easter cookie! These are so easy you can make with your kiddos, or make them late at night when everyone is asleep for an Easter morning surprise!
Ingredients
1

boxed cake mix

yellow or white

2

egg

1/2

cup

oil

1

bag mini Cadbury Eggs
Instructions
In a medium bowl, mix the cake mix, eggs and oil until combined. It'll be a thick batter.

In a ziplock, crush the bag of Cadbury Eggs. Or roughly chop with a knife. Add 3/4 of the bag to the batter, saving the rest to top the cookies.

Mix until chocolate is combined with the batter.

Scoop onto a parchment lined baking sheet. Top with the remainder of the crushed chocolate.

Bake for 10 minutes or until the center is set and no longer looks gooey.

Remove from the oven and let them sit on the baking sheet for 5 minutes. Then transfer to a wire rack to fully cool. Enjoy!
If you enjoyed this recipe, you might like these easy cookies!
Peanut Butter Stuffed Brownie Cookies