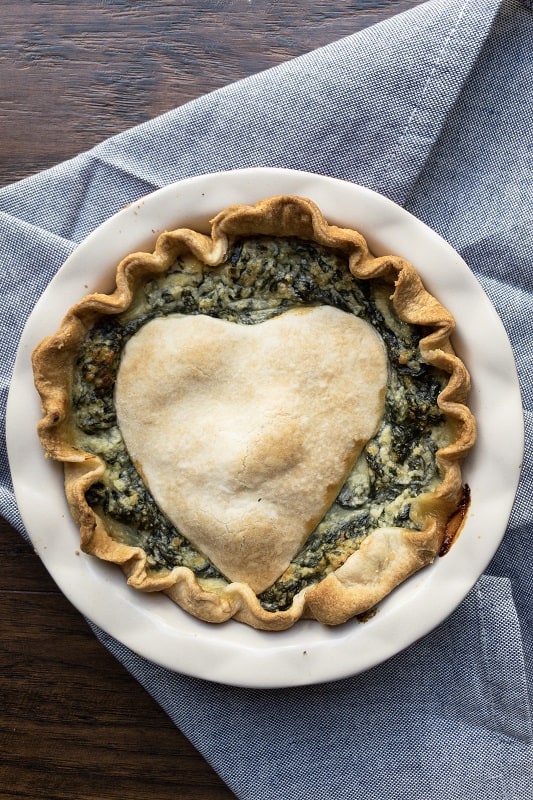 Savory Pies? Is that a thing?
It is when we're talking about a Spinach Ricotta Pie! I mean, guys this is an incredible combination.  Green leaves to make you feel healthy with a load of cheesy goodness, because balance. Am I right?
This pie is great for so many reasons.  I mean, you can make it as a party appetizer or for dinner.  If you're going to make it for dinner, feel free to throw in some shredded chicken for a little protein. Or just skip that altogether if you're into a vegetarian dish.  If you're making this as an app, make them in mini pies.  Please, I beg you.  They're adorable.
This pie can be easily transformed into a mini version by just using a glass to make rounds of dough and placing them in a muffin tin.  Then prep and fill from there! You should be good to go and your pies will bake in no time.  Again, the adorableness of these pies makes it totally worth the extra 10 minutes of cutting out the pie dough into little circles.
Now, believe it or not, this takes a lot of spinach.  Have you seen that meme of a pan full of spinach and then another photo next to it of 3 wilted leaves? That's what this felt like.  I did an entire bag of spinach and it looked like nothing in the end! Hahaha Oh well, at least it's a great way to get your veggies in!
Anyway, let's get to the recipe because this is a good one.  Eat it for dinner or make (a bunch of adorable minis) as a holiday appetizer! Whatever you decide, let me know! Tag me on Instagram so I can see :) #toeatdrinkandbemarried
Spinach Ricotta Pie
A savory appetizer pie that should make it's way to your table!
Ingredients
1

bag of spinach

cooked down and drained well

1

cup

Ricotta cheese

1/2

cup

Parmesan cheese

grated

1

egg

2

pie crusts

homemade or refrigerated store bought

1

tablespoon

milk
Instructions
Preheat oven to 350 F. Grease a 7 inch pie dish and set aside.

Roll out one sheet of pie dough and place in the pie dish.  Crimp the edges however you'd like!  With the other sheet of dough, cut out a heart, multiple little circles, or any design you'd like!

In a medium bowl, mix the (well drained) spinach, ricotta, egg and Parmesan.  Pour this into pie dish and spread out.  Top with the dough cut outs in whatever design you'd like.

Brush the top with milk and bake for about 30 minutes or until the top is golden brown.  Let it rest on a wire rack for 10 minutes before slicing.  Enjoy!
Looking for some more pies?