Who's a fan of regular ol' French Toast? How about a fancy Brioche French Toast? Meeee!
French Toast is one of my favorite ways to enjoy a sweet breakfast. Every time we go out to breakfast, I search the menu for that first. I don't make it often at home, but I try to find it wherever I can when we go out!
I've seen both Challah and Brioche French Toast on different menus. And while I loooove my Challah bread french toast, Brioche is a totally different experience. It has a completely different taste and texture.
This French Toast made with a Brioche Loaf is slightly sweet, and very light and airy. I love the a classic Challah for a thicker French toast, but this one is special for when you want something really light and fluffy. There's only one problem…
Brioche Loaf isn't always easy to find…
The stores I usually shop at don't always carry a loaf of Brioche. It just seems that I can only find it at a bakery, not a supermarket.
On one of my last trips before David was born, I saw a loaf of Brioche at Aldi. I didn't pick it up because I knew I'd be going into labor soon and didn't want it to just sit in my fridge for a while until I started cooking again.
Now I so wish I had picked it up and frozen it until I was ready to use it. I would have loved to try it!
Has anyone tried french toast with their bread? I can't wait to pick up a loaf next time I go (hopefully they still carry it!).
How to make this easy French Toast:
I made this one using my Brioche Bread recipe that I shared earlier this week! It makes one perfect loaf of bread. Make it a day early and have it ready for the perfect weekend breakfast.
If you make my homemade Brioche recipe for this breakfast, be sure to make it with time so it cools completely. Slice it into 1/2 inch to 1 inch pieces and store in a bag until ready to use.
Speaking of slice sizes. I personally love a really thick slice of French toast. It is extra fluffy on the inside with the crusty outside that gets toasted in the pan.
Alternatively, if you like crispier pieces of French toast, cut your slices a little smaller so they edges crisp up and you don't have so much fluffy middle.
There is no right or wrong way. Experiment with both and see what you like best. Let me know in the comments what your favorite kind of French toast is!
How to enhance the Brioche flavors & adjustments
Flavors: This recipe can be adjusted in so many ways to make it according to your taste. I personally love to add a couple of drops of almond extract for a nutty flavor and topping it with candied almonds or pecans and syrup.
You can also add some lemon extract to the glaze for a light and refreshing springtime breakfast. Top with fresh blueberries or blueberry jam for a delicious treat.
Last Christmas my sister and brother in law sent us homemade vanilla! It is sooo good! You just need a tiny bit and it flavors everything wonderfully.
I just bought a package of Madagascar vanilla beans this week and I'm going to try my hand at it. I think I'm just going to drop all the vanilla beans into a bottle of light rum and let it do it's thing. I can't wait to have some homemade vanilla in a few months!
Alternatives: If you're dairy free, you can replace the whipping cream with soy or almond milk as well. Either tastes great and does not change the texture or taste of the French Toast at all!
For a vegan alternative, also remove the eggs and up the "milk" of your choice to 1/2 cup. The mixture won't be as chewy since the egg is what helps the bread get gooey, but it'll still taste just as good!
Toppings: You can get creative with this one! This french toast is perfect the way that it is, but I like to enhance it some more!
Fun toppings include:
~whipped cream (for homemade, just whip 1/2 cup of heavy whipping cream with 2-3 tablespoons of powdered sugar until it holds peaks)
~chocolate chips
~maple syrup
~powdered sugar glaze (combine powdered sugar and milk until desired thickness)
~cream cheese glaze (combine 2tbsp of softened cream cheese with powdered sugar until it reaches your desired sweetness. Thin out with one tablespoon at a time of milk).
~any type of fresh berries
~your favorite jam or jelly
~peanut butter drizzle (just melt a little bit of peanut butter).
The list goes on and on and on… feel free to add to the toppings list in the comments below!
Sunday French Toast Brunch Anyone?
It is so easy, I assure you this can be made, served and devoured before church on a Sunday morning. And we all know that happy bellies make for happy mornings! This is one of our favorites to ensure we all have happy weekend bellies…
Speaking of Sunday mornings… what is your favorite weekend breakfast? Do you guys like salty or sweet? Big breakfast or small breakfasts?
I'm more of a sweet breakfast type of person (chocolate chip waffles with strawberries are a favorite treat lately!). I love hearing other people's breakfast ideas!
If you make this recipe, be sure to tag me! I'd love to see your weekend french toast feasts! :)
Brioche French Toast
Ingredients
One loaf of Brioche in 8 slices

between 1/2 - 1 inch thick

4

eggs

4

tbsp.

heavy whipping cream

or whole milk if you don't have

1

tsp.

vanilla extract

or add 1/4 tsp. almond extract for a different flavor

2

tbsp.

brown sugar

pinch

of salt

butter for pan
Instructions
Whisk all of the ingredients in a large bowl (aside from the bread of course!) until smooth. Set aside.

Place a pat of butter in a skillet over medium low heat. Once it has all melted, go ahead and dip one slice of bread in the egg mixture. Make sure it is completely coated in the mixture, let the excess drip and add it to the pan. Add as many slices as fit in the pan without touching.

Let them cook about 3-4 minutes on each side or until slightly golden brown. If it is not browning, raise your heat just a tad. Repeat with remaining slices of bread.

Serve with berries and powdered sugar or with maple syrup or whipped cream and hot chocolate. Enjoy!
If you enjoyed this breakfast option, be sure to try these!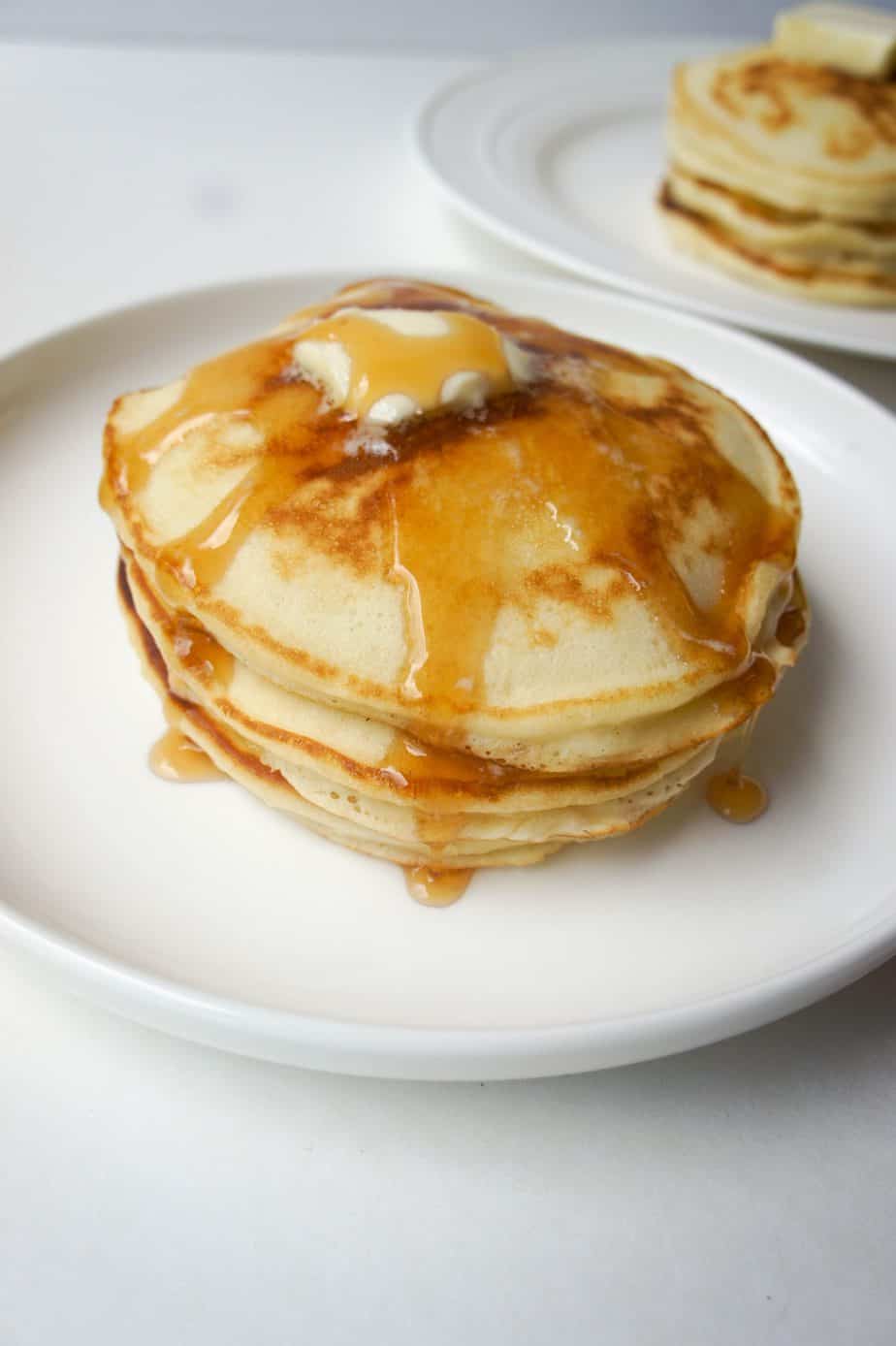 Brioche French Toast