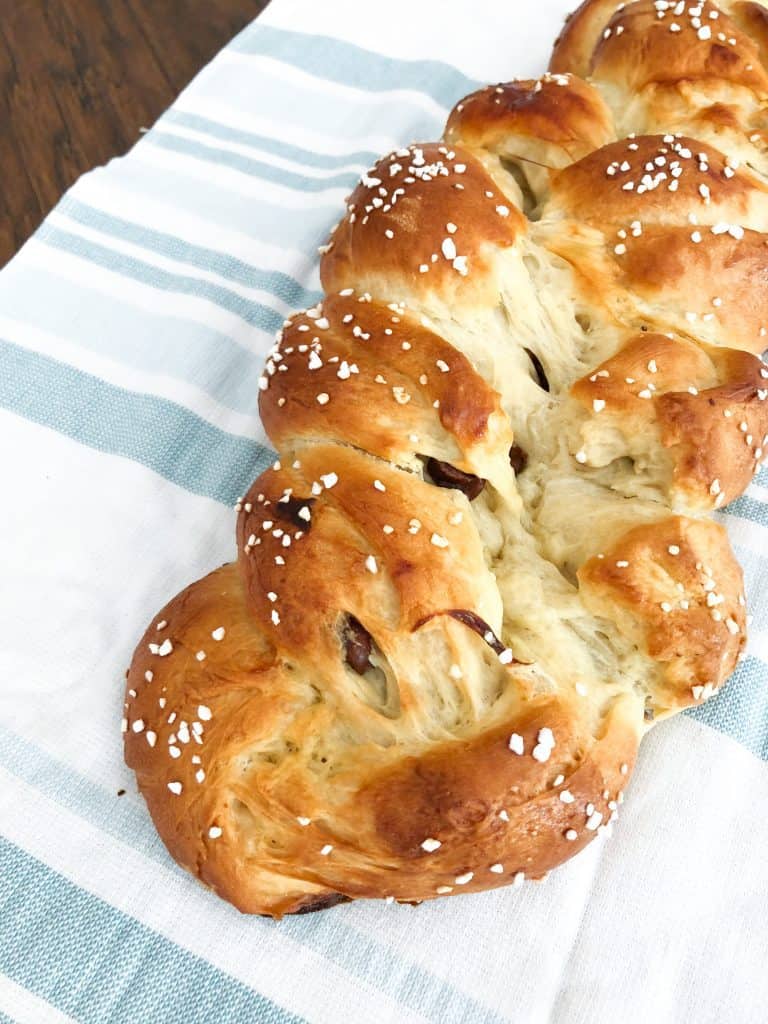 Best bread for french toast, you ask? Chocolate Challah Bread.
I'm so serious! French toast is a finicky breakfast to make. You need the right bread. Not too thin or thick, crusty or soft. It really takes a perfect type of bread. Enter: Chocolate Challah Bread.
A while ago I posted my regular Challah bread recipe. It is a delicious spongy bread that is perfect straight out of the oven, the next day, turned into a bread pudding and even better yet french toast! It was sooo good, I decided to make it again for a French Toast breakfast.
Now, we wanted chocolate chip french toast but I wasn't sure how to make that happen with regular Challah bread, so I decided to add the chocolate chips into the bread and then cook the french toast as usual. Let me tell you, it was AMAZING!
This Chocolate Challah Bread is the perfect sweet treat. Whether you enjoy it for breakfast as it is, in french toast form or as a little dessert after dinner, this is sure to be a favorite! We especially love it warmed with a thin layer of cream cheese. Soooo good! And needless to say, Grace LOVES when I make this!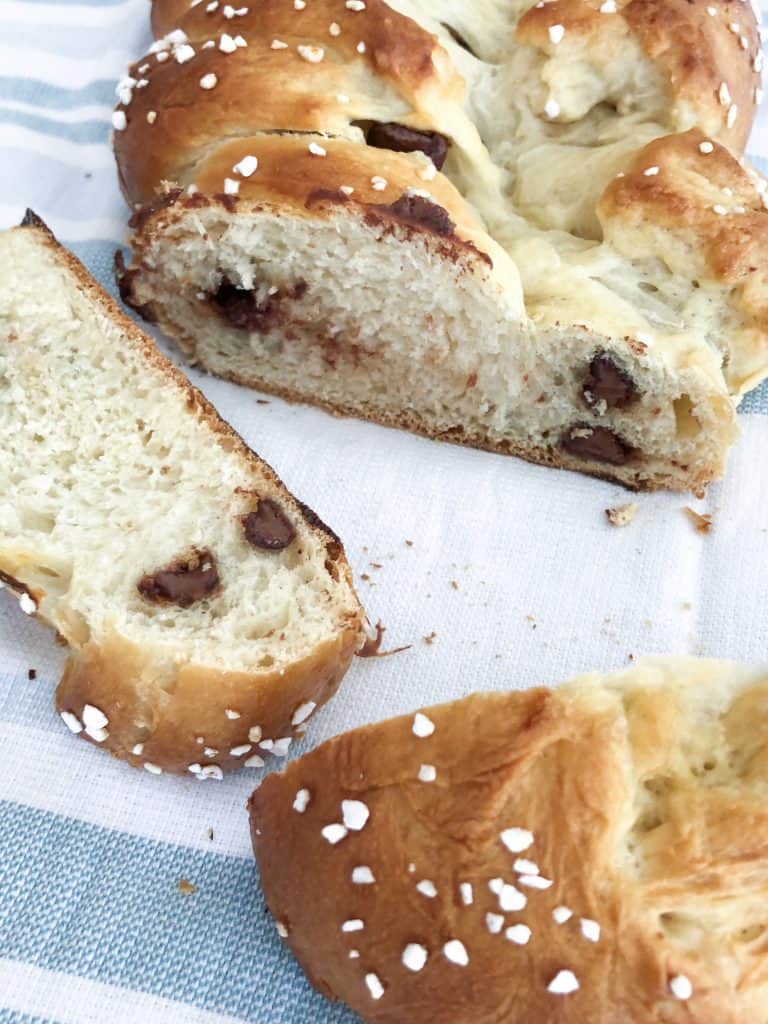 It really is surprisngly easy to make! You are pretty much going to follow the recipe for my classic Challah bread, except you'll add chocolate chips into the braid. I will go ahead and post the recipe again below for easy access!
I hope you're able to try this! It really is the perfect treat. Better yet, it is a perfect birthday morning surprise! Make this for the next birthday in your home and tag me on IG so I can see. I'd love to see your creation! :)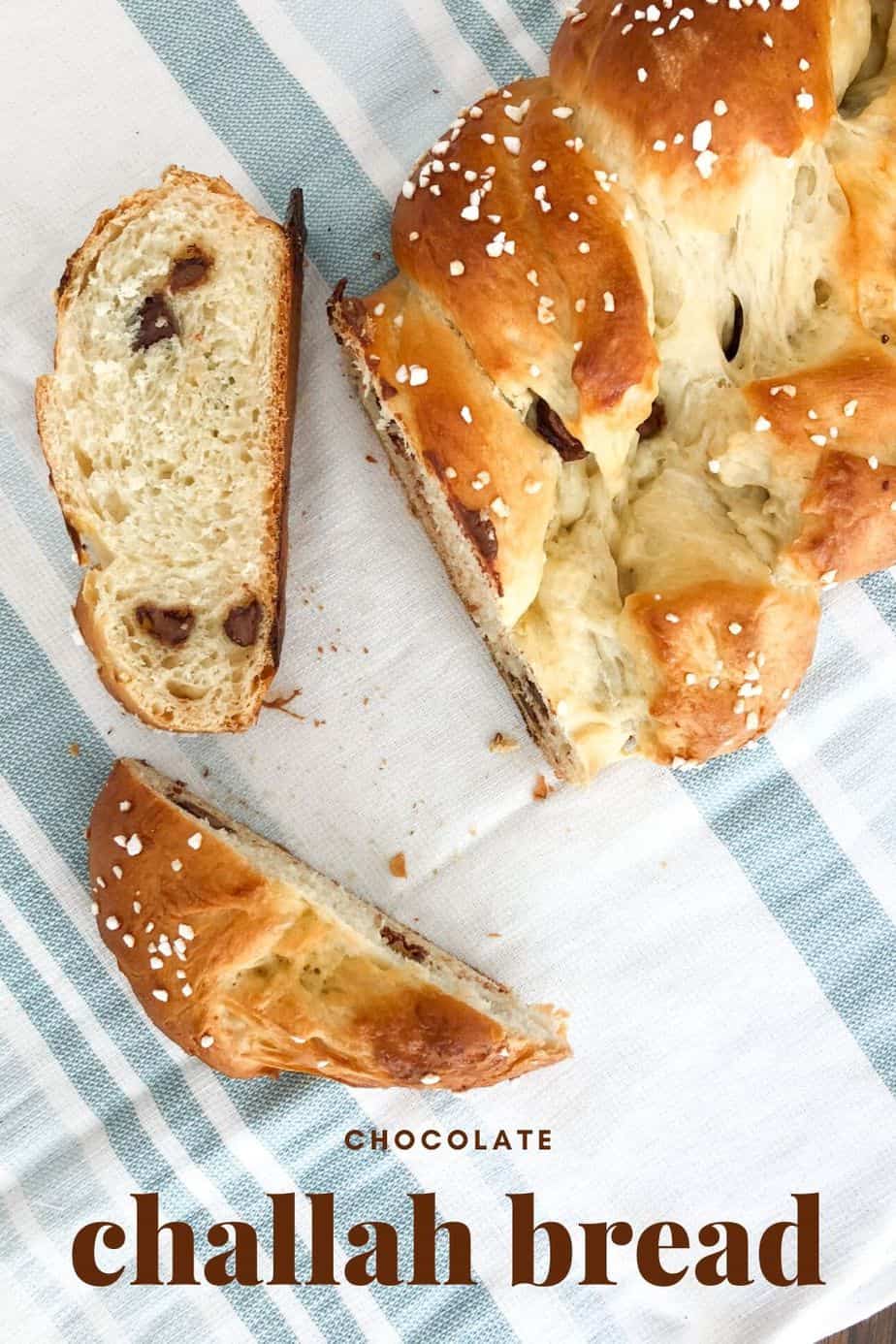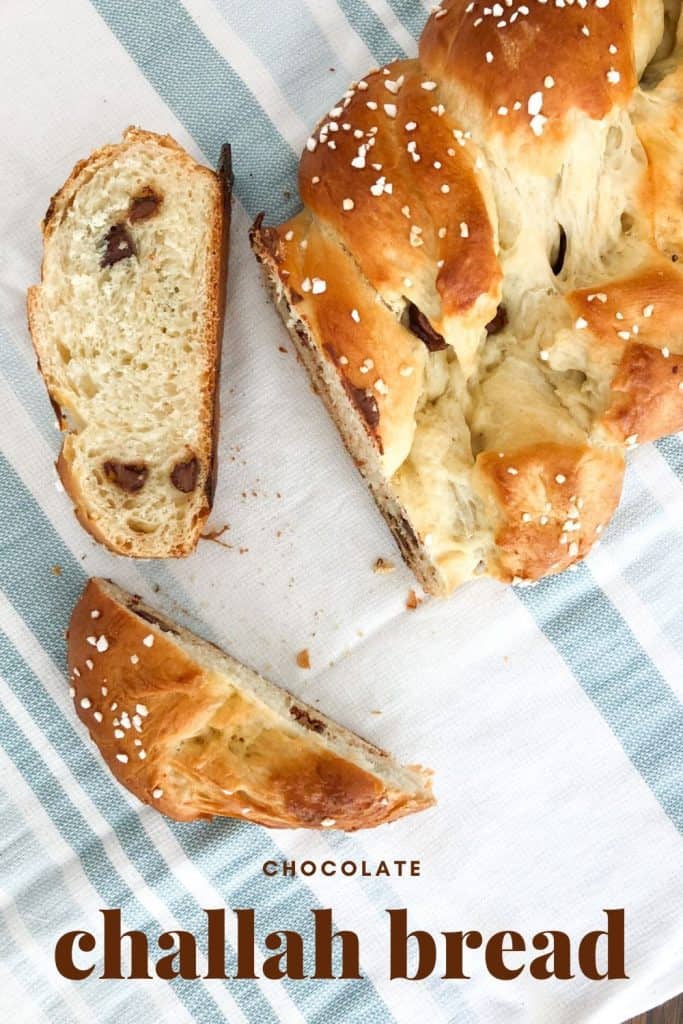 Chocolate Challah Bread
Ingredients
2.5

tablespoons

active dry yeast

1

cup

warm water

2

eggs

4- 4.5

cups

all purpose flour

1/2

cup

sugar

1

teaspoon

salt

1/2

cup

1 stick butter, melted and unsalted

1

cup

chocolate chips
Topping:
1

egg white

beaten

2

teaspoon

honey

Thick sugar

optional
Instructions
In the bowl of a stand mixer with the paddle attachment, add the warm water, yeast and 1 tsp. honey.  Stir and let it proof for 10 minutes.

When the yeast and puffed up, add the 2 eggs and mix.  Add 3 cups of flour, sugar, salt and melted butter.  Mix until combined.  Add remaining 1 cup of flour and let the stand mixer start to knead the dough.  Add a little more flour if necessary until dough pulls away from the sides and isn't too sticky. Mix until the dough is smooth.

Grease another bowl with melted butter and drop the dough in there.  Cover it and and keep it in a warm place to rise for about 2 hours, or until it has doubled in size.

When it has doubled in size, flour a working surface and transfer dough.  Divide into 6 equal pieces.  Roll out each into around 12 inch ropes.  Take 3 and flatten them a bit. Sprinkle chocolate chips and then seal those in again. Take the 3 strands and braid (it is easiest to start from the middle and work your way out!) them.  Pinch the ends and tuck them under.  Repeat with the other 3 ropes.

Line 2 baking sheets with parchment paper and transfer braids, one to each pan.  Cover and keep in a warm place for an hour or until it has doubled in size again.

Preheat oven to 325 degrees F.  In a small bowl, mix the beaten egg white with remaining teaspoon of honey.  Brush the dough with this mixture and sprinkle with a thick baking sugar if you'd like.  Bake for 30 minutes or until it is golden brown.

Let it cool for 15 minutes and then slice and enjoy!
If you loved this recipe, be sure to check out these chocolatey desserts!