Easy Cinnamon Roll Easter Bunnies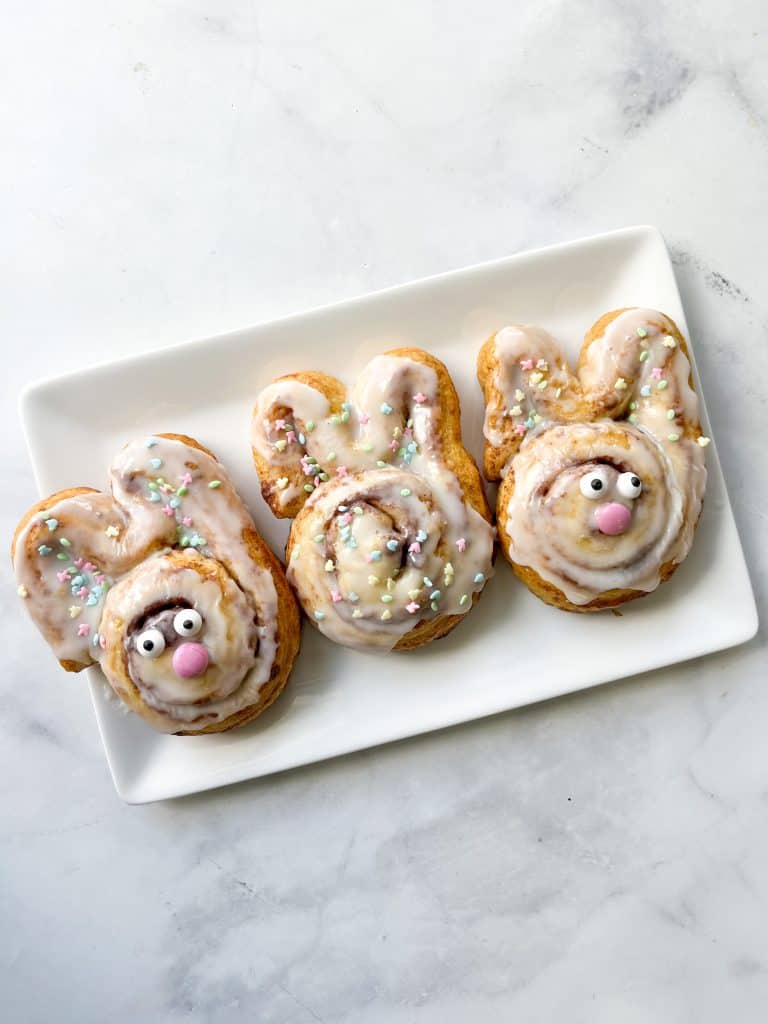 When I tell you these are EASY. I'm not kidding.
I'm all about a fun, festive holiday treat so when I saw these floating around Pinterest, I knew I had to give them a try.
Most I saw only had icing though but I really wanted to bring them to life.
I used candy eyes to make the little eyes and an M&M's for a nose.
I topped the ears with some pastel sprinkles to make them pop.
These really are incredibly easy and a perfect treat to make with your kids on Easter morning!
What You will Need for this Easter Treat
1 Can Pillsbury Grands Cinnamon Rolls
Candy Eyes
Pastel Spring colored Sprinkles
That's it! Seriously so easy :)
Tip: make sure you buy the Grands or a Jumbo variation. Regular cinnamon rolls won't unroll.
As for equipment, all you'll need is a baking sheet and parchment paper. Maybe a plate if you want to shape them there, but it's not entirely necessary.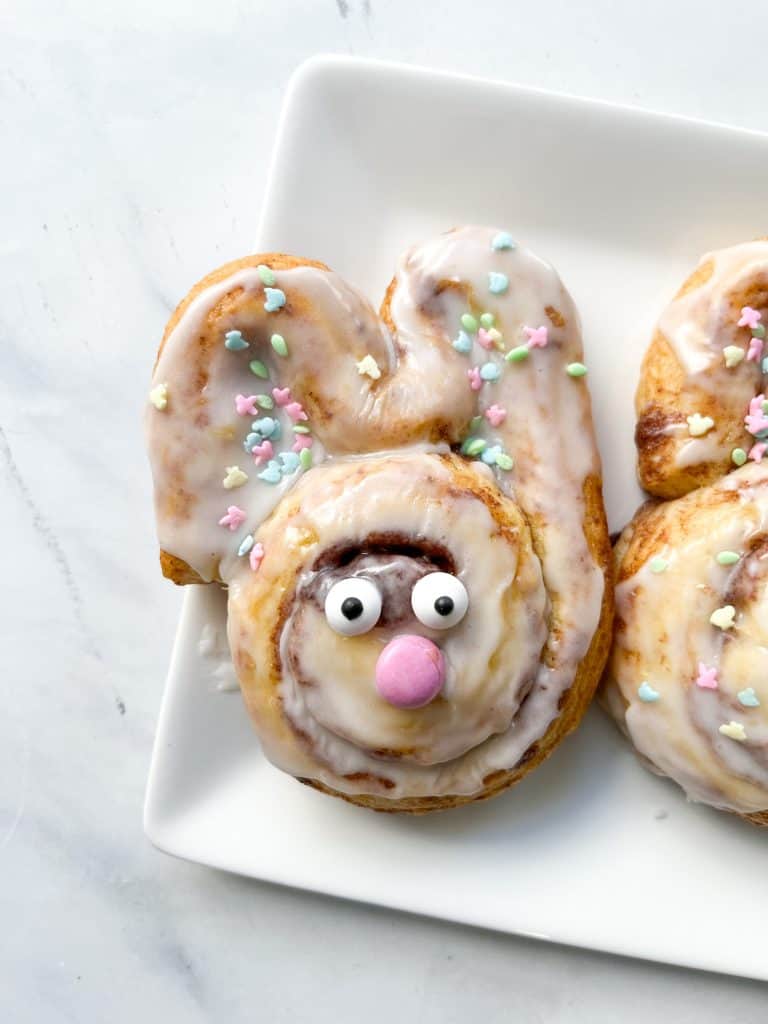 When to bake?
These are best enjoyed immediately so I wouldn't bake them in advance for an Easter Brunch.
You can definitely prep the bunny shapes in advance if you have the fridge space.
Go ahead and shape them and lay on a baking sheet. Refrigerate until ready to bake (they only take about 15 minutes).
You can bake directly from the fridge so that's nice!
How to Store?
If you do have leftovers, you can store in an airtight container for up to 5 days in the fridge or 24 hours at room temperature.
To reheat you could always microwave for 30 seconds, but I prefer to pop in the oven so they get a little toasty again.
You may also want to prepare a quick glaze to spread over again when they're done. I love a gooey glaze!
Cinnamon Roll Easter Bunnies
These bunnies are made with only your favorite can of cinnamon rolls. Turn them into bunnies in just a couple of minutes and you'll have the perfect festive treats.
Ingredients
1

can

Grands Pillsbury Cinnamon Rolls

10

candy eyes

1/4

cup

pastel sprinkles
Instructions
Preheat your oven according to package directions. Line a baking sheet with parchment paper and set aside.

Open the cinnamon rolls and unroll about halfway through. Refold the long piece twice to create bunny ears. Press the end into the roll softly.

Bake according to package directions and then remove from the oven and cool for 5 minutes.

Spread the icing over them and then add candy eyes and an M&M's nose. Add sprinkles over the ears.

Serve immediately and enjoy!
If you loved this recipe, you might enjoy these:
4 Ingredient Cadbury Egg Easter Cookies
Strawberry and White Chocolate Cakes