Classic Ghirardelli Chocolate Chip Cookies
If you know me, you know my chocolate of choice is Ghirardelli, especially when baking chocolate chip cookies.  I believe it has the best flavor of all the chocolates out there.  Hands down the absolute best!
Their dark chocolate is perfectly bitter, while their milk chocolate is oh so smooth.  They have got it all right.  It is everything I want in chocolate.
Ghirardelli Chocolate Chip cookies are my number one choice of cookie! ALWAYS!
So naturally, when I was coming up with my chocolate chip cookie recipe, I decided I would go with Ghiardelli chocolate chips.  They are the perfect size (a little bigger than normal chocolate chips, hahaha), and bake up perfectly.  
Not sure what kind of luck you have with chocolate, but these stay soft instead of getting hard as other brands of chocolate chips tend to do.  They are smooth and delicious at all times.
Anyway, this recipe is a simple one that I have been using for years.  I know a lot of recipes are very similar out there for things as classic as chocolate chip cookies.
There is one reason Ghirardelli Chocolate Chips make the best cookies…
The results are consistent every single time.  It's like a no fail recipe.  Except for the time I totally failed by baking them on a non-rimmed cookie sheet and they came out like one flat hot mess.  But let's not talk about that.
Pro tip: make sure you use a rimmed cookie sheet.  That's all I'm going to say.
Okay maybe I'll expand a little further.  Rimmed sheets make cookies bake perfectly.  Not sure how or why, but they do. Compare a rimmed with a non-rimmed one day and see for yourself!
Okay, now I'm done sharing on this subject.
Moving on…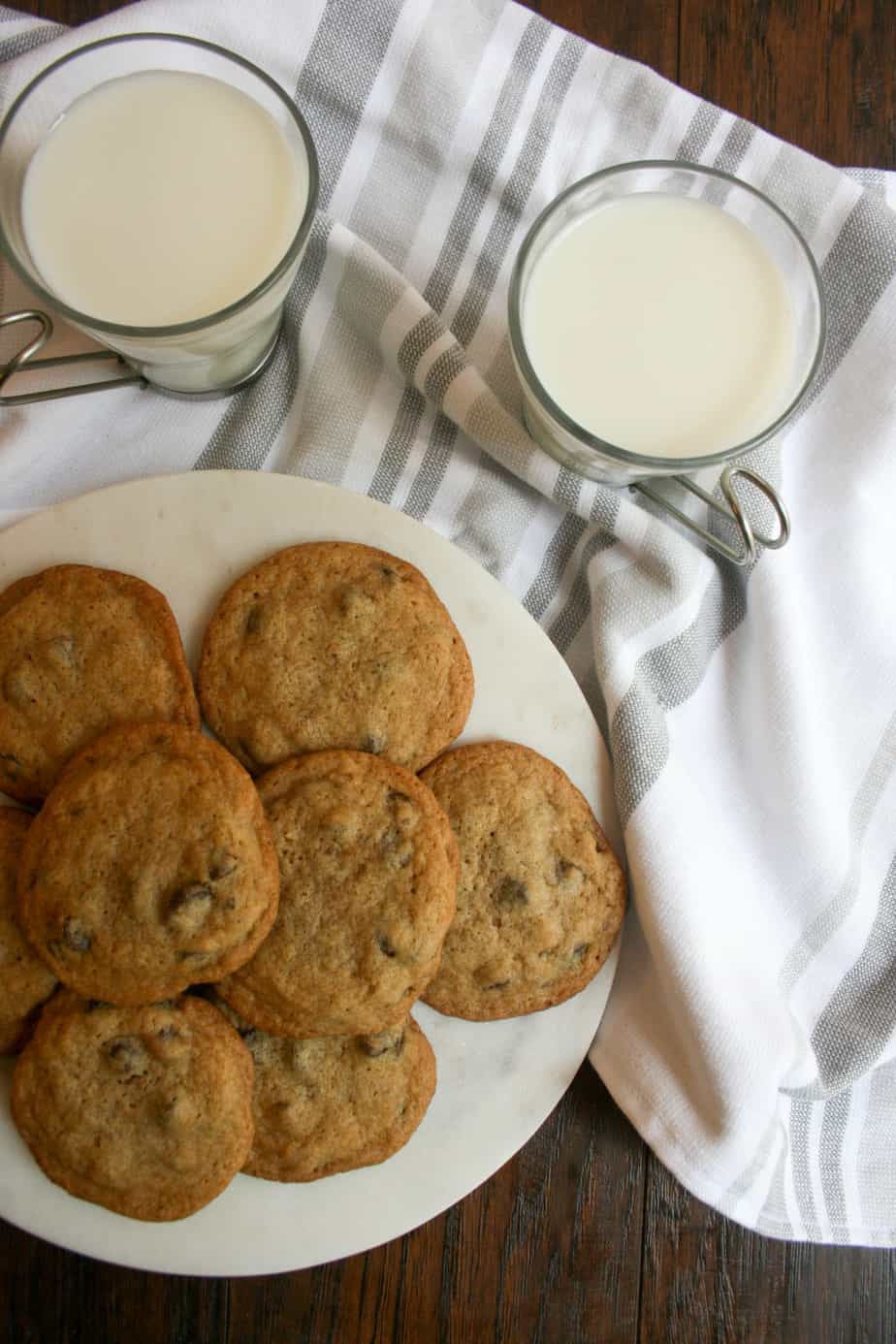 Prepare the batter and freeze in perfectly shaped cookie dough balls for future baking endeavors.
Yep, you heard that right.  Prep all the dough, scoop out into perfectly shaped balls onto a plate and refrigerate.  Once they have hardened just a bit, toss them into a Ziplock and freeze.
Take out however many you want whenever you want to bake them and you'll always have freshly baked cookies at a moment's notice.  Or well, within 15 minutes. ;)
Pro tip #2: Get yourself a toaster oven.  Seriously.
They make the world a better place.  Or at least make my kitchen a better place, that's for sure.  I make everything from pizza, apple crisp and chicken to reheating any leftovers from the night before.  
The best use out of my toaster oven? Freshly baked cookies wheneverrrrrr I want!
Yep.  When I have been writing for about 8 hours and need a little mid-afternoon pick me up, rev up my Nespresso
, bake myself some cookies in my toaster oven and…
BAM! Energy for the next 502,398 hours! Works like a charm… every single time!
Toaster ovens change lives.  I don't know how I lived for so long without one.  Especially in a household of two people! Rest in peace, large and annoying-to-clean oven!
If you make this recipe, be sure to tag me on Instagram or use the hashtag #toeatdrinkandbemarried.  I'd love to see your cookies! ♥
---
Classic Ghiardelli Chocolate Chip Cookiess
Ingredients
11 1/2

ounces

Ghiardelli Milk Chocoalte Chips

2

sticks of butter

softened

3/4

cup

sugar

3/4

cup

brown sugar

packed

2

large eggs

1.5

teaspoon

vanilla

2 1/4

cups

unsifted all purpose flour

1

teaspoon

baking soda

1/2

teaspoon

salt

dash of cinnamon

optional
Instructions
Heat oven to 375º F. Line a rimmed baking sheet with parchment paper and set aside.

Cream the butter and both sugars until light and fluffy, about 2-3 minutes.  While continuing to beat on medium speed, add in the eggs and vanilla and mix until creamy.

In a separate bowl, combine the flour, salt, baking soda and dash of cinnamon (if you'd like).  Gradually add into butter mixture, stirring with a wooden spoon until combined.  Lastly, add in the chocolate chips and stir.

Scoop onto baking sheet, arranging 2 inches apart so they don't touch when they bake.  Bake for exactly 9 minutes (at least in my oven!) and remove from oven. Let them rest for 2 minutes on the pan and then transfer to wire rack to cook completely. Repeat until all cookie dough is used up.
---
Want another delicious chocolate recipe?
Ghirardelli Chocolate Chip Cookies