As an Amazon Associate, I earn from qualifying purchases.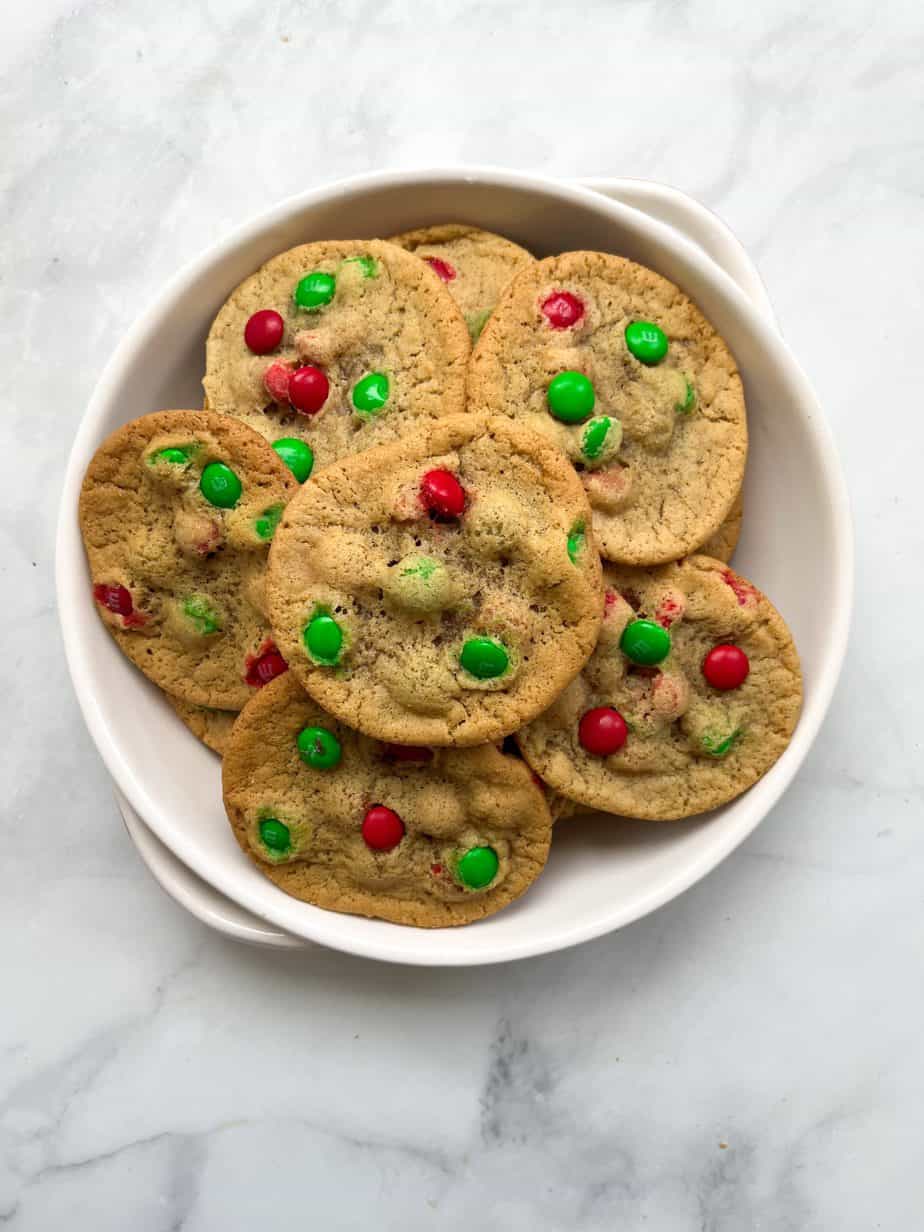 What's a copycat recipe without a Subway M&M Cookie?
Seriously, Subway WINS at cookies and I want to copycat all of them, which is why I've started with this Subway M&M Cookie.
There is nothing like a good warm, fresh out of the oven cookie to make you feel warm and cozy.
And now with the holiday season ahead, these are just what we need!
Cookies are my specialty- just ask my family! And friends on Pinterest, too! ;) My all time highest traffic posts are all cookies.
Since we're on the subject, let's do all time favorite cookie review here:
–4 Ingredient Nutella Cookies (by a landslide!). Most traffic than any other cookie on the site!
–4 Ingredient Brownie Cookies. Sooo gooey, sooo delicious!
–4 Ingredient Oatmeal Cookies. Seriously, if you're not into chocolate (or even if you are!), you NEED to try these!
Are you catching the drift here? All of my most popular cookie recipes are 4 or 5 ingredients only! Anyone can make them, they're that easy!
How to make Subway M&M Cookies
These are not 4 ingredient cookies, but they're so easy! I promise, you'll be able to make these in a snap!
Pour, whisk, mix and scoop. Bake and voila! You've got cookies!
Okay, maybe it's a little more than that, but I'll walk you through all the steps!
Equipment:
Ingredients:
M&M's
Butter
Brown Sugar
Eggs
Vanilla
Flour
Baking Soda
Sea salt
Start with the basics:
Beat your brown sugar and butter until light and fluffy. Beat them, and I mean reallyyy beat them! It makes a difference, I promise!
Add in your eggs, one at a time, and continue beating on medium speed until combined. Add your vanilla, and also blend.
Now, most people combine their dry ingredients in a separate bowl. And although that's typically best practice…
I'm here to tell you to just dump all the dry ingredients in a bowl! Yes, I said it!
Now, always start with the flour. let that hit the batter first. If you drop the baking soda right into the batter, it'll clump up in one spot and make it hard to blend.
Drop the flour first, then baking soda and salt on top. Really, it works every time!
Feel free to use your mixer for that or combine with a spatula or wooden spoon if you're avoiding a flour mess. ;)
Now add in your M&M's and stir. Don't overmix it or the color will bleed right into the dough and they won't be as cute!
Scoop onto your prepared baking sheet and top with a few more festive M&M's.
Bake until they look golden on the edges but slightly underdone in the middle. Remove from the oven and let them sit on the baking sheet til them firm up.
And you're done!
Seriously, you'll keep coming back to this recipe for every holiday! Sure, these are great for Christmas, but you'll keep using this recipe over and over again for all your favorite holidays!
Use them with pink and white M&M's for Valentines, red white and blue M&Ms for Independence Day, Orange and Red M&Ms for Fall, and Red and Green for Christmastime. Really, the options are endless!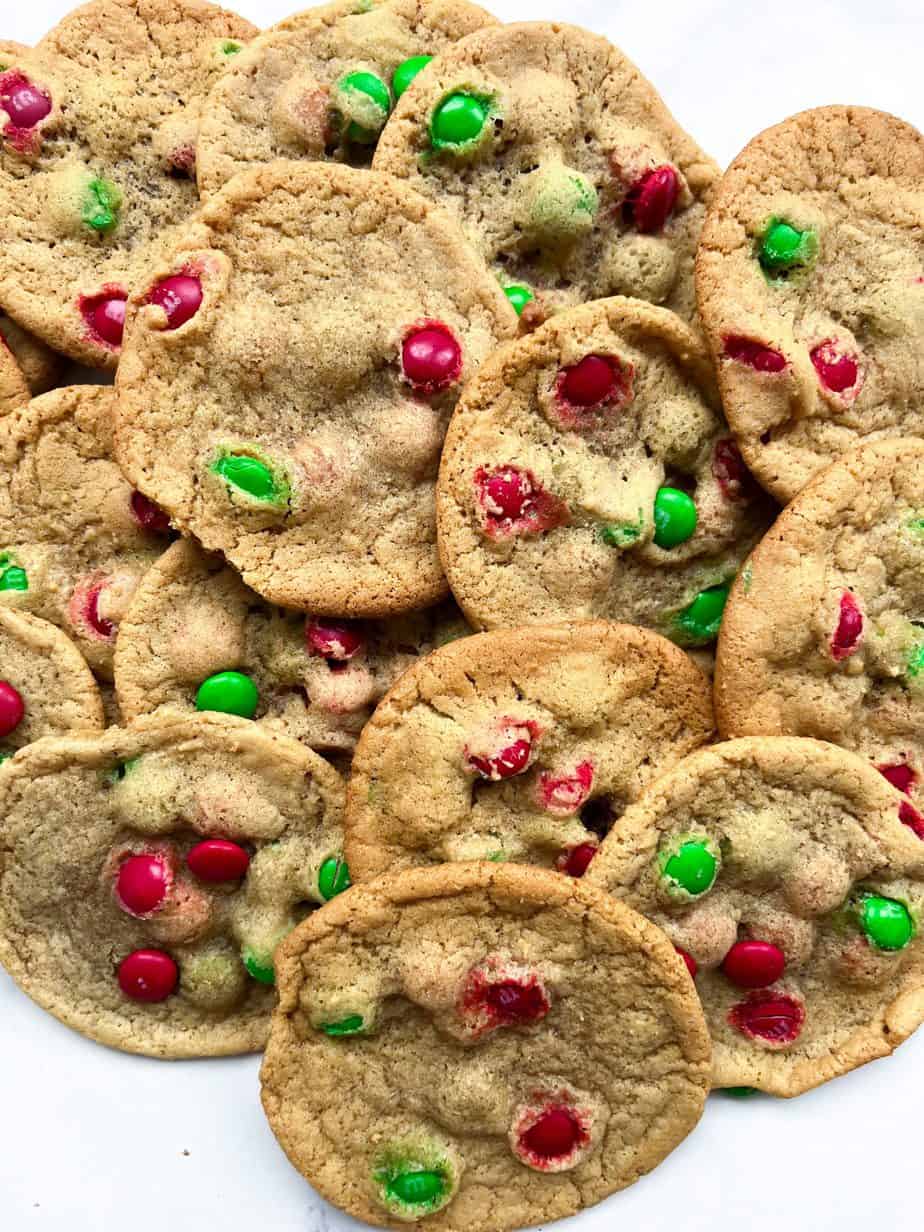 A quick Subway Copycat M&M Cookies Q&A
Can I make these ahead of time?
You sure can! These can be prepped and baked up to a day in advance and they'll still be soft and fresh.
Just keep in an airtight container so they stay soft.
Can I freeze the M&M Cookie Dough?
Absolutely! Prepare according to directions, scoop and place on a parchment or wax paper lined baking sheet or dish.
Pop in the freezer for about an hour til they're hard and then you can place in an air tight container or zip top bag for up to 3 months!
How do I store the baked cookies?
You can simply keep them in an airtight container on your countertop for up to 5 days. Or in the fridge for 2 weeks.
You can also freeze the baked cookies in a single layer, or with a layer of wax or parchment paper between cookies.
When you want to enjoy a cookie, remove one from the freezer and let it come to room temperature on the counter.
Or place in the oven or microwave until warmed through.
What kind of M&M's can I use?
Any color definitely! ;)
As for types, I love minis or original M&M's. The peanut kind are a bit too heavy and don't allow the cookie to puff up.
But if you don't mind that, you're welcome to try it. Actually, try all the types! I'm sure they're all delish!
If you make these cookies, be sure to tag me on Instagram– I'd love to see!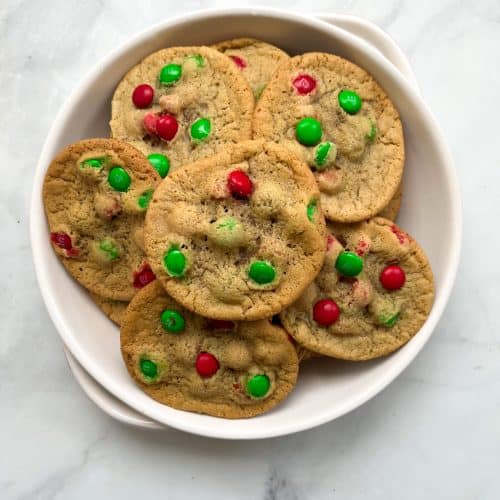 Subway M&M Cookies
Ingredients
8

tablespoons

1 stick unsalted butter, at room temperature

2

cups

packed light brown sugar

2

large eggs

1.5

teaspoons

vanilla extract

2.5

cups

all-purpose flour

1

heaping teaspoon baking soda

1/2

teaspoon

sea salt

1.5

cups

M&M's

flaky sea salt or kosher salt for topping

optional
Instructions
Preheat your oven to 350 degrees and line 2 baking sheets with parchment paper

Place the butter and sugar in a stand mixer fitted with the whisk or paddle attachment (or simply use a hand mixer). Beat on medium-high speed until light and fluffy (2-3 minutes). Add the eggs and vanilla and beat until blended.

Add the flour, baking soda and salt. Blend on low until the flour is incorporated. 

Add in the M&M's and stir with a wooden spoon just until blended (work fast, so the colors don't bleed into the dough).

Using a 2 tablespoon dough scooper (or just a large spoon), scoop onto your prepared baking sheet. Don't flatten them. Top with a few more M&M's and sprinkle with flaky sea salt or kosher salt if you'd like.

Bake them until lightly browned, 10-12 minutes. Cool on the pan for 3-4 minutes then transfer to a wire rack to cool and enjoy!
If you enjoyed this recipe, be sure to give these a try:
White Chocolate Cranberry Cookies
Peanut Butter Chocolate Chip Cookies